If you've never made cobbler before, you're really missing out. It's a magical and underrated dessert, perfect for any occasion. It takes little time to prepare and is a great way to make use of all sorts of fresh seasonal fruit.
I made this mixed berry cobbler to bring to a barbeque earlier this week. While I was looking for some recipes ideas, I came across this article for how to make a fool proof cobbler on the Kitchn.
It distills a cobbler recipe down into the most basic set of ingredients that you can modify and change to suit your tastes. The suggestions for the filling are:
4-7 cups of sliced fresh fruit
1/2 – 1 cup sugar (optional)
1 tablespoon lemon juice (optional) 
1-2 teaspoons of spices (optional)
2 tablespoons cornstarch (optional)
As you can see, the only real requirement is fruit. Then you can add however much sugar you want to sweeten things up to your taste, as well as extra flavour enhancements like lemon juice or cinnamon, to compliment whatever fruit you are using. The cornstarch is used as a thickener depending on how juicy the fruit is.
I used this as a guide to make this mixed berry cobbler, and I was really pleased with how it turned out.
I used 1 1/2 generous cups each of strawberries, blueberries, raspberries and blackberries. You could use whatever combination of berries you prefer, just make sure you have about 6 cups worth.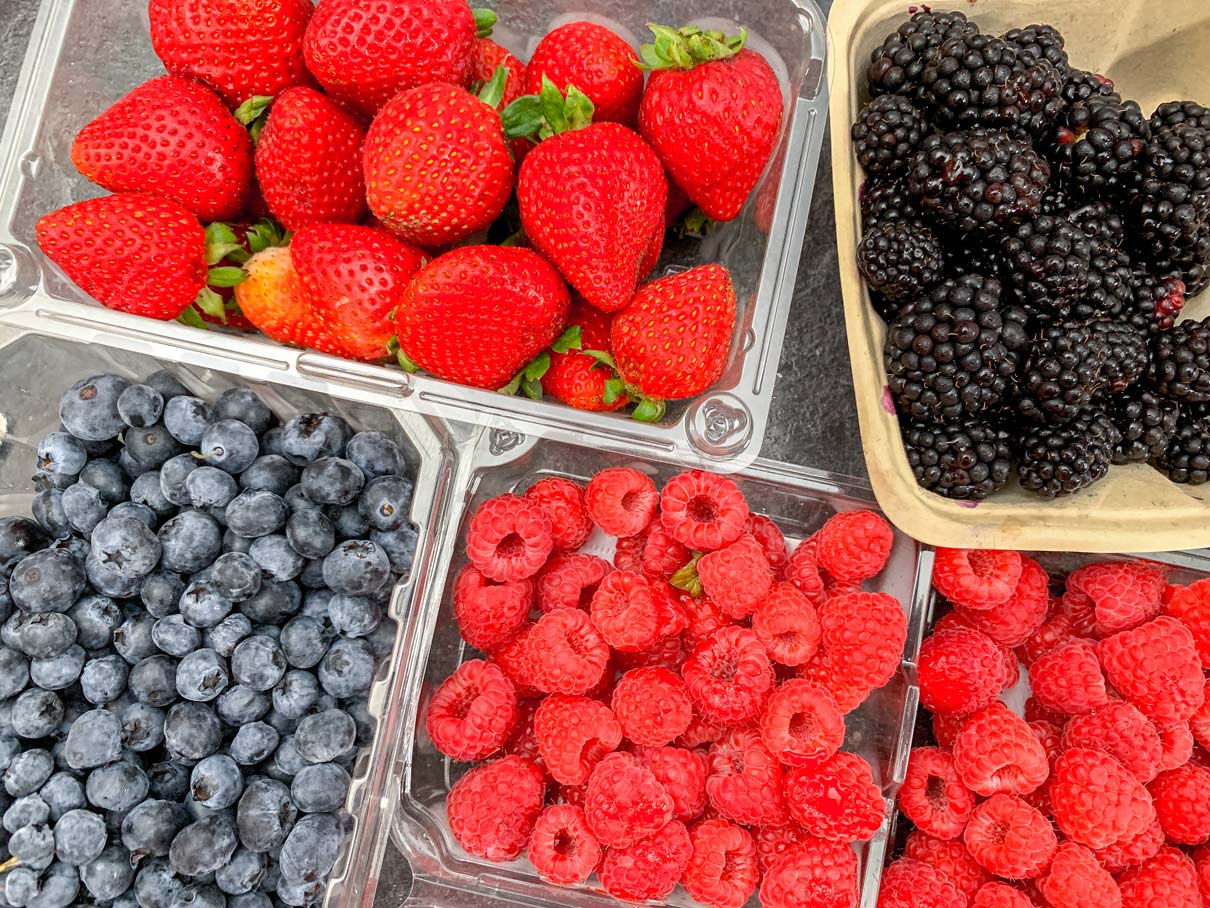 Add sugar, lemon zest, lemon juice and cornstarch to the berries, and gently mix to combine.
Generously butter the inside of a 9 inch round deep dish pie plate, then dump your berry mixture in.
Next comes the topping. A while back I made this Apple Cobbler for the first time. It was good, but this new topping kicks the pants off the other one by a long shot.
The apple cobbler topping required you to cut butter into flour, and make more of a pastry topping. It was a drier dough and needed to be sort of shaped and laid on top of the filling. The topping for this cobbler is a cream biscuit, which is super easy to make and it bakes beautifully!
Simply whisk together flour, sugar, baking powder and salt.
Add the cream and mix until just combined. The dough will be super thick and sticky.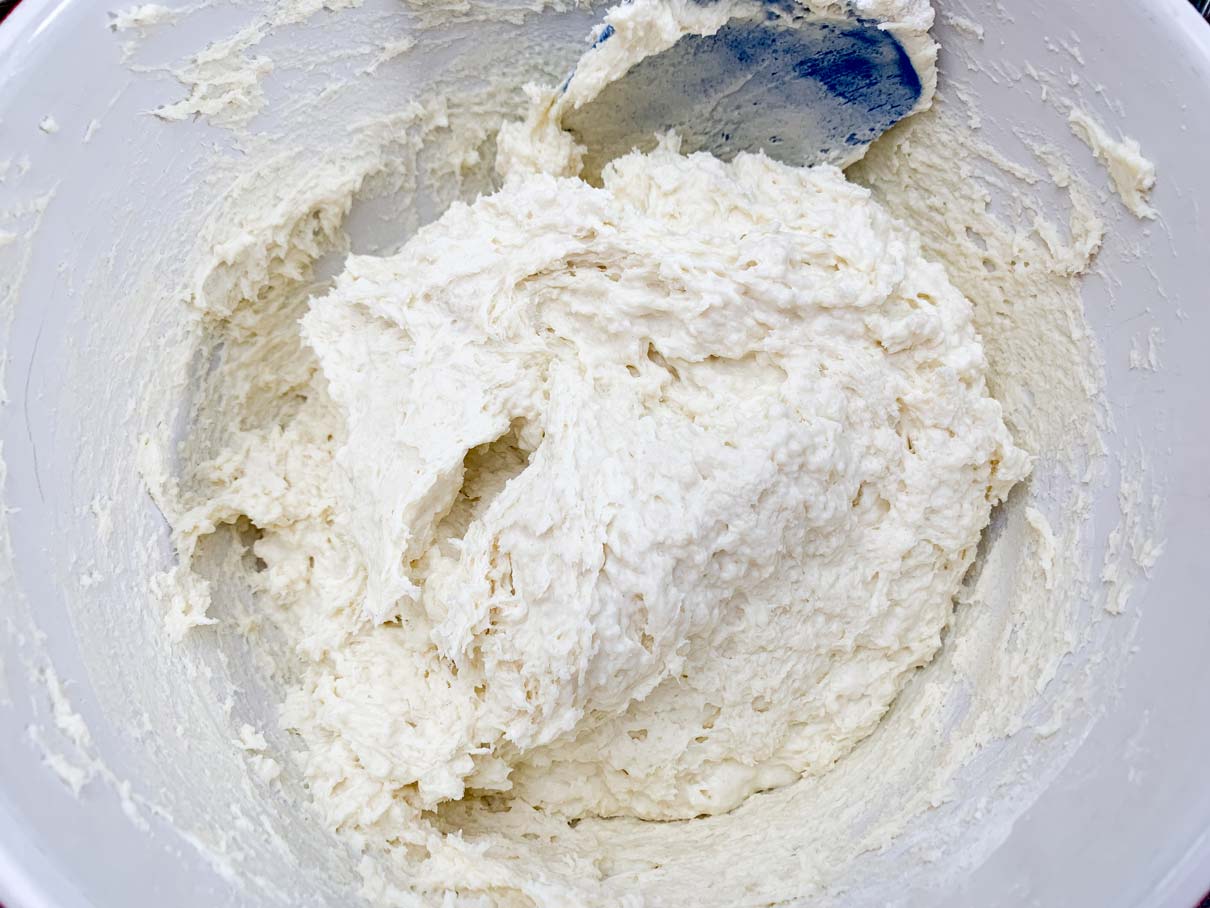 Drop big spoonfuls of the dough across the top of the fruit filling. The dough will spread and expand a bit as it bakes, so don't worry about having gaps between your blobs of dough.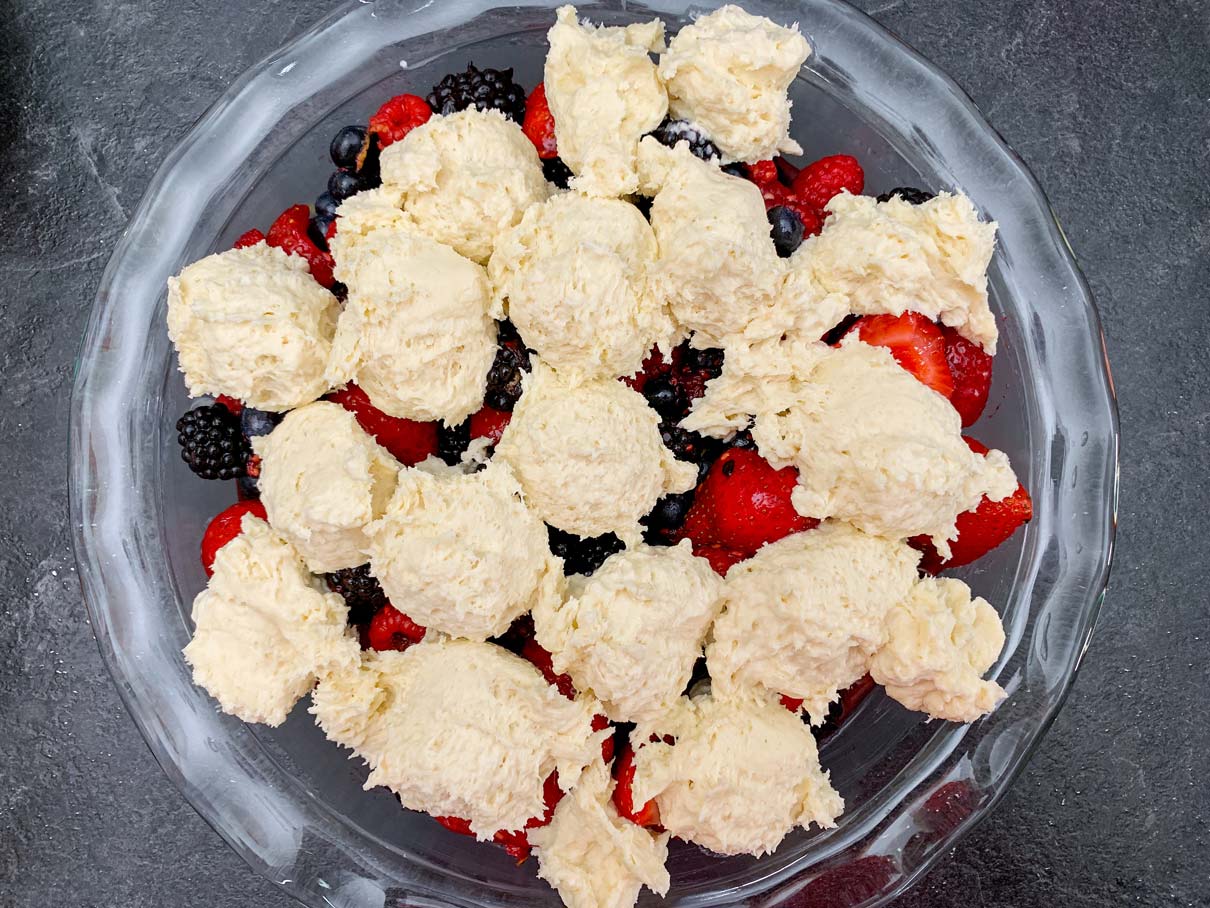 Brush the tops of the dough with some more cream, and then sprinkle with some demerara sugar. (You could substitute for granulated sugar instead.)
Place the pie dish onto a baking sheet to catch any drips of juice that might bubble over. I can almost guarantee it will bubble over, so don't forget about this step.
In fact, I was determined to bake two of these cobblers in my oven at the same time, even though I knew they didn't quite fit. The edge of one pie plate was slightly over the edge of the baking sheet. Naturally that one edge is where all the bubbly juices decided to spill over.
I ended up with juicy berry filling running down the side of my oven, and pooling on the bottom where it may or may not have briefly caught on fire. So trust me. Just use the baking sheet. And if you want to make two of these, but are having doubts about whether both will fit in your oven, just cook them separately.
Bake the cobbler until the topping is golden brown and the filling is thick and bubbly.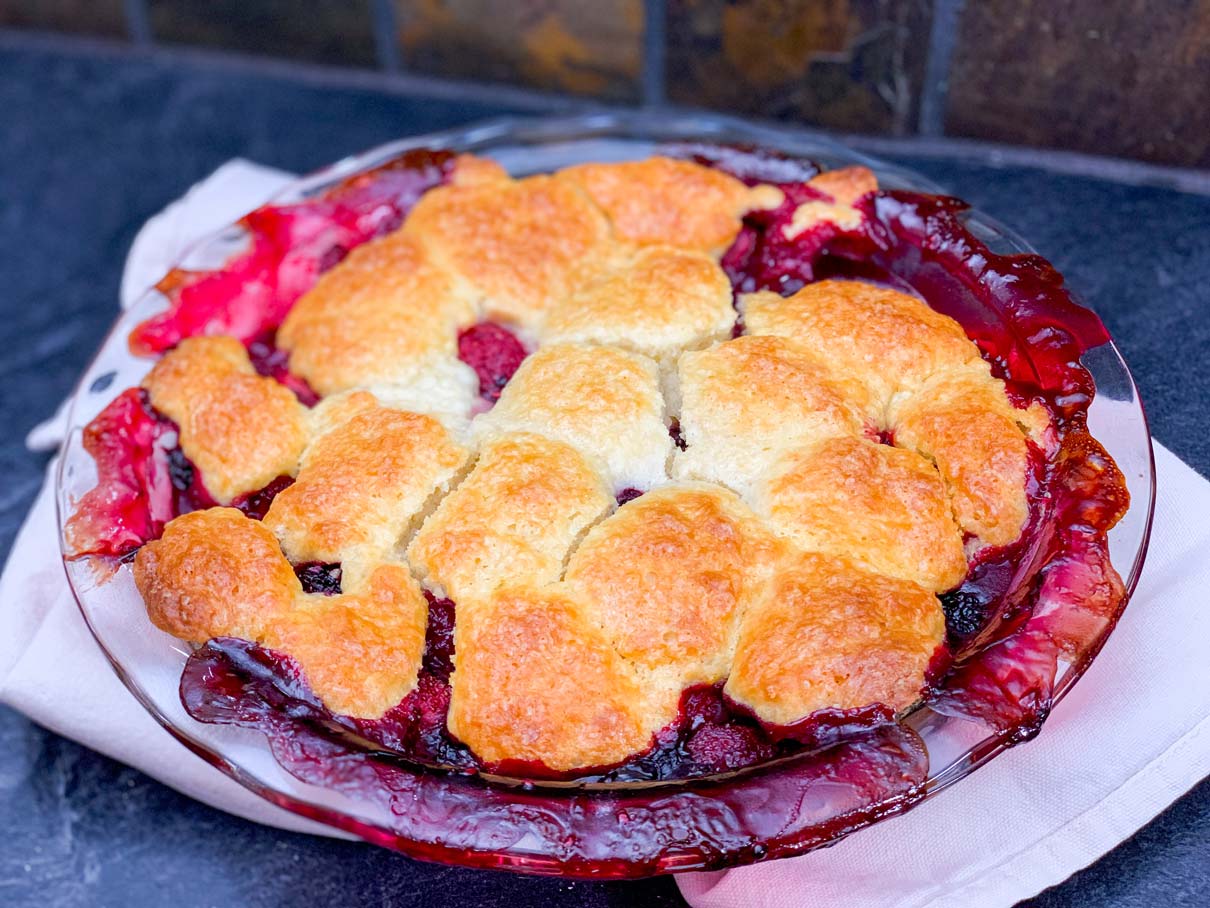 Allow to cool just enough that the filling won't scald you if you try to eat it. This cobbler is best served still warm with a big scoop of ice cream on top. If you're making this ahead of time for an event, I recommend warming it through again before serving.
---
Print Recipe
Mixed Berry Cobbler
A mix of fresh blueberries, blackberries, raspberries and strawberries, baked together and topped with a delicious cream biscuit crust.
Ingredients
For the filling
6

cups

mixed berries

(raspberries, blueberries, blackberries, strawberries)

1/2

cup

granulated sugar

1/2

tsp

fresh lemon zest

1

tbsp

lemon juice

2

tbsp

cornstarch
For the topping
1 1/2

cups

all purpose flour

3

tbsp

granulated sugar

1 1/2

tsp

baking powder

3/4

tsp

salt

1 1/2

cups

heavy cream

(plus 1 tbsp extra for brushing)

1

tsp

demerara sugar

(for sprinkling on top)
Instructions
Pre-heat your oven to 375°F.

Generously butter the inside of a 9 inch round deep dish pie plate, and set aside.
Prepare the filling
Prepare your fruit by washing all the berries. Remove the strawberry stems and cut the strawberries into halves of quarters.

In a large bowl, add the berries, sugar, lemon zest, lemon juice and cornstarch. Gently toss the berries until they're evenly coated.

Transfer the berry mixture to your prepared pie plate.
Prepare the topping
In a medium sized bowl, whisk together flour, sugar, baking powder and salt.

Add the heavy cream and stir until just combined. The dough will be very thick and sticky.

Drop large spoonfuls of dough on top of your filling. (A cookie dough scoop works well for this.)

Brush the top of the dough with the extra cream. Sprinkle the demerara sugar on top of the dough.

Place the pie plate on top of a cookie sheet to catch any drips that might occur when the filling starts to bubble. Bake for 45-55 minutes until the crust is golden brown and the filling is bubbly.

Serve warm with a big scoop of ice cream.
Notes
Cobbler topping recipe, and filling inspiration, from The Kitchn.