I used to be a shortbread purist. I would only ever make pure, simple, unadulterated shortbread cookies until one day I was introduced to the wonder that is Mrs. Millard's Toffee Shortbread.
The first Christmas I spent with my partner, I was preparing my annual Christmas cookie list. I was running through the different types of cookies that I planned to make when he said, "You should make Mrs. Millard's cookies".
"Mrs. Who?" I replied. That was when he launched into the story about the wonderful lady who lived next door to him growing up. He recounted the times he would chatter away with her, as kids do, while she was out and about in the garden or shovelling her driveway in the winter. He had especially fond memories of the delicious jellies she made, and of course, the toffee shortbread.
I was still skeptical at the thought of tainting such a classic and beautiful cookie with something like bits of toffee. Alas, he looked at me with such pleading eyes, and spoke with such tenderness about this sweet grandma-next-door idol, that I agreed to make the cookies with the recipe he supplied.
My world was literally turned upside down. I didn't know this was a thing that shortbread could do! I brought a batch to work and they were devoured in seconds. I would never again doubt the power of Mrs. Millard's toffee shortbread.
I learned much later on, that this recipe is actually a Robin Hood recipe, but in our household, they will forever be known as Mrs. Millard's cookies.
This recipe is fool proof and great for anyone who is new to baking, or just looking for a quick and easy recipe. You really can't go wrong with this one. Start by beating together your butter, icing sugar and vanilla until creamy.
In a separate bowl, sift together your flour, cornstarch and baking powder. Stir half the dry ingredients into your butter mixture until just combined.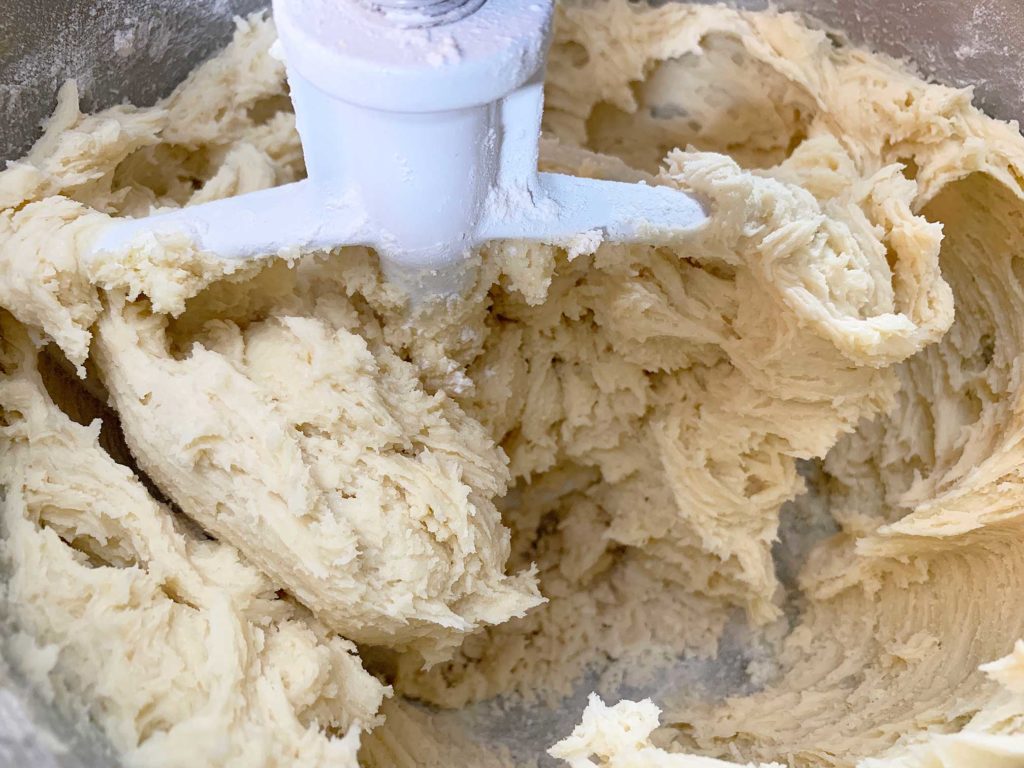 Next stir in all the toffee bits. Add the remaining half of the flour and stir again until just combined. The main reason for adding the toffee bits in when only half the flour is added is that the dough is still quite soft. If you add all the flour, the dough will be heavier, and the toffee bits won't incorporate as well.
Now that you have your dough all mixed up, roll it into little balls roughly 1 inch in size. Place them about 2 inches apart on a parchment lined baking tray.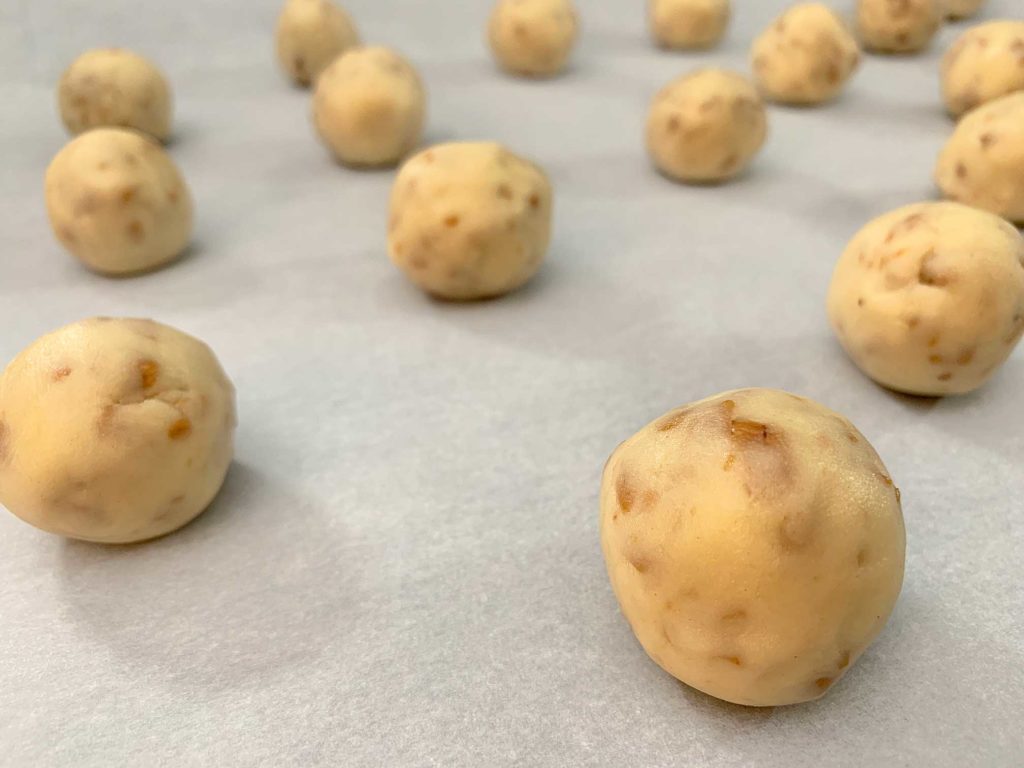 Bake until the bottom edges are just starting to turn golden brown.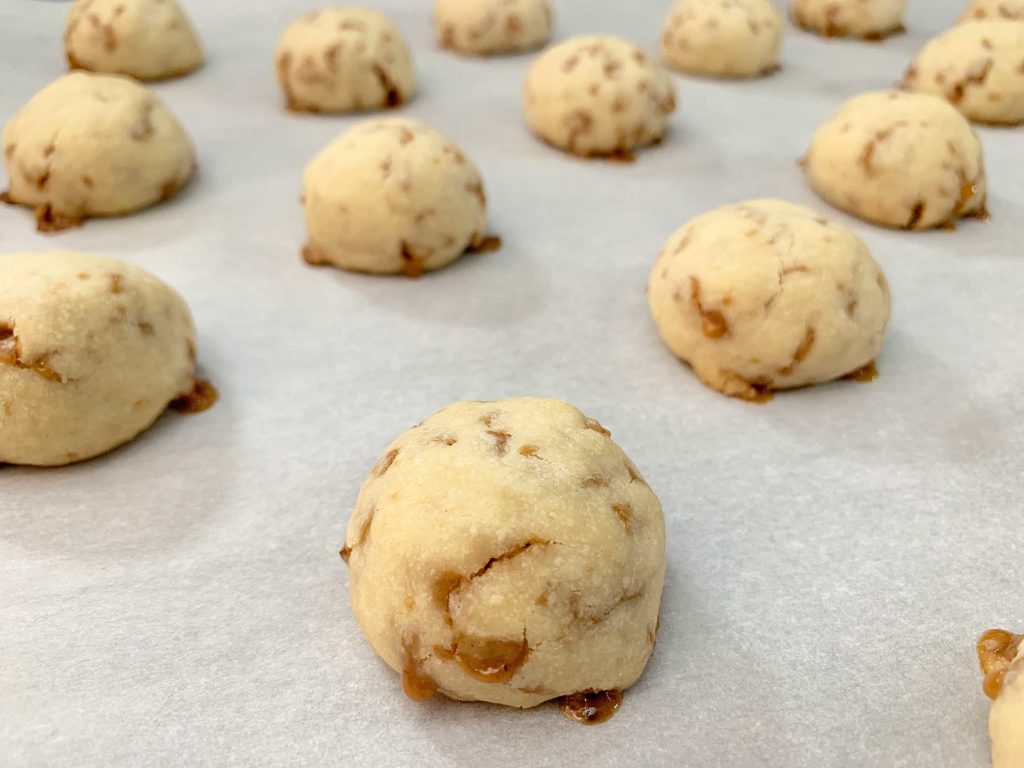 Transfer to a wire rack to cool completely. For maximum quality assurance, be sure to sample at least half a dozen before sharing with others.
---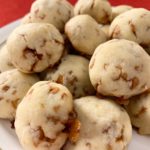 Print Recipe
Mrs. Millard's Cookies
Delightful buttery rounds of butterscotch infused shortbread.
Ingredients
1

cup

salted butter

(softened)

1/2

cup

icing sugar

2

tsp

vanilla extract

1 3/4

cups

all purpose flour

1/2

cup

cornstarch

3/4

tsp

baking powder

1

cup

skor bits
Instructions
Pre-heat your oven to 350°F.

In a large bowl, or stand mixer, beat together the butter, icing sugar and vanilla until creamy.

In a separate bowl, sift together the flour, cornstarch and baking powder.

Add half the dry ingredients to the butter mixture, and stir until combined.

Add the remaining dry mixture and stir until just combined. 

Roll the dough into 1" balls.

Place on a parchment lined baking tray 2 inches apart and bake for 12-15 minutes or until the bottoms of the cookies are slightly golden.