These cranberry & orange almond shortbread cookies may be small, but they are packed full of flavour. The bright, citrusy, orange zest is what really shines in these cookies, while the cranberries add a complimentary tartness against the subtle almond base.
I discovered this recipe on the blog Craving Something Healthy and quickly fell in love with it. The dough is simple to make, and since these are a slice and bake cookie, you don't have to spend ages fussing around with a rolling pin and cookie cutters.
Before you start mixing up your dough, spend an extra few minutes to lightly toast the almonds. I've said it before, and I'll say it again. It's worth the effort to toast your nuts! So spread the almond slices on a baking sheet and let them toast in the oven at 350°F for just a few minutes. Keep a close eye on them to make sure they don't burn.
Next, prepare your orange zest. If you don't have a zester, you can grate the orange against the fine grate side of a cheese grater. Just be careful to try and only grate the surface of the orange and not the white pith below, which has a bitter flavour.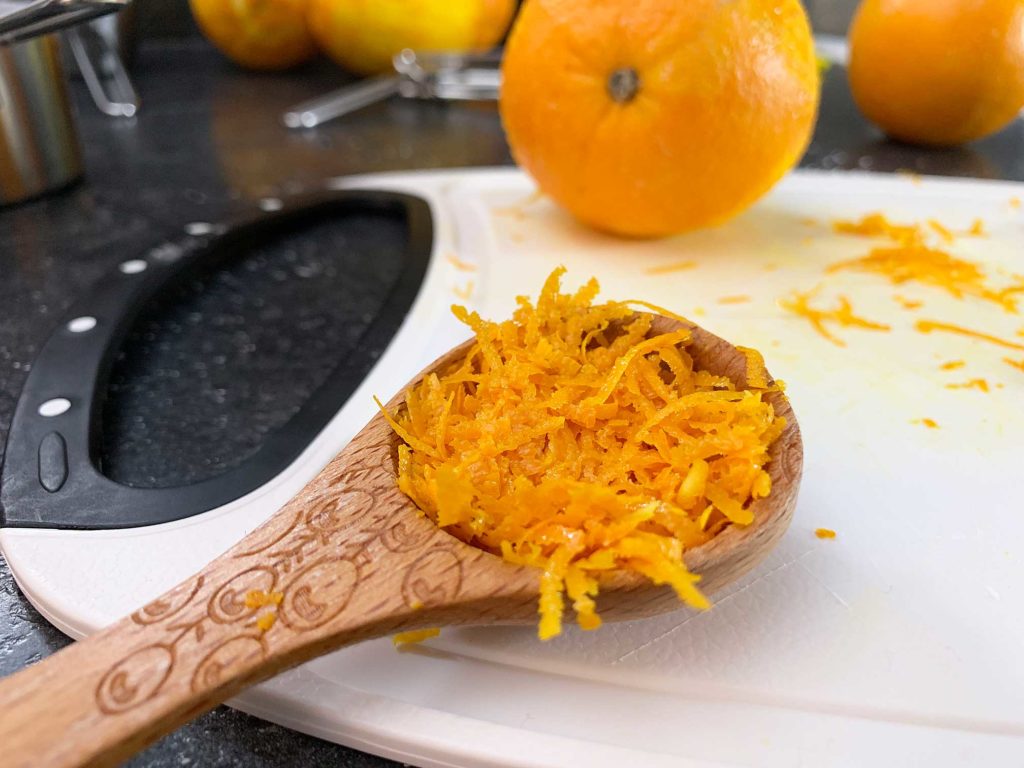 In the bowl of a stand mixer, beat together your butter, icing sugar, almond extract and salt until smooth. Add the orange zest and beat again to combine.
Set your mixer to low speed, and add the flour to your butter mixture. Mix on low speed until just combined.
Last of all, stir in the cranberries and your toasted almonds. Now that you've got your dough all mixed up, it's time to shape it. Start by gathering the dough together into a nice ball.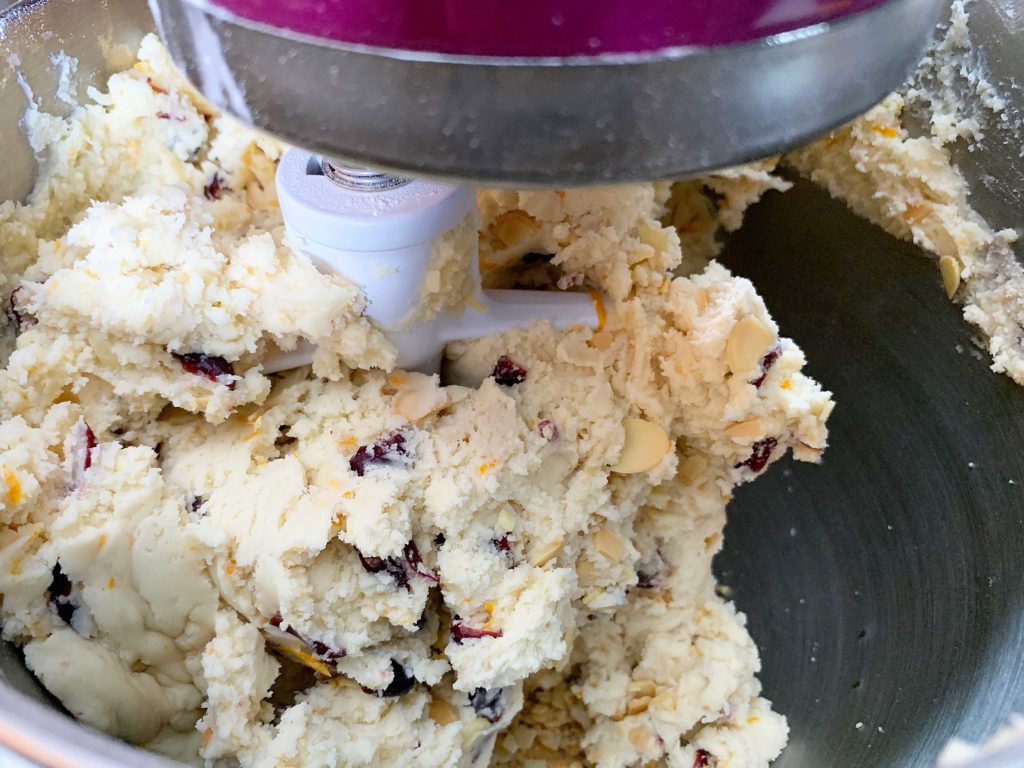 You can roll the dough into a round log or, as I prefer, a rectangular block, which will give you little square cookies. To get the square shape, take your ball of dough and place it on a sheet of parchment. Bang the ball of dough down on the counter with a little bit of force (but not too aggressively…this isn't an anger management session) to flatten one side. Rotate the dough 90 degrees, and bang it down on the counter again. Keep rotating/banging the dough this way and your dough ball will start to turn into a fat rectangle.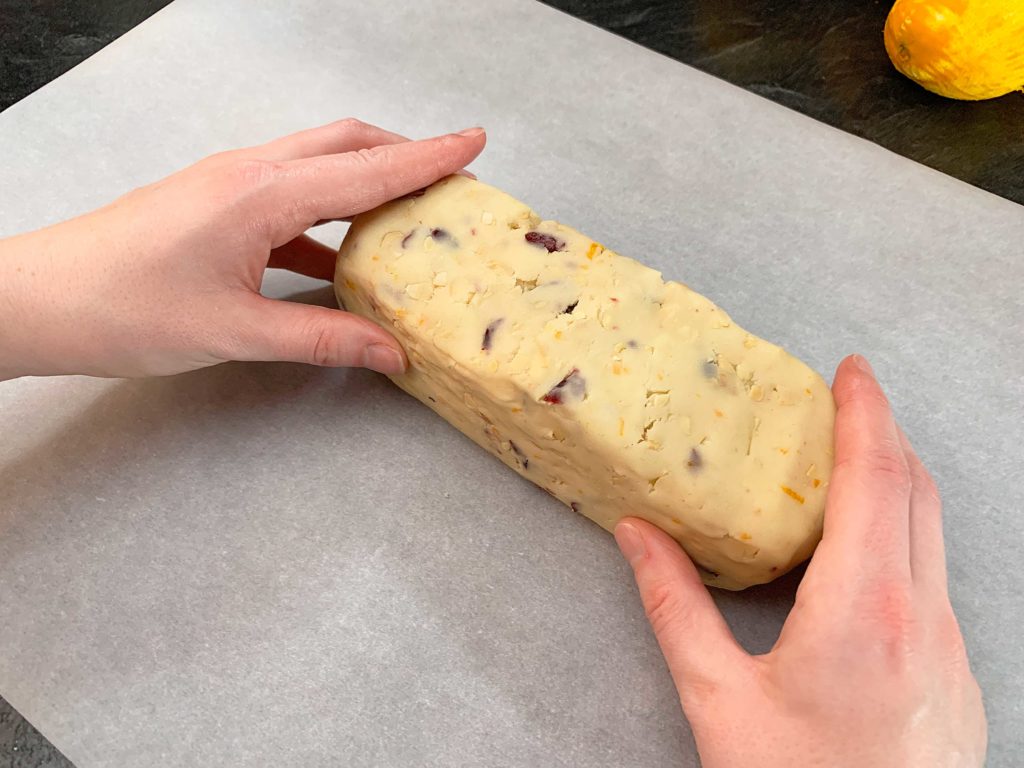 Once you have the start of your rectangle shape, press down all the way along the top side of the block to start narrowing it out further. Rotate 90 degrees and press down again. Keep doing this until your dough block is about 2 inches in width and height.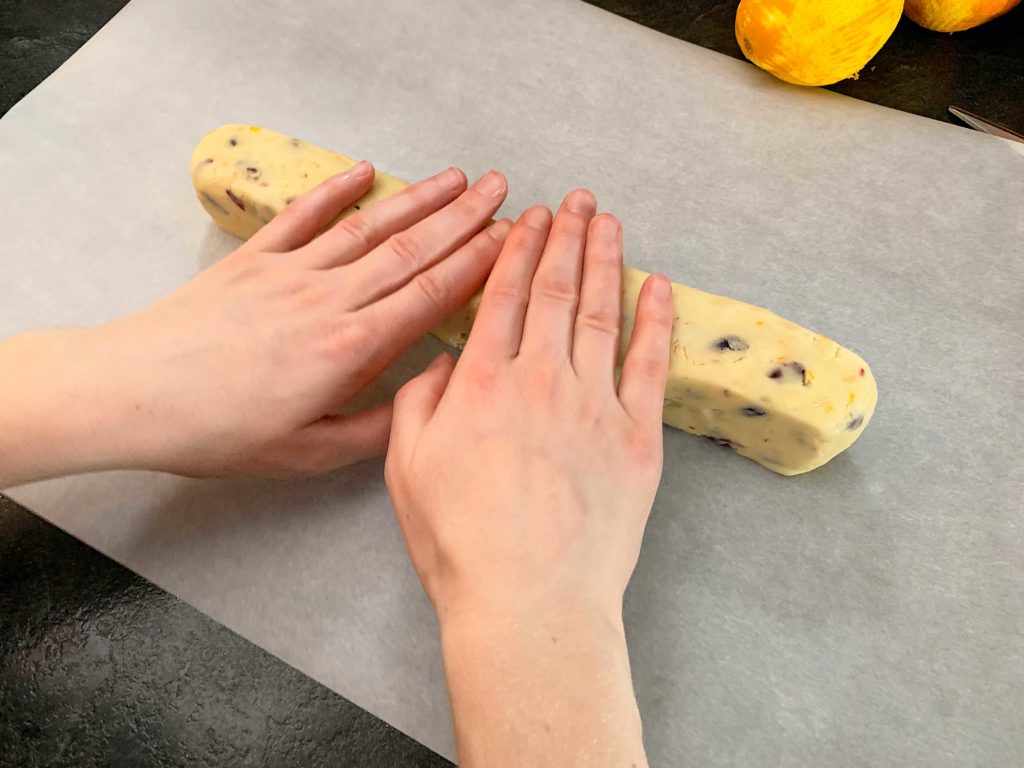 You can get really nice smooth edges by wrapping the parchment paper part way around the dough so it covers the top. Then run the edge of a dough scraper, ruler, or other flat object over the surface with just a little bit of pressure. Rotate the dough, and do the same to the other 3 sides.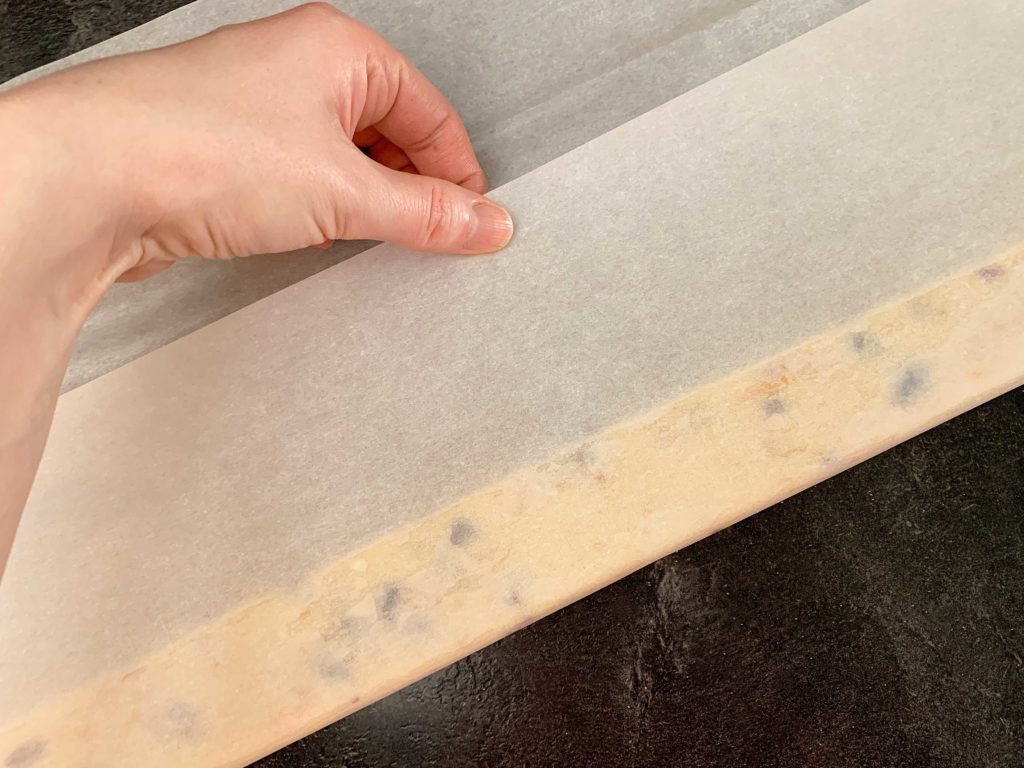 When you're done shaping your dough, roll it up in the parchment paper and twist the ends to seal them up. Let the dough log sit in the fridge for about an hour to firm up.
Some recipes recommend freezing the dough to firm it up, but I find that putting it in the fridge chills it to a perfect slicing consistency. Once your dough is chilled, use a sharp knife to cut it into 1/4 inch thick slices.
Lay the dough slices on a parchment lined baking tray 1-2 inches apart. Bake on the centre rack of your oven until the edges are just starting to turn golden brown.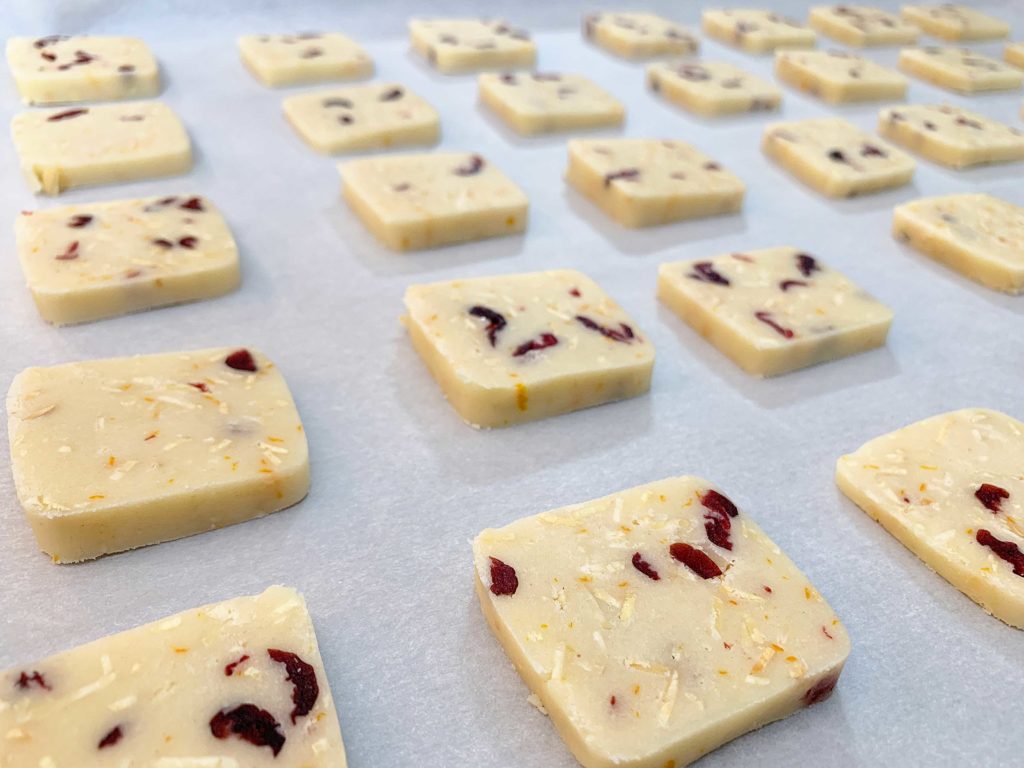 Let the cookies cool on the tray for a couple of minutes before transferring to a wire rack to cool completely.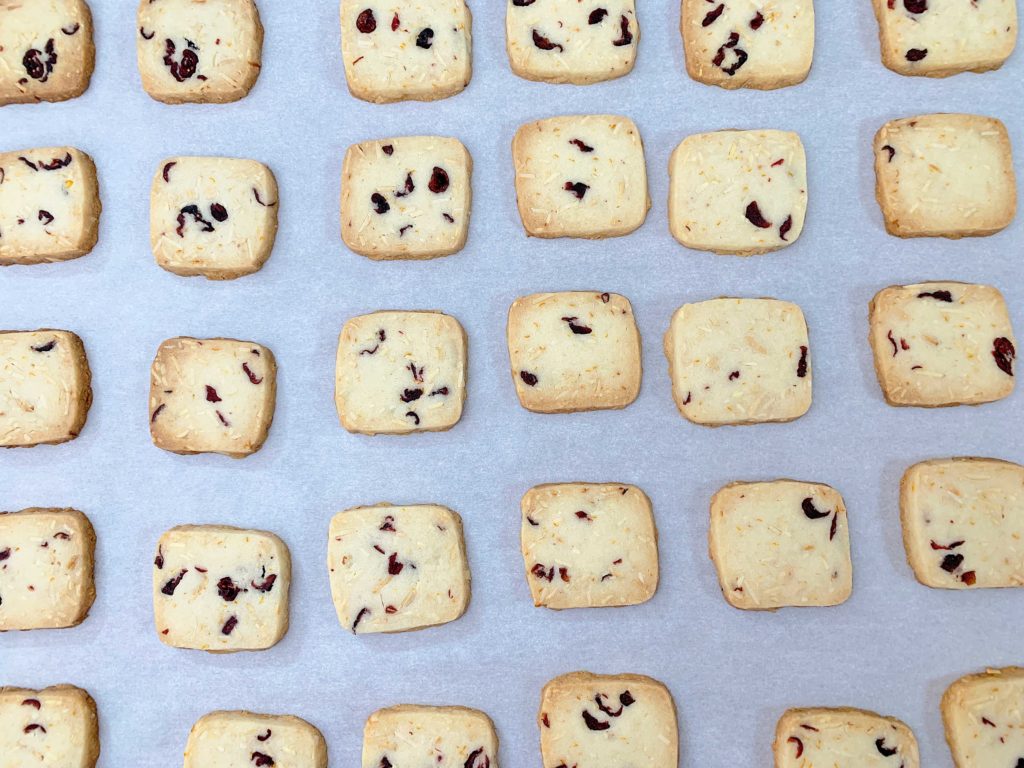 ---
Print Recipe
Cranberry & Orange Almond Shortbread
Ingredients
1

cup

unsalted butter

(softened)

1

cup

icing sugar

3/4

tsp

almond extract

1/2

tsp

salt

(omit or reduce salt if using salted butter)

2

cups

all purpose flour

1

tbsp

orange zest

2/3

cup

sliced almonds

(lightly toasted)

1/3

cup

dried cranberries
Instructions
In the bowl of a stand mixer, beat together the butter, icing sugar, almond extract and salt on medium-high speed until smooth.

Add the orange zest and beat again until combined.

Reduce the speed to low and add the flour. Mix until just combined.

Stir in the almonds and cranberries.

Shape the dough into a round log, or rectangular block. Wrap in parchment paper and refrigerate until firm (about 1 hour).

Pre-heat your oven to 325°F.

Using a sharp knife, slice the dough into  1/4 inch thick slices.

Place dough slices on a parchment lined baking tray and bake for 12-13 minutes or until the edges are just starting to turn golden brown.