I had intended to share these last week, but I couldn't get organized enough to put this post together. We have been deep in the throes of wedding planning for the past few months. As a result, I have been working on all sorts of fun creative projects, but I want to hold off sharing them until after the big day.  It hasn't left a lot of time for extra baking on the side, so this blog may seem a bit slow until after June 1st. I should be back on track after that, at least until we disappear for our honeymoon!
I've been wanting to make these little treats since I first came across the recipe months ago. I am now obsessed with them! A friand, for those who have never heard of them, is a little almond cake, made primarily from a combination of almonds, egg whites, butter and icing sugar. You can add all sorts of flavourings and fruits or nuts to them to suit your tastebuds.
Traditionally they are more of an oval shape. You can buy special friand pans that look sort of like an oval muffin tin. Some come with just a flat bottom, others have a decorative impression on them. I don't own such a pan, so I used a regular muffin tin instead.
I ended up making this recipe twice. I followed the recipe really closely the first time, and unfortunately they did not turn out nearly as well as I had hoped. Reading through it, the recipe sounded very simple. Just throw all the ingredients into a food processor, blend for about a minute until foamy, then pour the batter into a pan and bake.
We don't own a food processor, so I used my blender to mix the ingredients instead. I threw everything in and started blending. I kept a close eye on the mixture and let the blender run for about a minute, as directed, but it was definitely not looking foamy. In fact, it was starting to look like a very heavy and dense nut butter.
I decided more blending would not help, so I stopped and went ahead and baked the cakes in a regular sized muffin tin to see what would happen. As I expected, the cakes came out incredibly dense, and the flavour was mediocre (I had also forgotten to add the vanilla extract).
I searched for a few other friand recipes to compare the method, and noticed others recommended whisking the egg whites by hand first, then just stirring all the ingredients together, rather than putting them in a food processor. I decided to give that a go on the second attempt and the difference was night and day.
The cakes were much fluffier, and had more texture to them because all the ingredients hadn't been blended into a smooth paste. The flavour in the second batch was also nicer, as I remembered to add the vanilla the second time around!
Before you start making your batter for the friands, prepare your baking tins by generously greasing them with a bit of melted butter. This recipe yields enough batter to fill about 12 regular sized muffin cups, or 24 mini ones. If you put a little less batter in each, you can stretch it and make a few extras.
I have some non-stick tins that I usually never have to grease, so I skipped this step on my first attempt and instantly regretted it. The first batch of friands stuck to the tins quite a bit. I buttered the tins on the second attempt, which not only helped the friands pop out easily, it also gave them a nice, ever so slightly sweet and crisp surface on the outside.
To make the batter, start by placing all your egg whites in a medium sized bowl. Give them a good whisking until they get really foamy. You could whisk them in a stand mixer if you prefer, but take care not to over mix them. You don't want them to end up in stiff peaks.
This recipe uses a combination of ground almonds, hazelnuts and pistachios. I purchased whole nuts and finely ground them in a blender, but you can also buy them already ground. The almonds I used had no skins on them, but the hazelnuts did. I haven't found a recipe that clearly indicates either way whether or not the skins should be removed, but my impression is that it won't seriously impact the flavour either way. However, the colour of your batter will be ever so slightly darker with the skins present. Sort of like if you baked with whole wheat flour instead of white flour. This isn't a deal breaker for me at all, so I don't think its worth fretting and trying to remove all the skins before making these.
In a separate large bowl, combine all your dry ingredients (flour, baking powder, icing sugar, ground almonds, hazelnuts and pistachios). Whisk the ingredients together until well combined.
Add the melted butter, vanilla and whisked egg whites to the dry ingredients, and use a spatula to gently fold the mixture all together until well combined.
Transfer the batter to your prepared muffin tins (or friand molds if you have them), and fill them only about 3/4 full.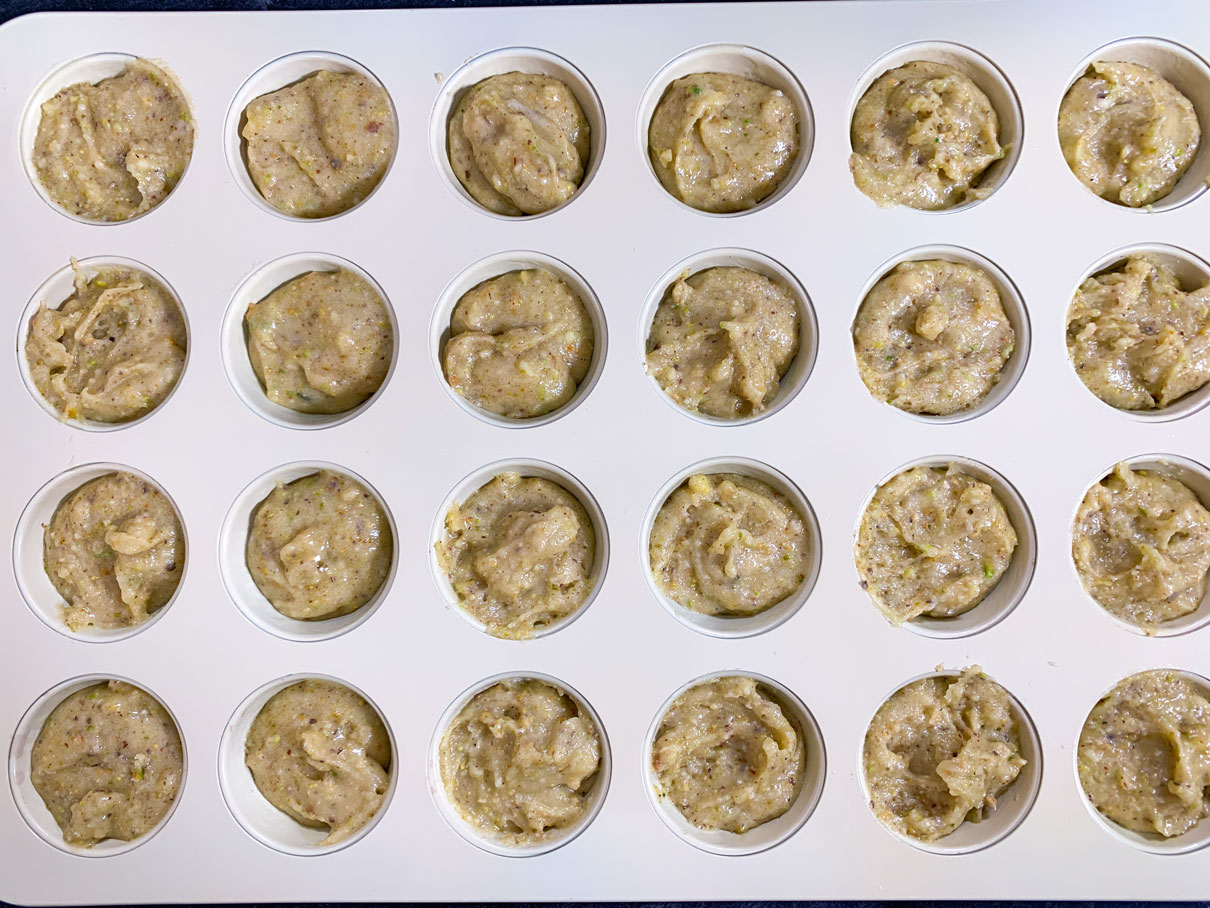 Top each cup of batter with a generous sprinkling of slivered pistachios and 2-3 raspberries (I'd recommend 2 raspberries for the mini cupcake size, and 3-4 for the regular sized cupcakes). If you can't find slivered pistachios, just roughly chop up some whole ones a bit. I think the slivered ones are more aesthetically pleasing, but they'll taste the same either way.
Bake the friands for 15-20 minutes, until the tops are springy and a toothpick comes out clean when inserted into the centre of one.
Allow the friands to cool in the pan for a few minutes before removing them and transferring them to a wire rack to cool completely.
Once cooled, dust them with some icing sugar and serve.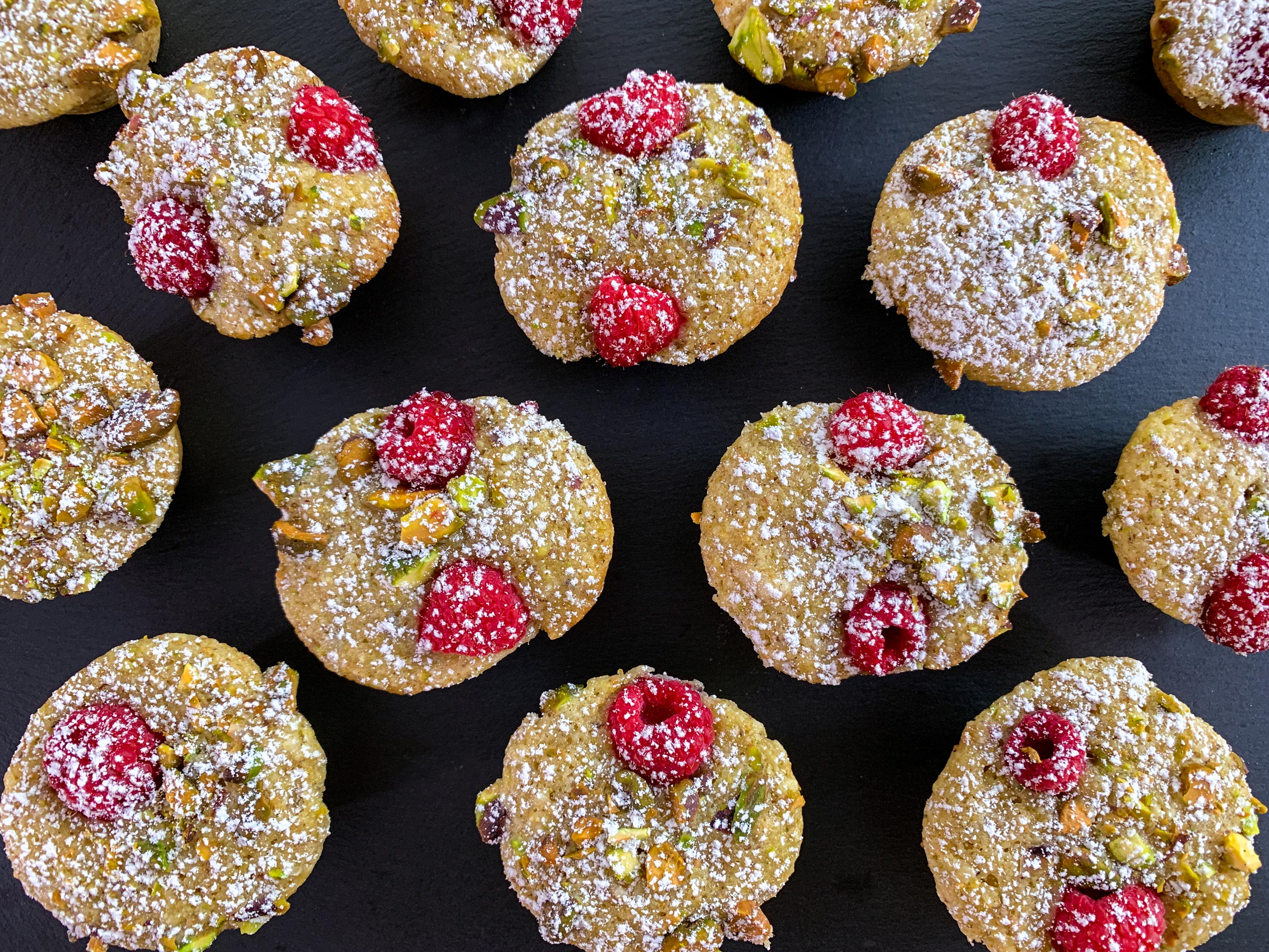 After making these twice, I would definitely recommend hand mixing the ingredients instead of using the food processor. It really doesn't take much effort to mix these by hand at all, and the difference in texture was so drastic. It could just be that my blender pulverized the mixture more than a food processor would, but I'm not feeling tempted to try making them that way again.
I'd also lean in favour of making these in the miniature size, as opposed to the regular sized cupcake tins. The mini ones have such a great ratio of cake to pistachio and raspberry, whereas with the larger ones you end up with more cake, less topping per bite.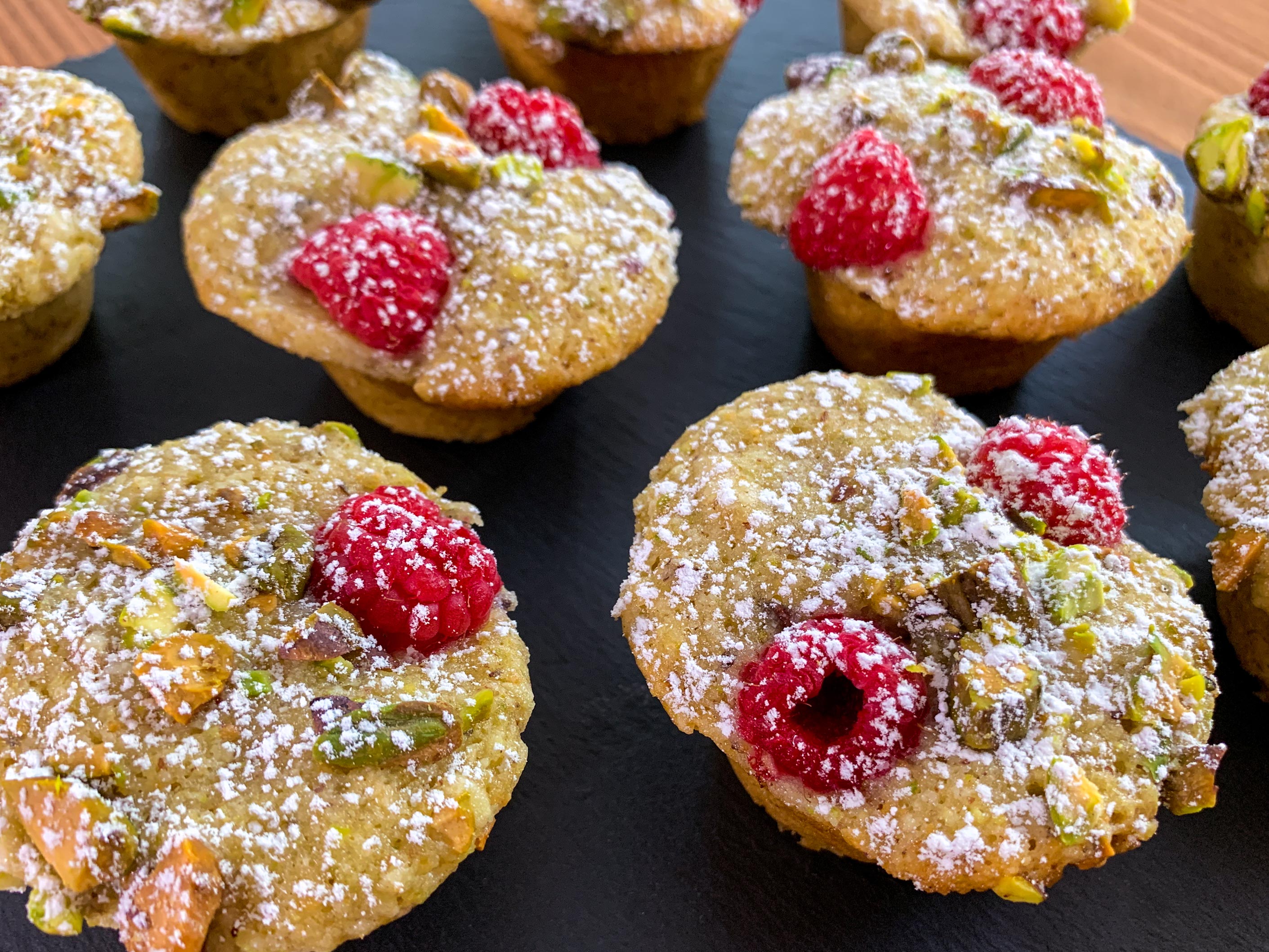 Print Recipe
Raspberry Pistachio Friands
Made with a combination of almonds, hazelnuts, and pistachios, these raspberry pistachio friands are the perfect delicate little cake to serve at a tea party.
Ingredients
⅔

cup

all purpose flour

(90g)

¾

tsp

baking powder

7

tbsp (50g)

ground almonds

6

tbsp (40g)

ground hazelnuts

6

tbsp (40g)

ground pistachios

1 ⅓

cup (190g)

icing sugar

(plus extra for dusting on top)

½

cup

butter, melted

(plus extra for greasing pan)

2

tsp

vanilla extract

5

egg whites

200

g

fresh raspberries

1/2

cup (50g)

slivered pistachios

(or roughly chopped)
Instructions
Pre-heat your oven to 320°F. Generously butter 24 mini muffin cups (or 12 large, or 12-16 friand molds).

In a large bowl, combine the flour, baking powder, ground almonds/hazelnuts/pistachios and icing sugar. Whisk to combine.

In a medium sized bowl, whisk the egg whites until very foamy.

Add the melted butter, vanilla and foamy egg whites to your dry ingredients. Fold with a spatula until well combined.

Spoon the batter into your prepared pans, filling them ½ to ¾ of the way full.

Sprinkle some slivered or chopped pistachios on top of each mold. Place 2-3 raspberries on top of each and press them down slightly just so they stick (I'd recommend 2 raspberries in the mini pans, 3 or 4 in the bigger ones).

Bake for 15-20 minutes, until the tops of the cakes are springy and a toothpick inserted into the centre comes out clean.

Let the cakes cool slightly in their pans before moving them to a wire rack to cool completely.

Dust with icing sugar and serve.
Notes
Original recipe by Clair Ptak, shared on Pacific Sun. Method modified slightly.