Happy Pride Week Everyone! There have been loads of activities and events happening around Vancouver this week, and on Thursday, my company hosted a pride potluck lunch for all the staff in the office. For my contribution, I decided to make this massive six layer rainbow cake!
In order to make this cake, I needed three batches of cake batter. Each batch yielded two 9 inch cakes for a total of six cake layers, each over an inch thick. That's a lot of cake. Thankfully, there are about 90 people in my office, so there were plenty of people to help devour this beast.
I used a vanilla cake recipe from Sugar Spun Run. I normally make all-butter cakes, but have found that some of them tend to be on the dry side. This particular recipe uses a combination of butter and oil, which I think works really well. You get a nice texture and flavour from the butter, but the oil helps to make the cake softer and fluffier than an all-butter cake.
This recipe starts by whisking together all of your dry ingredients.
Next, cream the butter, oil, and sugar together until it starts to get lighter in colour and sort of fluffy.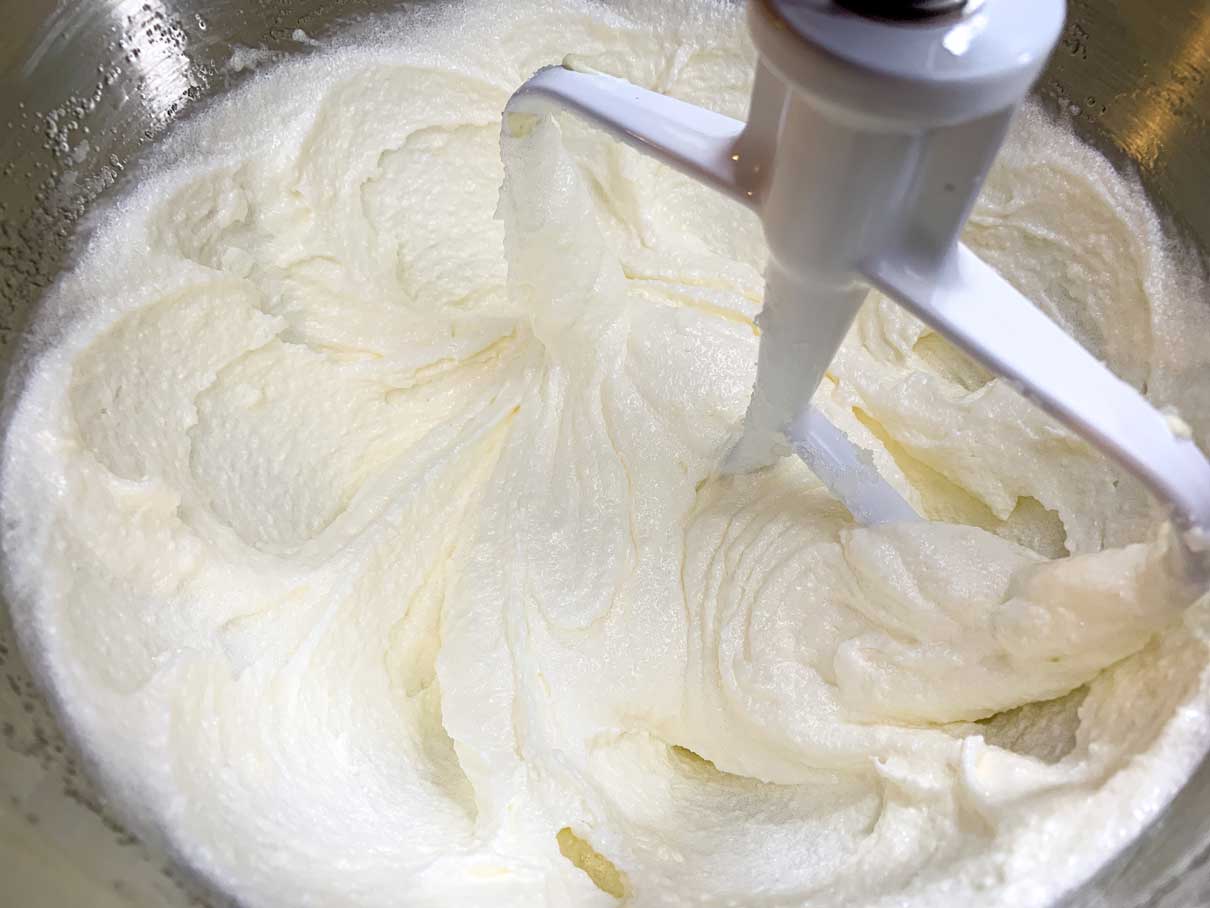 Add the eggs, one at a time, beating well after each addition, then stir in the vanilla extract.
Next, stir in the dry ingredients, alternating with buttermilk, in several additions, starting and ending with the flour (flour, milk, flour, milk, flour). Be careful not to over mix the batter, and only stir the ingredients until just combined.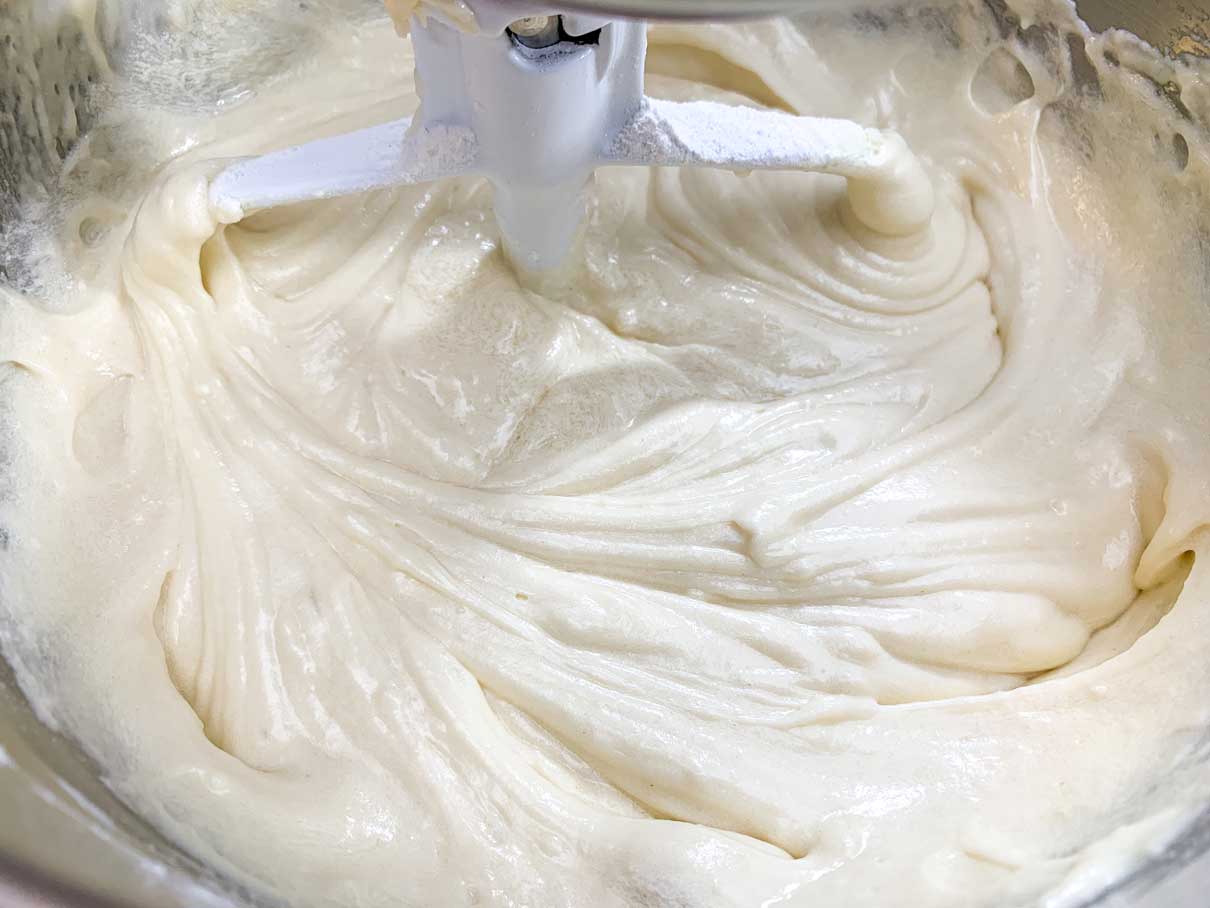 Divide the batter in half. If you're feeling a little OCD like me, you can weigh the batter to ensure you're dividing it exactly in half.
Tint each half with food colouring. I like to use the gel colours because they're very concentrated and they don't add a lot of extra liquid to the batter.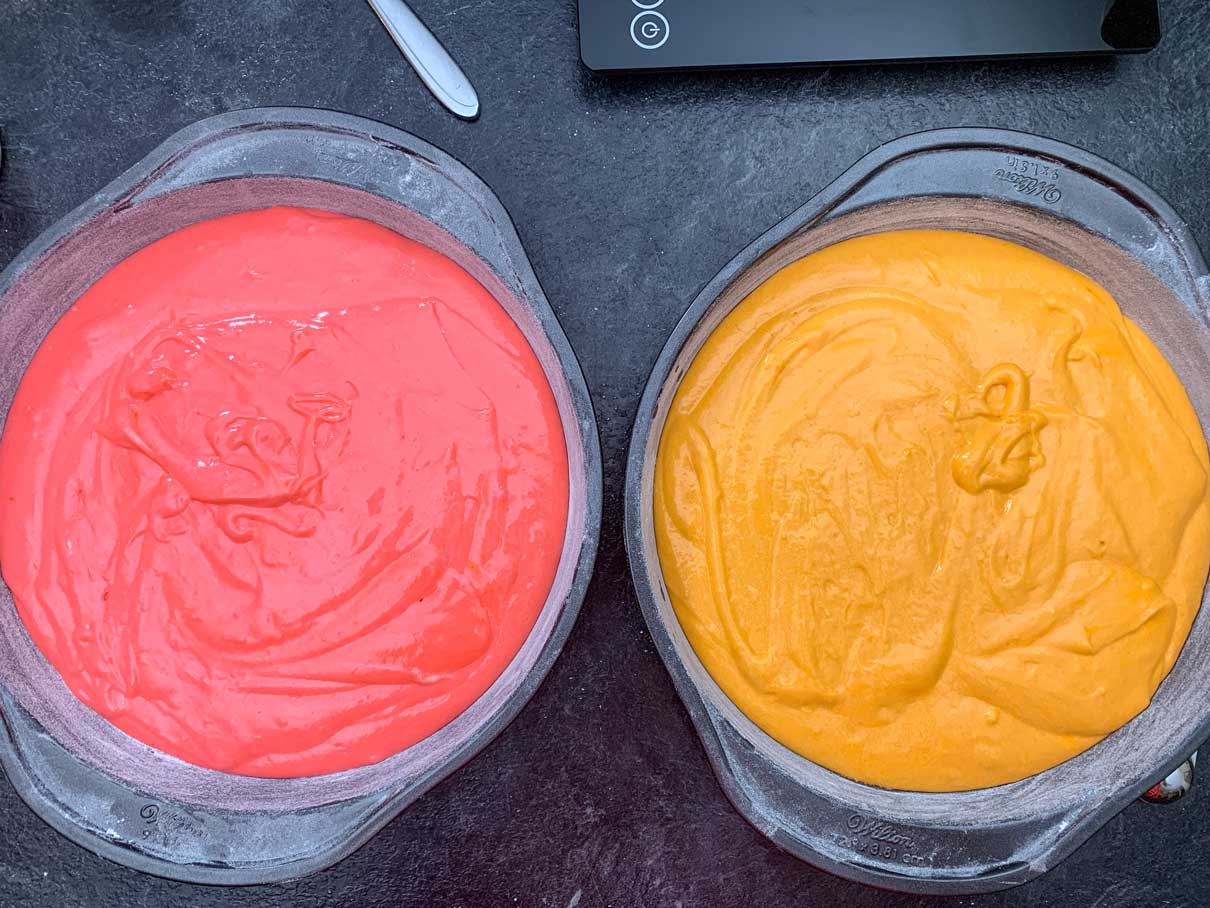 The first batch I tinted red and orange. The second batch was yellow and green. The third and final batch I tinted blue and purple.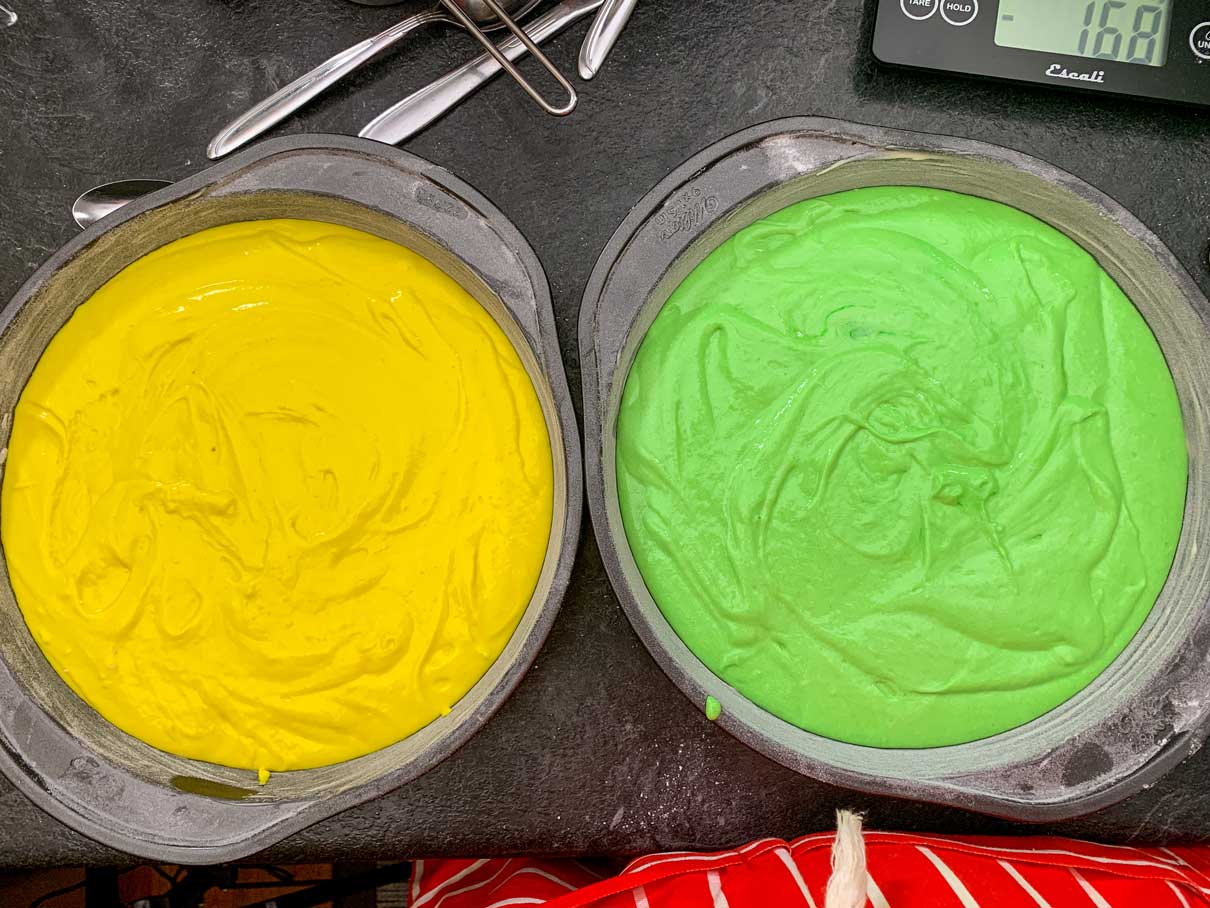 The reason I mixed up each batch separately, instead of just tripling the recipe, is that I can only bake two cakes in the oven at the same time, and cake batter shouldn't be left sitting around for long. When cake batter sits, it starts to lose its leavening power, which means its not likely to rise very well. That's why its best to always mix your batter and get it into the oven as quickly as possible.
It took me about three hours to mix up and bake all the cakes, including washing up time in between. But it was all worth it to have this beautiful row of rainbow cakes lined up on my counter!
After the cakes cooled, I used my handy cake leveller to trim and flatten the tops to ensure the cakes were all even in size.
I also trimmed a thin layer off the edge of each cake, to remove the bits that had browned while baking.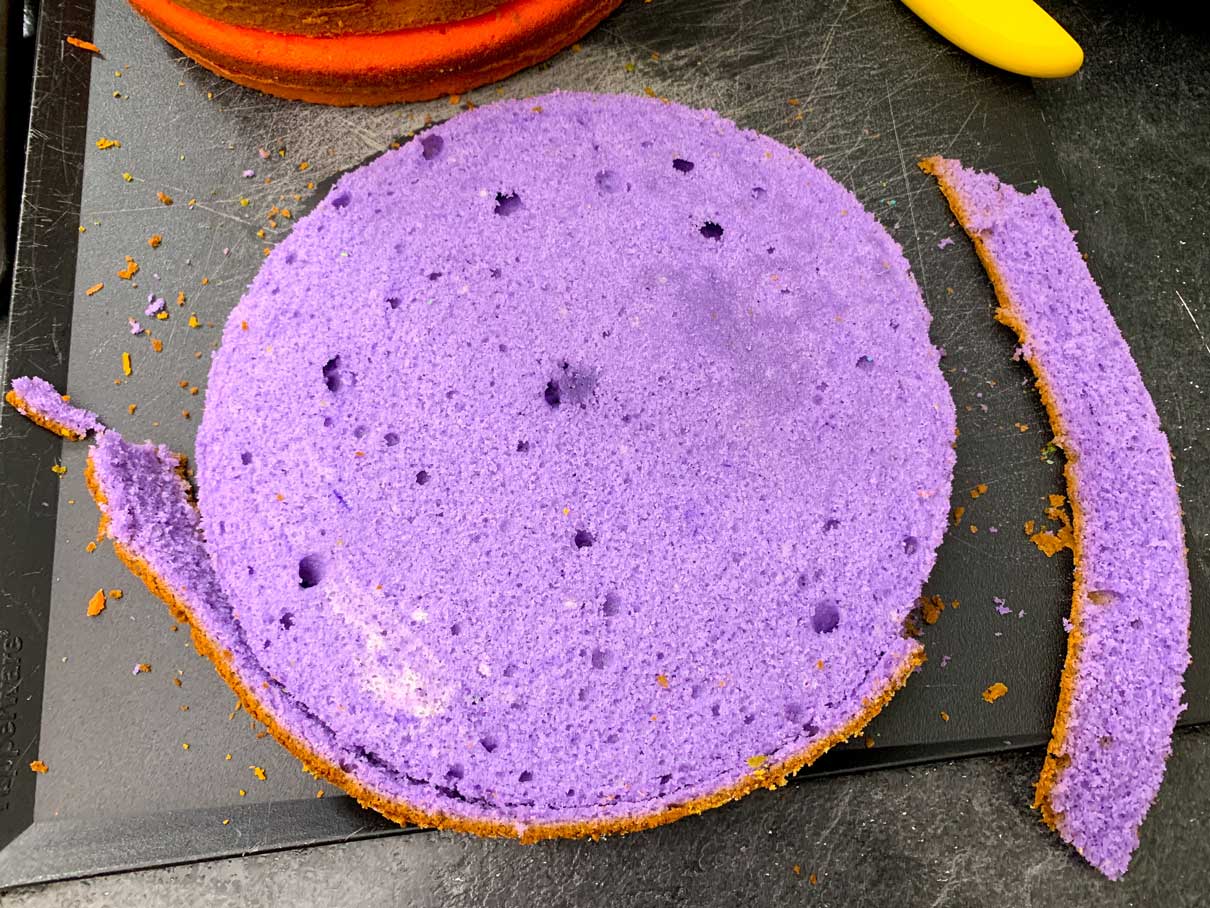 A cake this size requires a lot of frosting. I started by doubling the amount I would normally mix up for a cake or cupcakes. I ended up having to make another half batch. I was able to cover the cake, but not as well as I had hoped. I think it would have been easier to just make three times the amount of frosting to start with. That way I wouldn't have been stressing about whether there was enough to cover the cake.
I spread a thin layer of buttercream between each cake layer. I tried to get it as even as possible, but that's a lot of layers to stack, and the cake ended up being a bit lopsided.
I plastered the outside of the cake with a thin layer of buttercream to seal in all the crumbs. I actually kind of liked the look of it with the little rainbow flecks coming through. I chilled the cake before attempting to do the final outside layer of buttercream.
I had planned to do a smooth coat of buttercream on the outside, but for whatever reason, I decided piping little stars all over the the cake would be easier. I was getting very tired by this point, and piping icing seemed easier than trying to fuss with getting a super nice and smooth finish on the outside of the cake.
I had bought a packet of rainbow coloured sprinkles to decorate the cake with, but then I looked at all the scrap bits of cake that I had trimmed off and they looked much more colourful that the sprinkles I had purchased.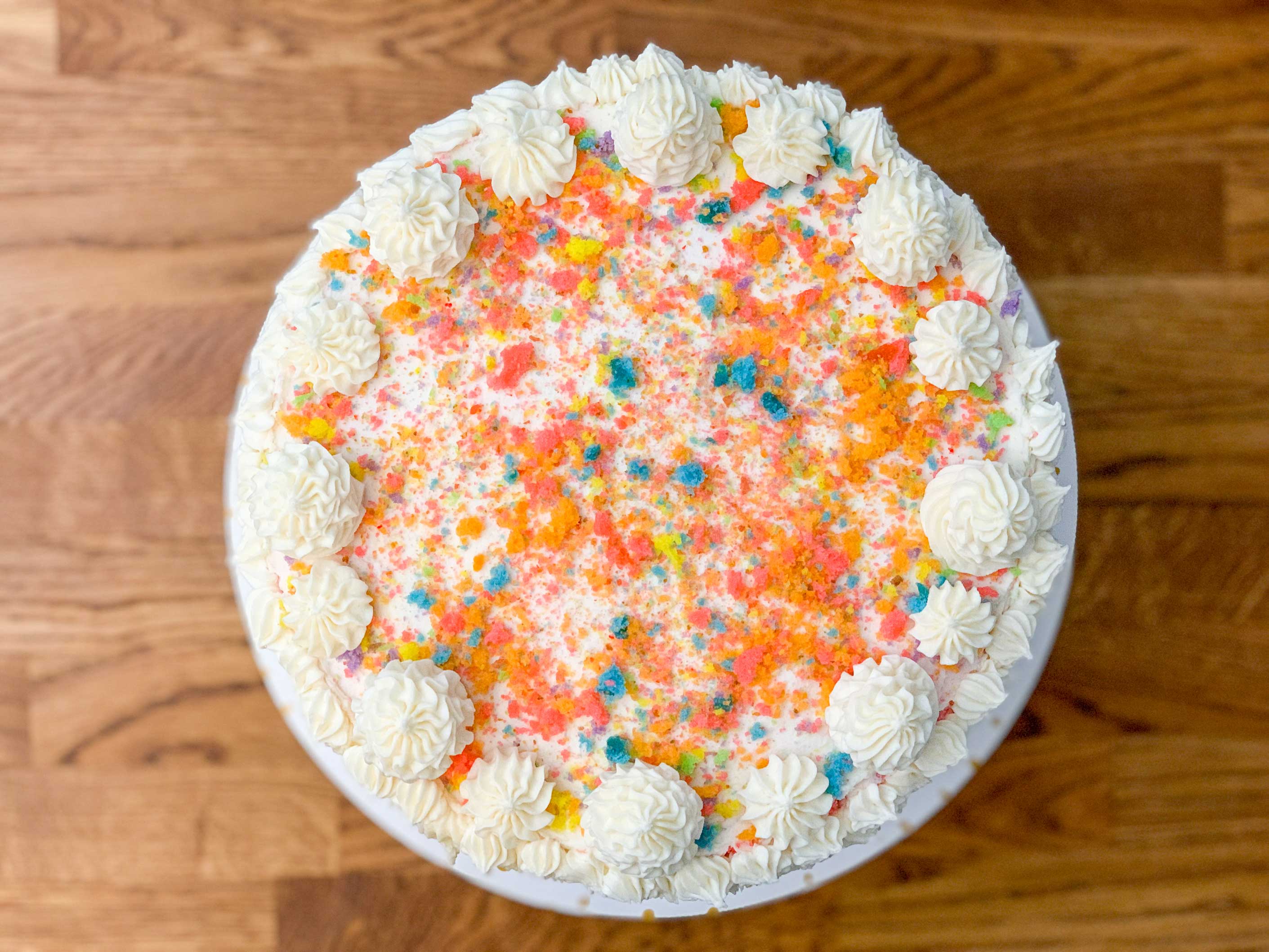 I crumbled up some of the scrap bits of cake and sprinkled them on top. I finished the edge by piping a few little decorative mounds around the perimeter of the cake.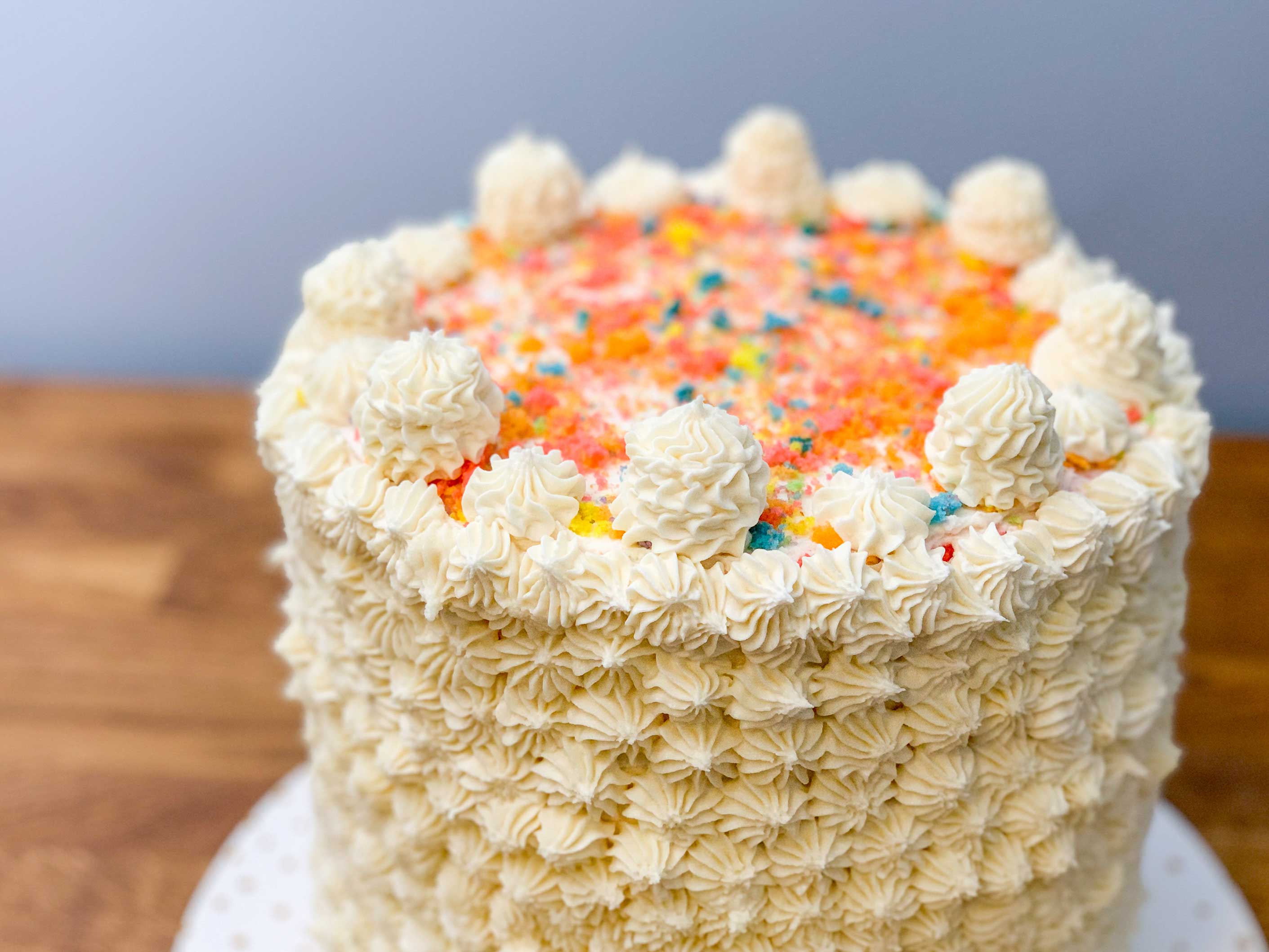 I swear the final cake weighed nearly twenty pounds, and at least two pounds of that was frosting alone! Finding a box that was big enough to transport it to work was quite the ordeal.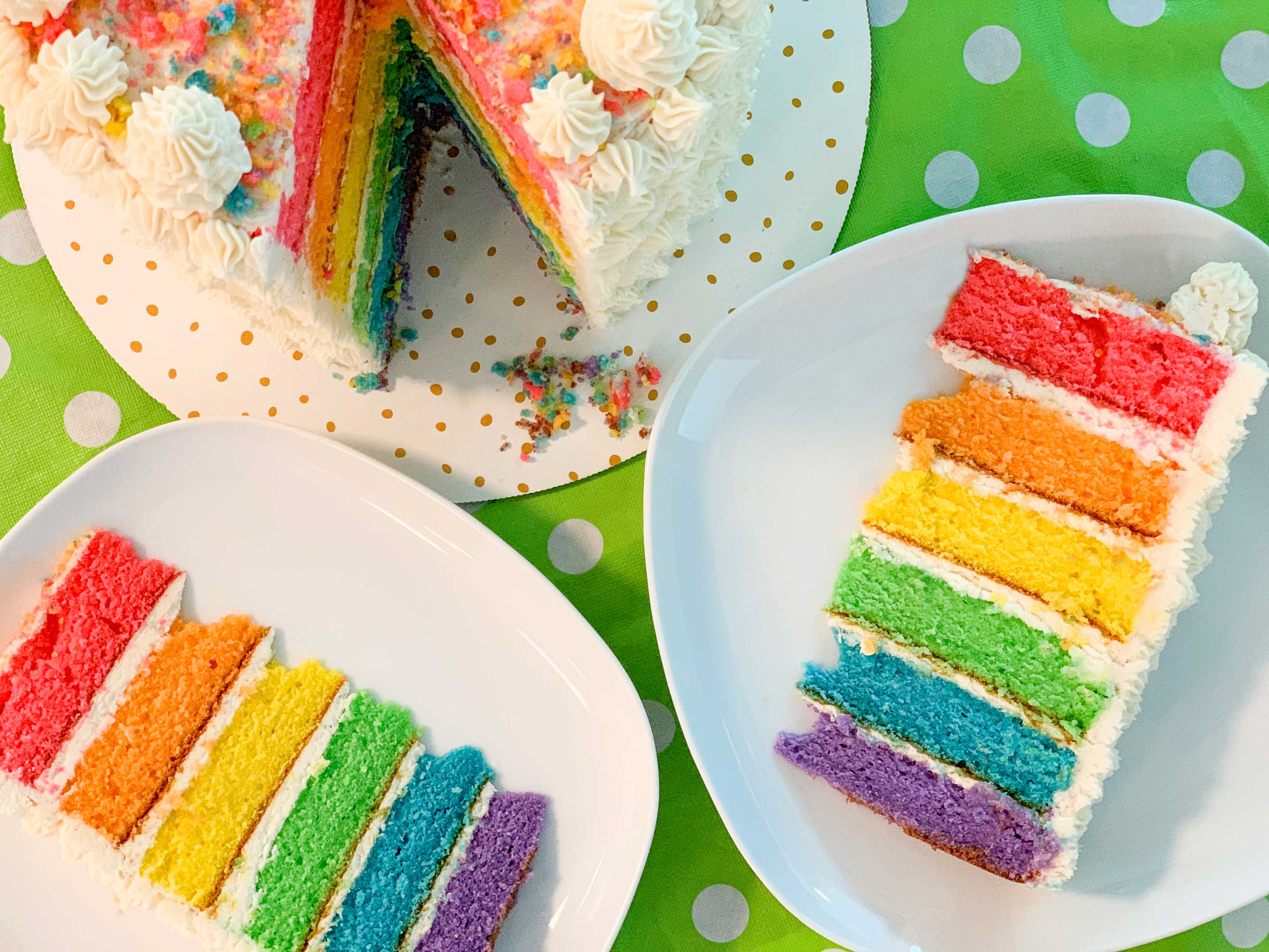 This was certainly a fun cake to make, but quite time consuming given all the layers involved. All things considered, I would still make this cake again, but perhaps not until the next pride week rolls around!
---
Print Recipe
Rainbow Cake
The recipe written below yields one batch of cake batter (two 9" round cakes) and one batch of frosting. To make this same rainbow cake, you will need three batches of cake batter, and 3 batches of frosting.
Ingredients
This recipe makes 1 batch of batter - two 9" round cakes (you'll need 3 batches for the rainbow cake)
3

cups

all purpose flour

1

tbsp

baking powder

1/2

tsp

salt

1/2

cup

unsalted butter

1/2

cup

vegetable oil

1 1/2

cups

granulated sugar

4

eggs

1

tbsp

vanilla extract

1 1/4

cups

buttermilk

Red, orange, yellow, green, blue and purple food colour
This recipe makes 1 batch of buttercream (you'll need 3 batches for the rainbow cake)
1

cup

butter

3-4

cups

icing sugar

2

tsp

vanilla

2-3

tbsp

heavy cream
Instructions
For the Cake
Pre-heat your oven to 350°F. Grease and flour two 9 inch round cake pans.

In a medium sized bowl, whisk together flour, baking powder and salt. Set aside.

In the bowl of a stand mixer, beat together butter, vegetable oil and sugar until creamy.

Add the eggs to the butter mixture, one at a time, beating well after each addition.

Stir in the vanilla extract.

Alternate adding the dry ingredients and the buttermilk in several additions, stirring until just combined after each addition (1/3 flour, 1/2 milk, 1/3 flour, 1/2 milk, 1/3 flour).

Divide the batter in half. Tint each half with a different colour of food colouring and then pour into the prepared cake pans.

Bake for 30-35 minutes, or until a toothpick inserted into the centre comes out clean.

Allow the cakes to cool in their pans for about 10 minutes, before flipping onto a wire rack to cool completely.
For the Frosting
Beat the butter on high speed of a stand mixer until smooth and creamy.

Add the icing sugar, 1/2 cup at a time, beating well on high speed after each addition.

Beat in the vanilla extract.

Beat in the cream. If the frosting is too firm, beat in more cream 1 tablespoon at a time. If the frosting is too soft, beat in an extra 1/4 cup of icing sugar, until your desired consistency is reached.