There's no better way to spend a cold, rainy afternoon, than cozying up with a warm blanket, a pot of tea, and a side of these delicate yet fragrant Earl Grey tea cookies.
The recipe is a Martha Stewart special, and it quickly became a favourite of mine after it was shared with me by my best friend several years ago. They're delightfully easy to prepare and you can tailor them to your tastebuds by using your favourite tea.
To start, you'll want to choose a quality loose leaf Earl Grey tea. I usually use this Murchie's Earl Grey Loose Tea.  Fine grind the tea using a spice grinder or small food processor. Don't worry too much about getting it all super fine. You'll likely have a few slightly bigger pieces no matter how much you grind it. Whisk the tea together with some flour and salt and set aside.
Next, beat together some butter, sugar, and orange zest until pale and fluffy. If you don't have a zester, you can use the fine grate side of a cheese grater to grate the orange zest. Be careful to grate just the surface of the orange, and not the white pith below, which will add a bitterness to the dough.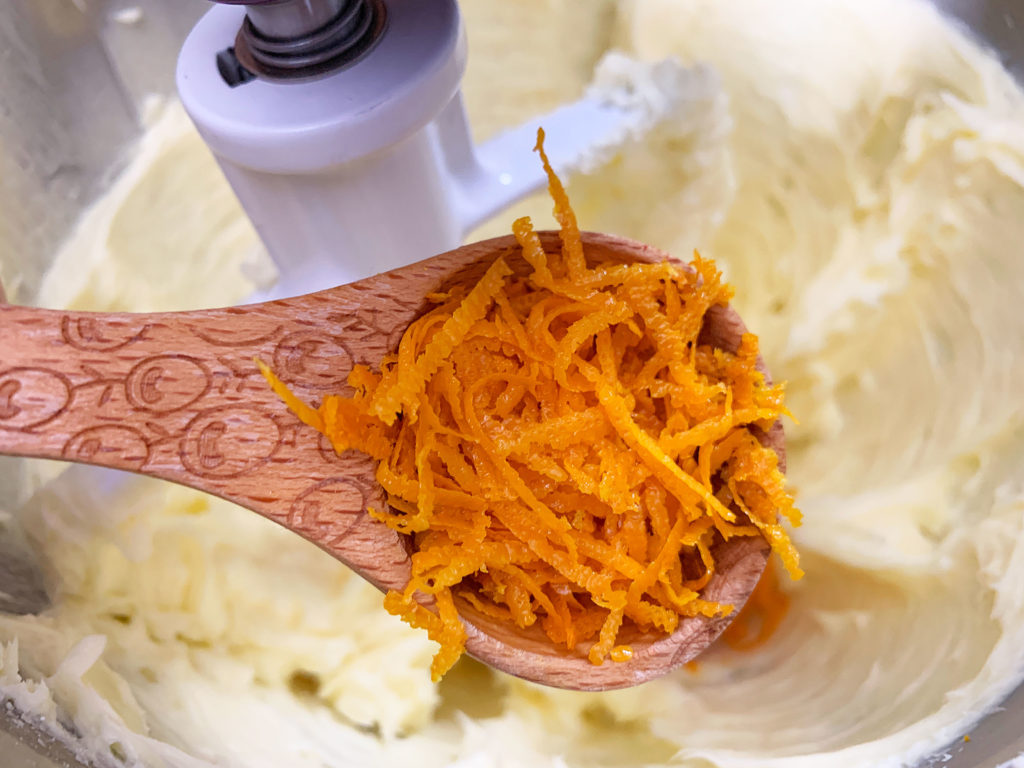 Reduce the mixer speed to low and add the flour/tea/salt, stirring until just combined. Take a deep inhale and you'll notice how amazing that fresh, citrusy, orange scent is combined with the tea.
If you're making a single batch of dough, divide it in half. I doubled the recipe and divided it into three, but I'd recommend doing four, as it would have been easier to work with. 
Take each piece of dough and shape it into a log roughly 1 1/4 inches in diameter (about the size of the cardboard insert of a paper towel roll).  There's a bit of a knack to getting a nice, smooth, evenly shaped log. Start by rolling it out so the log is just a little wider in diameter than your desired outcome. Then place the log on a piece of parchment and fold the parchment paper right over top of the log to cover it.
Take a ruler and press it against the length of the log, holding it firmly in place. Meanwhile, pull the bottom sheet of parchment towards you. Pressing the ruler against the log and pulling the bottom sheet, will cause the parchment to tighten around the log. The dough log will start to narrow and the surface will smooth out. Keep pressing/pulling until the log has reached your desired diameter.
Twist the ends of the parchment paper tight like a Christmas cracker to seal them up. Transfer each log into the cardboard insert of a paper towel roll (this will help to maintain their round shape) and place in the fridge for about an hour to firm up. The original recipe says to put the logs in the freezer, but I find the logs are harder to cut when completely frozen. Putting them in the fridge firms them up to just the right consistency so they are easy to cut through, while still retaining their shape.
When your logs have chilled, pull them out of the fridge and use a sharp knife to cut the log into 1/4 inch thick slices.
Place each slice of dough onto a parchment lined baking tray about 1 inch apart, and bake until the edges are just barely starting to turn golden. Keep an eye on them towards the end of their bake time to avoid over baking.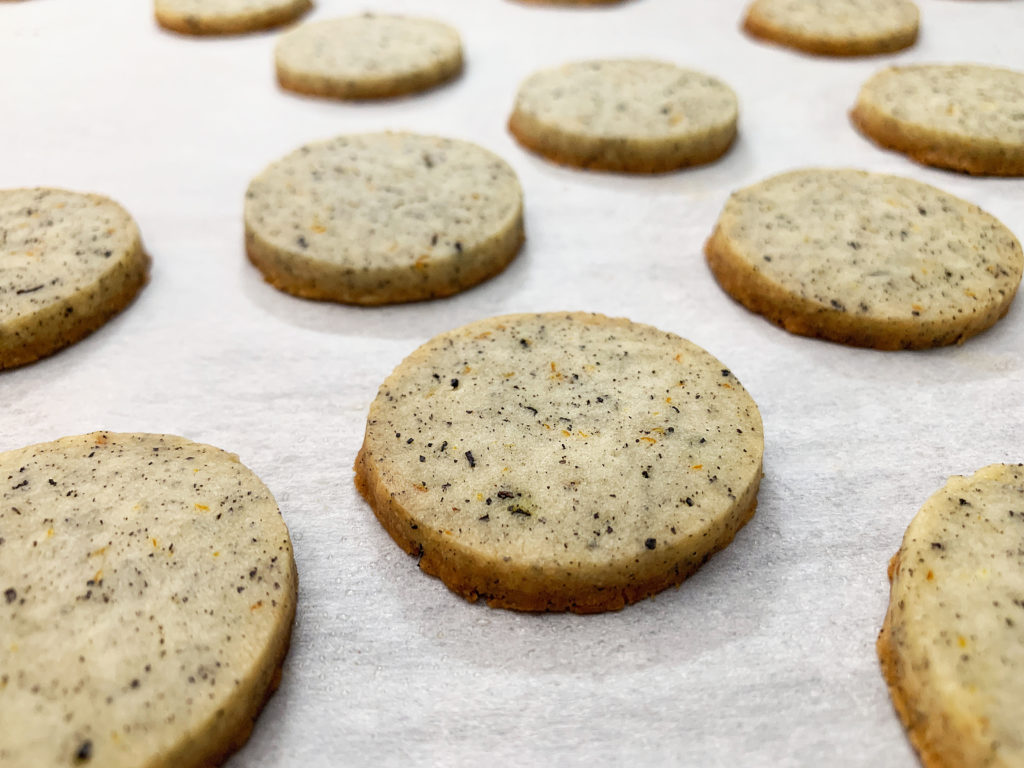 These cookies are perfect for any tea lover. They aren't overly sweet and they melt in your mouth like fragrant shortbread. The recipe claims to yield eight dozen cookies, but I always end up with closer to fifty. It may seem like a lot, but you'll be amazed at how quickly these little cookies disappear!
---
Print Recipe
Earl Grey Tea Cookies
Ingredients
2

cups

all purpose flour

2

tbsp

finely ground earl grey tea leaves

1/2

tsp

salt

1

cup

unsalted butter

(softened)

1/2

cup

icing sugar

1

tbsp

finely grated orange zest
Instructions
Whisk together the flour, tea and salt in a medium sized bowl.

Place the butter, icing sugar, and orange zest into the bowl of a stand mixer. Beat at medium speed until light and fluffy.

Reduce the speed to low, and gradually add the flour mixture. Stir until just combined.

Divide the dough in half and transfer each half to a piece of parchment paper.

Roll each dough half into a log shape about 1 1/4" in diameter. Wrap in parchment paper, twisting the ends shut, and place each log in a paper towel tube (see notes above on how to get an even shaped log). Refrigerate until firm (about 1 hour).

Pre-heat your oven 350°F.

Use a sharp knife to cut your dough logs into 1/4 inch thick discs.

Place cookies 1 inch apart on a parchment lined cookie tray.

Bake for 9-10 minutes or until the edges are barely golden.