Have you ever thought to yourself, "Wouldn't it be great to get drunk off of chocolate?" Well then, these boozy chocolate bourbon balls were made just for you!
I have a standard rum ball recipe that I've been making for ages, but a couple of years ago I decided it would be nice to try making another variety of boozy ball. I searched around online for some ideas and found this Chocolate Bourbon Ball recipe from White on Rice Couple.
I whipped up a batch using Jack Daniel's as the boozy mixer. While technically a whiskey, not a bourbon, it's what I had on hand, and it worked just fine. (If you're interested in an in depth overview of why Jack Daniel's is not a bourbon, check out this article here.)
After rolling the mixture into balls, I opted to coat them in a dusting of cocoa powder, thinking this would add an extra hit of chocolatey goodness. I was a little disappointed with the result, as this seemed to dry them out. I still enjoyed the flavour, so I decided to make them again, but this time I dipped them in chocolate as an attempt to try and seal in the moisture.
It was a little finicky trying to get a thin, even coating of chocolate at first, but I eventually found a technique that seemed to do the trick. It certainly takes more time to do the chocolate dipping, as opposed to just rolling the balls in another coating (like cocoa powder or crushed nuts), but I really enjoyed the end result, and it kept the insides much more moist.
To start out, you need some finely ground Nilla wafers. The easiest way to do this is with a food processor or blender. I didn't own either for the longest time, so I used to put the wafers in a zip lock bag and smash them up with a hammer. It's a really tedious approach, but it works when that's all you've got.
In a large bowl combine your ground Nilla wafers, chopped nuts, icing sugar, cinnamon, ginger, nutmeg and cocoa powder. On a side note, always toast your nuts! It doesn't take long and it really enhances the flavour.
Next, stir in some honey and bourbon. The original recipe actually calls for corn syrup or agave nectar, but I prefer to use honey. As for the bourbon (ahem….Jack Daniels), I tend to be a little heavy handed with my pouring. I start with the measured amount and then just keep adding a little more until the mixture is moist enough that it holds together easily when rolled into a ball, without being soggy.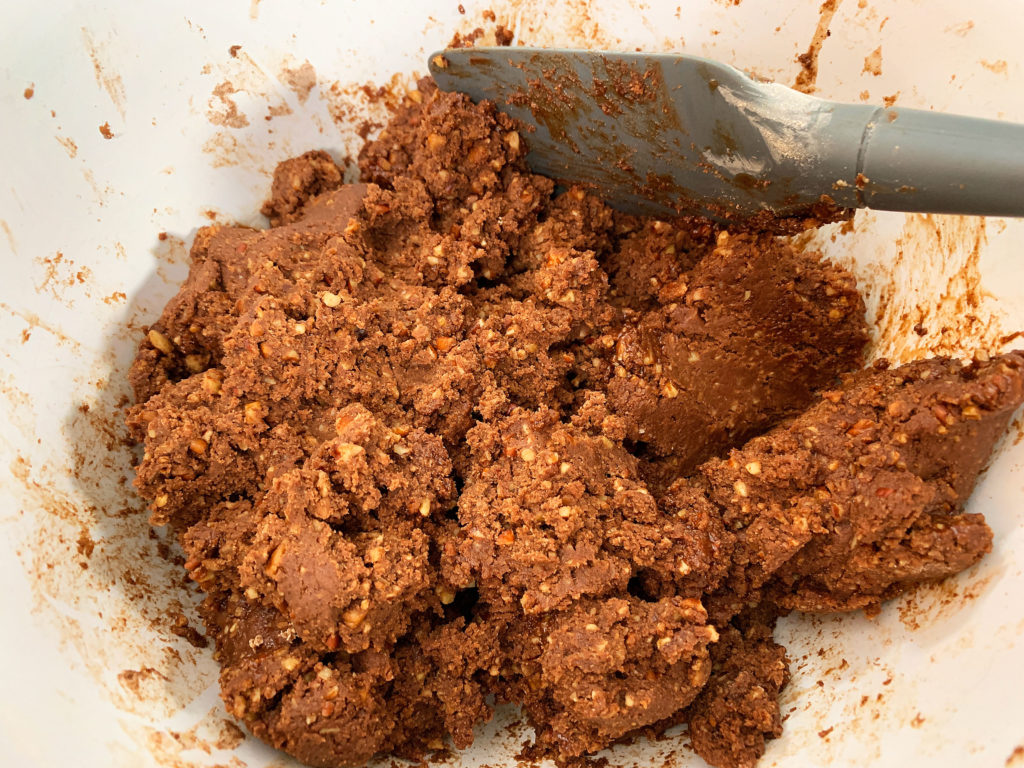 The mixture will be quite heavy and stiff. You need a sturdy spoon or spatula to give it a good mix. You could also throw it into a stand mixer if you want to avoid an arm work out. Once you've got everything good and mixed together, start rolling it into 1 inch balls.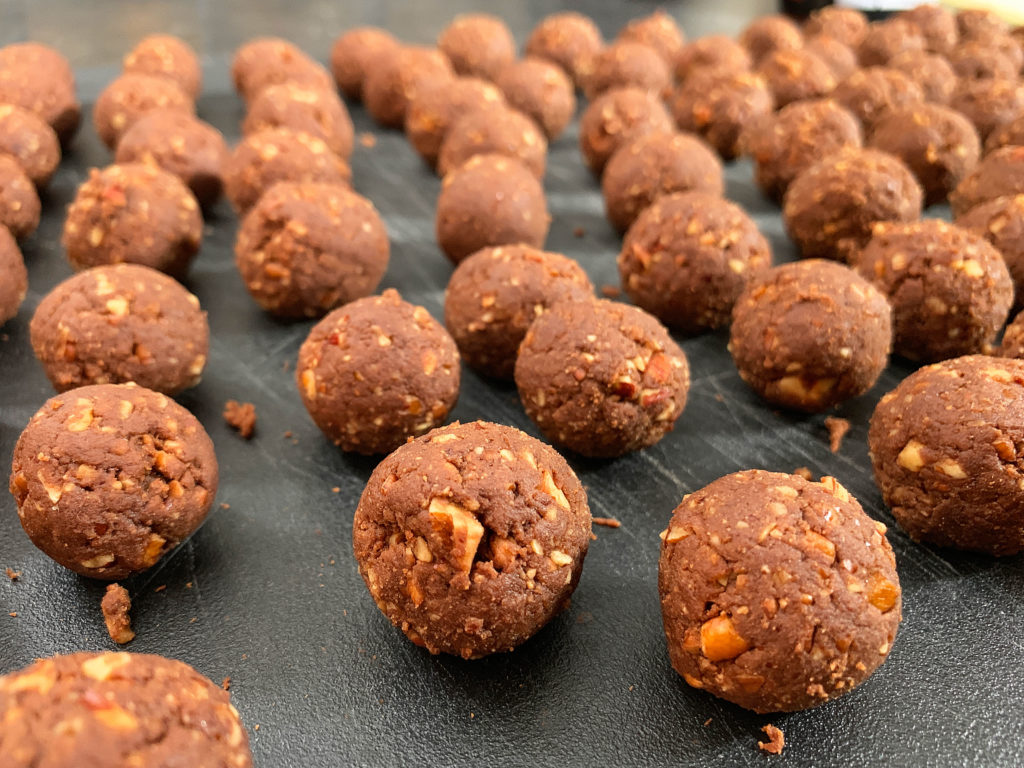 Next you're going to want to melt some chocolate. You could do this in the microwave, but I find it's easier to keep the chocolate at a nice dipping consistency if you use a double boiler. If you don't have a double boiler, you can put some water in a saucepan, place a stainless steel bowl over top (the bowl should be bigger than the saucepan, and the bottom should be out of the water), and turn the temperature on low. The heat from the steam of the water will warm the bowl and melt the chocolate.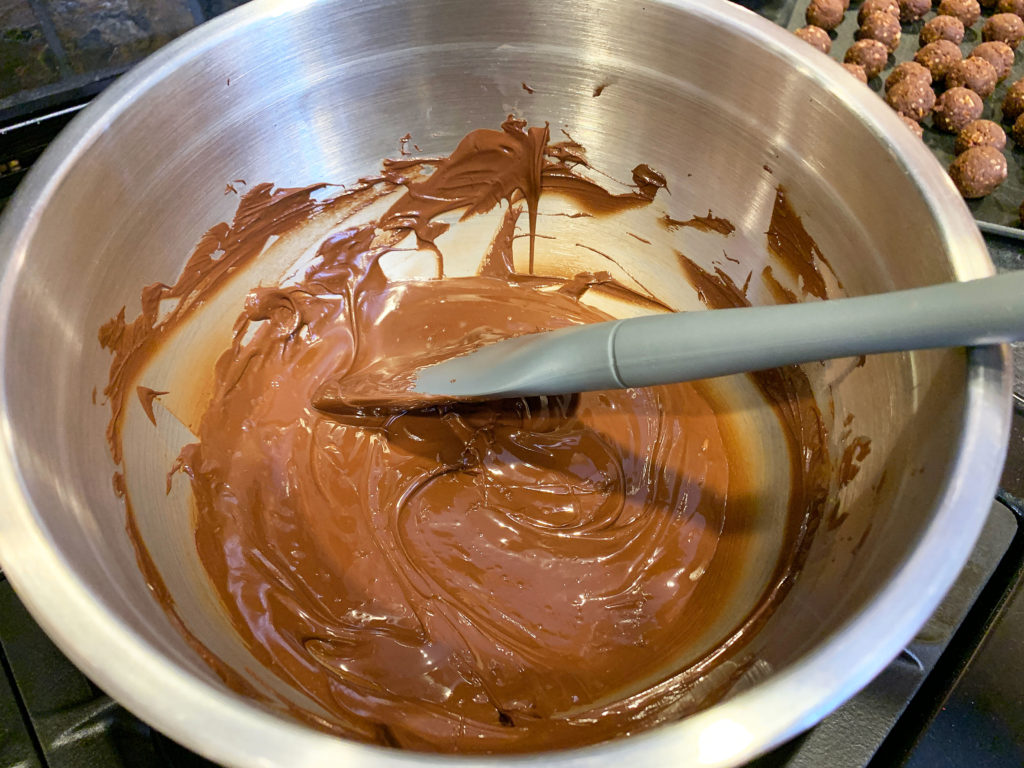 Drop a bourbon ball into the chocolate and roll it around with a fork to make sure it's coated on all sides. As I mentioned before, this part is a little finicky. The method that I've found works best for me so far is to hold the fork in one hand, and a heat proof spatula in the other. I tap the fork, with the bourbon ball on top, against the edge of the spatula to knock off some of the excess chocolate from the top/sides. I then scrape the underside of the fork along the edge of the spatula to clean up the bottom.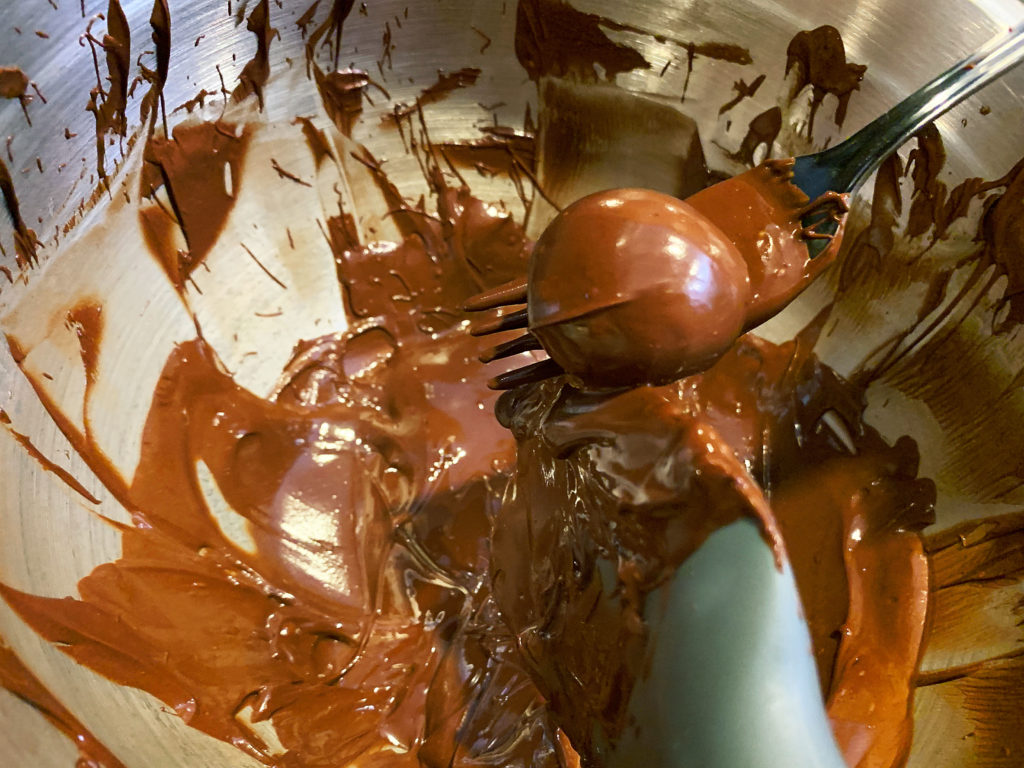 Once I've knocked off the excess chocolate, I use a small knife to push the ball off the fork and onto a parchment lined baking tray.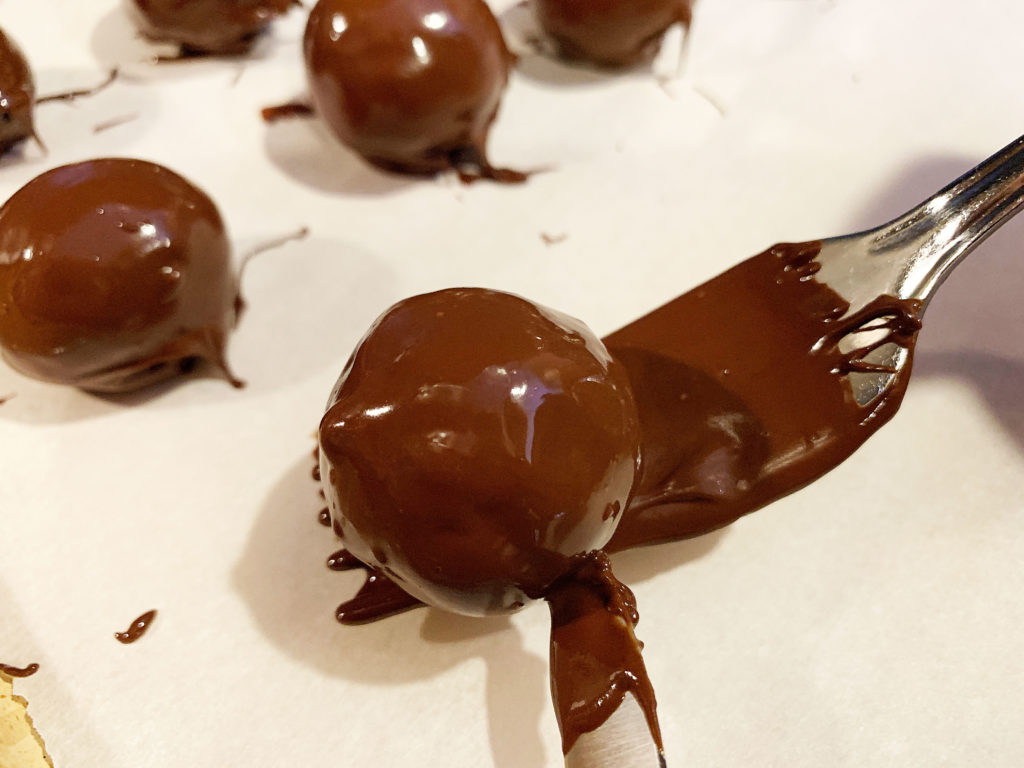 You'll want to let the chocolate set until firm before serving. I leave them to firm up at room temperature rather than putting them in the fridge, since this can cause condensation to form on the surface, which isn't great for chocolate.
Once the chocolate has firmed up, place them in little candy cups or mini cupcake liners to give them a more festive look!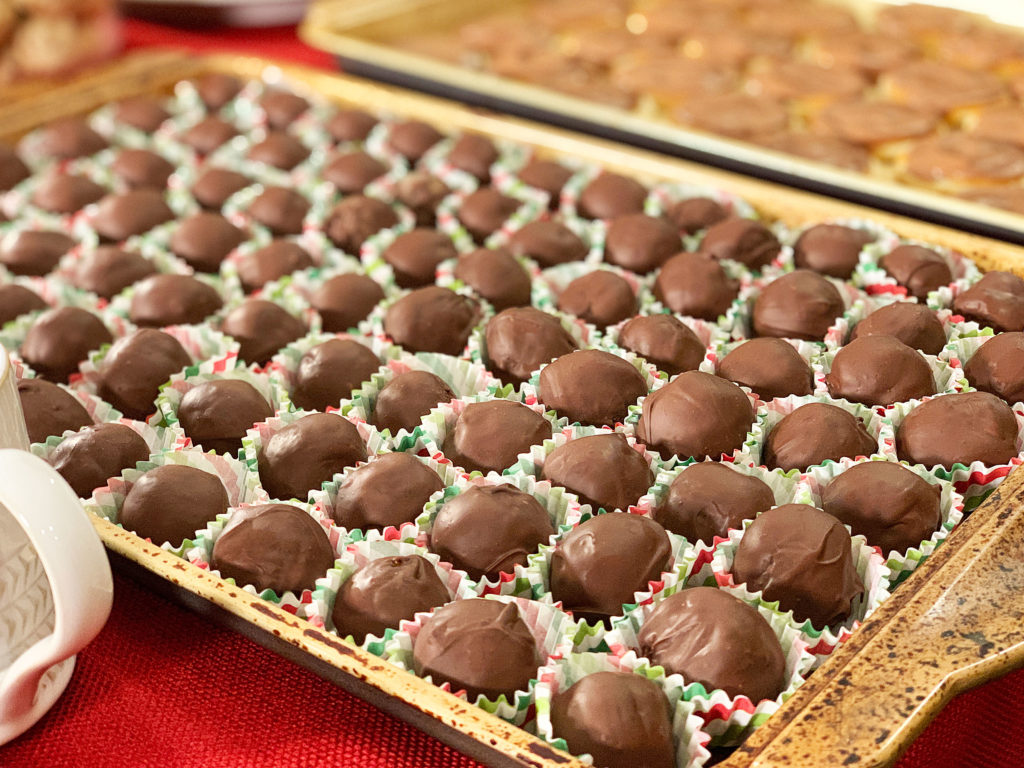 ---
Print Recipe
Chocolate Bourbon Balls
A chocolatey coating seals in the bourbon flavour of these wonderful boozy balls!
Servings:
35
bourbon balls
Ingredients
1

cup

finely ground Nilla wafers

(about 40 wafers)

1

cup

toasted and finely chopped pecans

(or walnuts)

1

cup

icing sugar

1

tsp

cinnamon

½

tsp

ground ginger

Pinch of nutmeg

¼

cup

cocoa powder

⅓

cup

Jack Daniel's

(or your favourite bourbon)

2

tbsp

honey

1 ½

cups

semi-sweet chocolate chips

(for dipping)
Instructions
In a large bowl, combine ground Nilla wafers, nuts, icing sugar, cinnamon, ginger, nutmeg and cocoa powder. Stir well to combine.

Stir in the bourbon and honey. Add a splash more bourbon if the mix is looking a little dry. You want it moist enough that it holds together when rolled into a ball, without being too soggy.

Roll the mixture into 1" balls.

Melt 1 1/2 cups semi-sweet chocolate chips over a double boiler or in the microwave.

Drop a ball into the chocolate and stir it around with a fork to ensure it is evenly coated. Use the fork to lift out the ball, and then tap the fork lightly against the edge of the chocolate bowl, or a spatula, to help knock off any excess chocolate.

Place the chocolate covered ball on a parchment lined baking tray.

Allow chocolate to set before serving.