This hearty hamburger soup is the ultimate comfort food. It's simple, easy to make, and a perfect way to warm up on a chilly fall day. I didn't even know hamburger soup was a thing until I tried it at my in-laws for the first time.
I had taken a trip to visit them one weekend. They're a two hour plane ride away and the air conditioning was set to sub-zero temperatures throughout the entire flight. I generally don't like flying at the best of times, so by the time I arrived I was cold and grumpy. To top if off it was a grey, dreary day outside.
When I finally arrived at the house, I walked in the door and was greeted with the most delicious scent. My mother in law had a big pot of this hamburger soup on the stove and was just pulling a tray of fresh cheese biscuits out of the oven to go with it (These are the cheese biscuits I wrote about a couple of weeks ago. They are to die for!).
Those closest to me will know that when I'm in a bad mood, the best thing to do is throw food at me and then run in the opposite direction as fast as possible. Usually as soon as I start eating my spirits will drastically lift. This soup was the PERFECT solution to my post-flight grumps. I could not have been happier as I tucked into a big bowl of this warm soup, soaking up the broth with big chunks of fresh, hot cheesy biscuits! I'm getting hungry just reminiscing about it…
Needless to say, I had to have this recipe in my life so I could continue to relive this belly warming experience over and over again. I doubled this recipe to feed six very hungry people and we did have some leftovers. Depending on how hungry your guests are, the amounts indicated below will make 4-6 servings.
To start, simply chop up all your veggies to your preferred shape and size. Keeping your veggies roughly the same size will help everything cook evenly.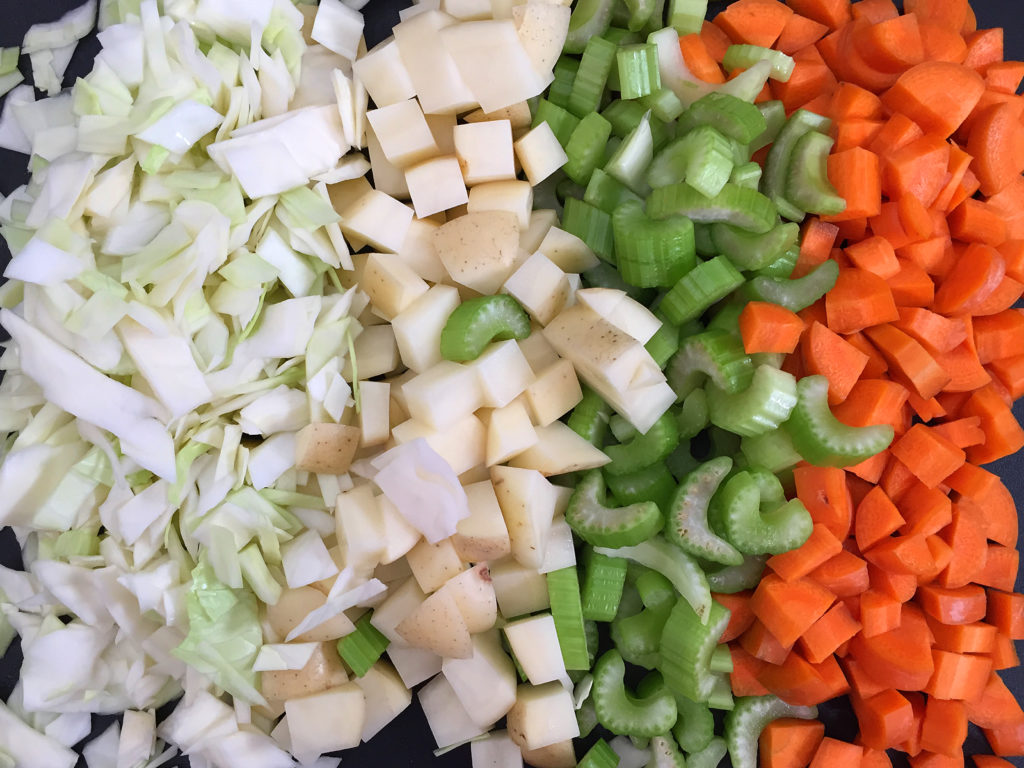 On medium high heat, brown the ground beef, along with the onion, and add salt and pepper to taste. These days I have to omit onion from everything since we have an allergy in our house (It's absolutely tragic because I LOVE onions!). In regards to the beef, I'd recommend using lean or extra lean. You could also use regular ground beef but be sure to drain some of the fat off before adding it to your soup or it will be rather greasy.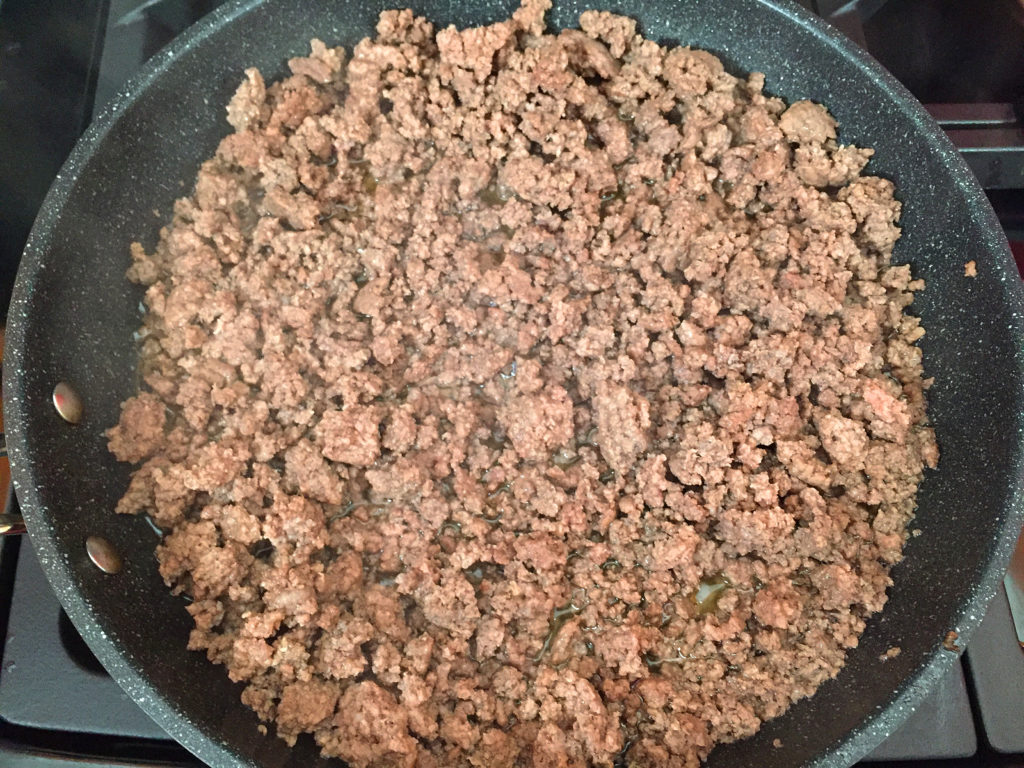 Once your beef and onions are cooked, throw it into a large pot with all your other ingredients except for the uncooked pasta. Since I don't make this with onions, I add a few extra spices for a little more flavour.
Let everything simmer on the stovetop until the vegetables are just starting to go tender. This big batch took about 45 minutes, but it really depends on how big you chop your veggies.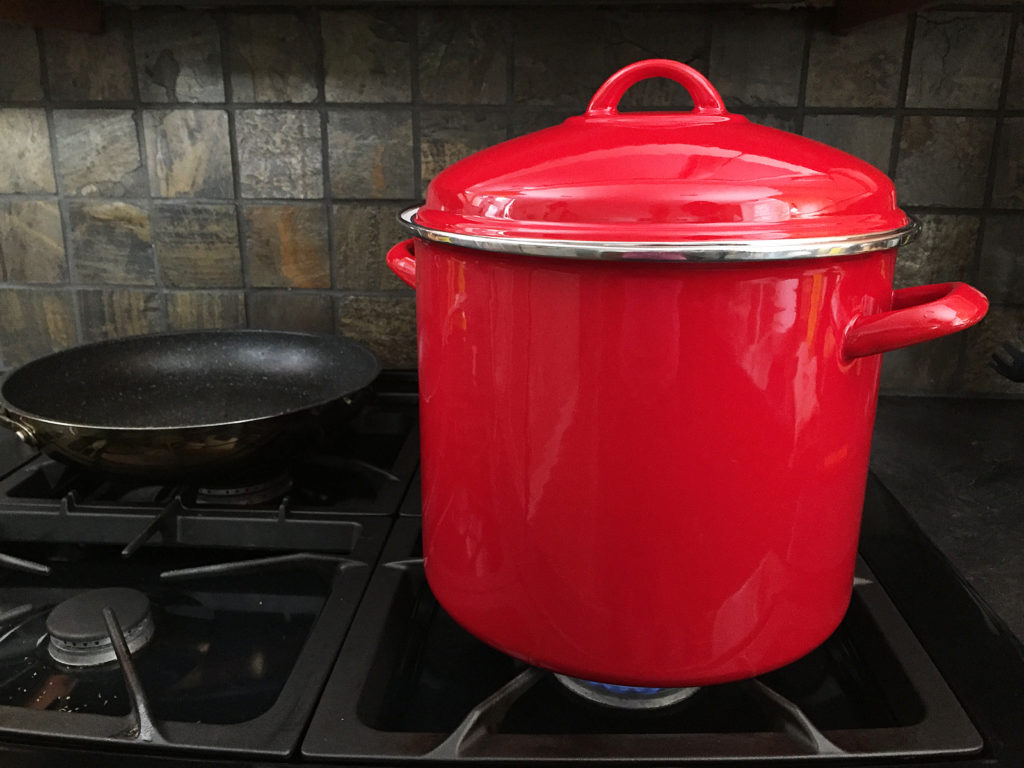 Once your veggies are tender, add the pasta and simmer for roughly another 15 minutes, or until the pasta is cooked.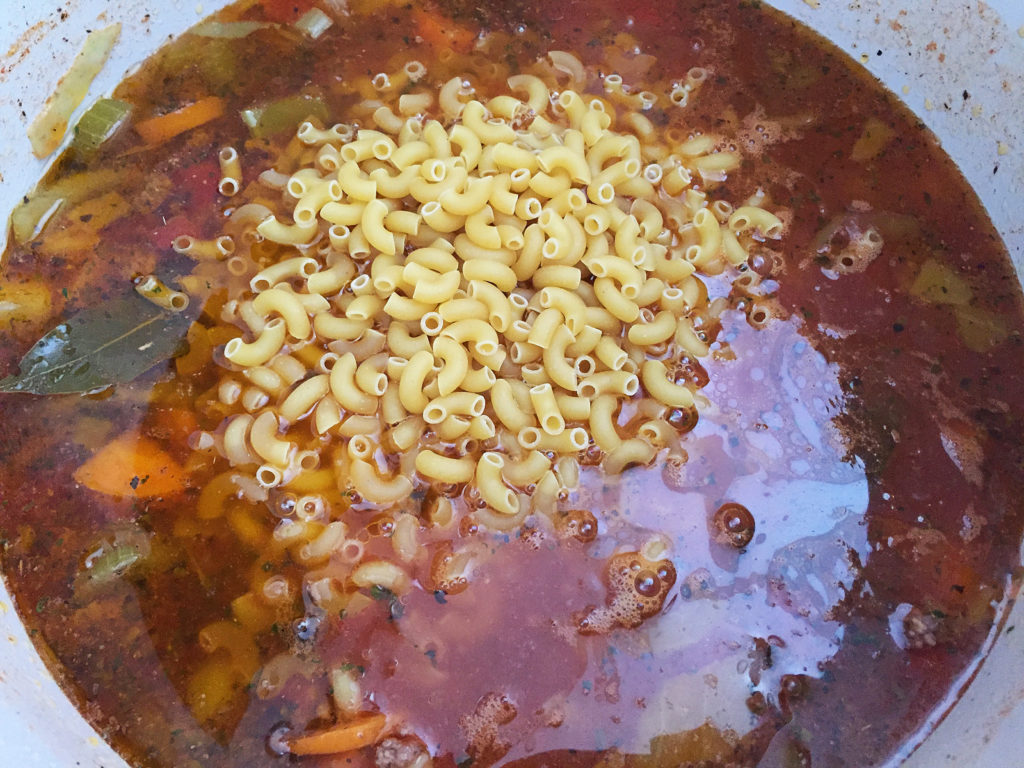 I always find that when I make soup with rice or pasta, it's perfect when I eat it right away, but if I save any leftovers, the liquid gets absorbed and it becomes less soupy. I personally don't mind this, but if you prefer a soup that is more…uh…soupy, be aware that this recipe tends to thicken up as it sits.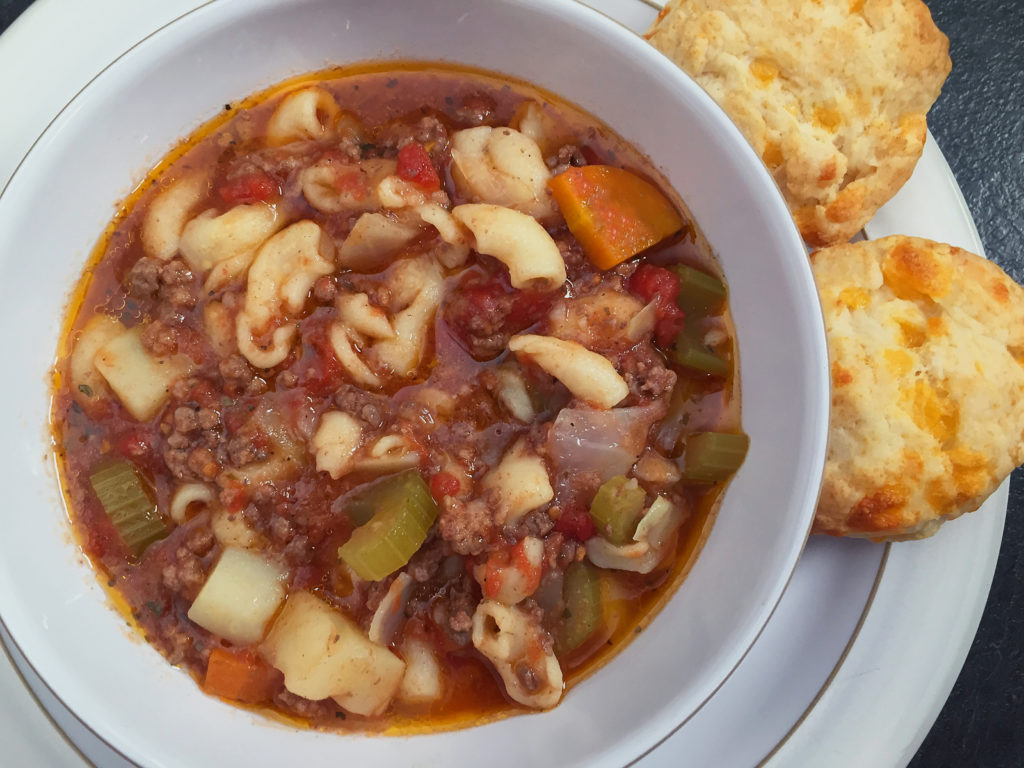 I highly recommend serving this soup with these cheese biscuits! It's the perfect combination!
---
Source: THe in-law archives  |   makes: 4-6 servings
Ingredients
1 lb lean ground beef
1 cup diced onion (~1 small onion)
Salt + Pepper to taste
1 1/4 cups beef broth
4 cups boiling water
1 cup sliced carrots (~2 large carrots)
1 cup diced celery (~4 sticks)
1 cup chopped cabbage (~1/4 medium head)
1 cup cubed potatoes (~2 medium potatoes)
1 x 28oz (796ml) can diced tomatoes
1 bay leaf
1/2 tsp parsley
1/2 tsp oregano
1/2 tsp garlic powder
1/2 tsp basil
1 cup small, uncooked pasta noodles (such as macaroni or mini shells)
Method
Heat a skillet or frying pan over medium high heat.
Add the ground beef, and break it into smaller pieces with a wooden spoon.
Add onion and cook until the beef is browned and fully cooked. Season with salt and pepper to taste.
Transfer beef to a large soup pot and add all other ingredients except for the pasta.
Bring the soup to a boil and then reduce to a simmer.
Continue simmering until the vegetables are nearly tender.
Add the uncooked pasta and simmer for another 15 minutes or until the noodles are cooked.
Serve hot with some delicious Cheese Biscuits!