I. Love. Cookies. If I could only choose one baked good to eat for the rest of my life it would be cookies (specifically chocolate chip), and these oatmeal chocolate chip cookies are pretty high up on my list of cookies that I love.
While I usually prefer regular chocolate chippers, every once in a while I get a real craving for the oatmeal variety. I've tried a number of different recipes in the past, and they've all been pretty good, just not amazing. Then I finally came across this recipe for Soft and Chewy Oatmeal Chocolate Chip Cookies from Baked By Rachel, and they turned out to be everything that I look for in a cookie. They have that perfect combination of soft and chewy in the centre and just a teeny bit crispy around the edges.
Start by creaming the butter together with a mixture of brown and white sugar. Once it's nice and fluffy, beat in an egg and some vanilla. Speaking of vanilla, be sure to invest in the real stuff. I used to always buy the cheapest artificial vanilla that was on sale because I didn't think there was much of a difference. Then one day I splurged on a really nice bottle of real vanilla. Now I can never go back. The difference is indescribable, especially in simple recipes where you want the vanilla flavour to really shine through.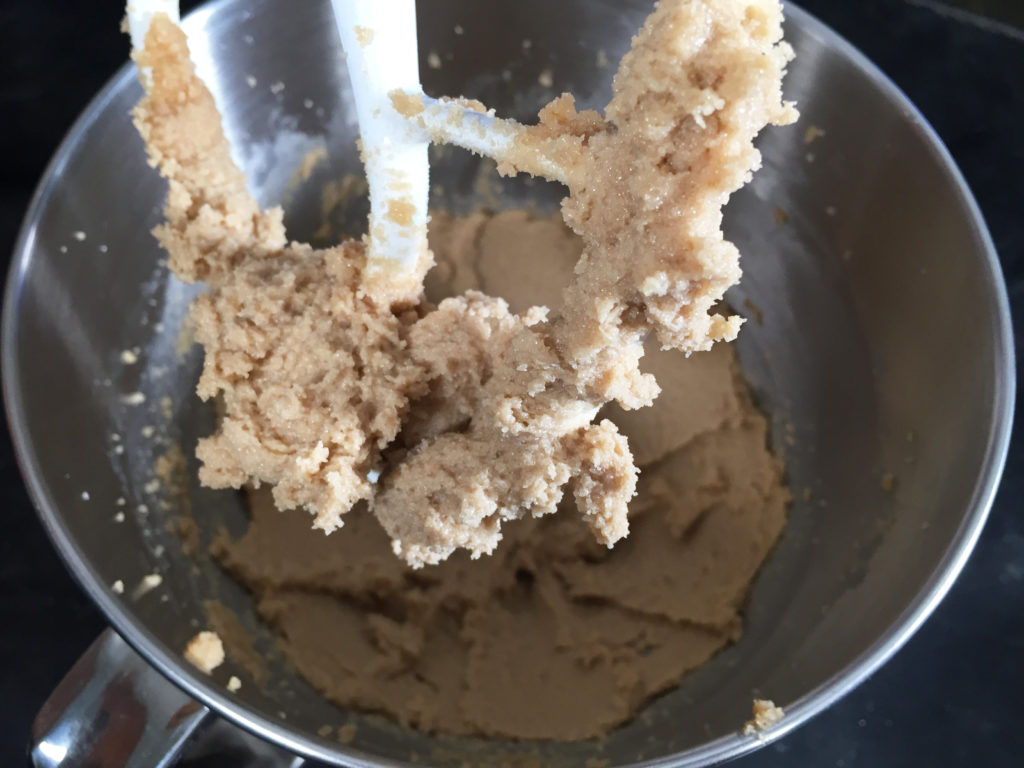 Next, stir in your baking powder, baking soda, salt and cinnamon. Make sure to give it a really good mix to distribute your baking powder and baking soda evenly.
One day I was making a double batch of these in a hurry and half the cookies ended up really flat, and the other half were super puffy because I didn't mix things thoroughly enough. I'm going to blame the mixer for this one though, since it was overloaded with so much dough it could barely function.
Next stir in your flour and oats, mixing until just combined. Then stir in your chocolate chips. For these cookies, I like using semi-sweet chips.
Now you're going to drop spoonfuls onto a cookie sheet 2-3 inches apart. I used a medium sized cookie scoop for these. If you make a lot of cookies but don't have a dough scoop, I highly recommend investing in one (or two or three…). I didn't think I would ever really use one at first, but it's become one of my favourite kitchen gadgets. It's also super satisfying for my OCD having perfectly uniform cookies.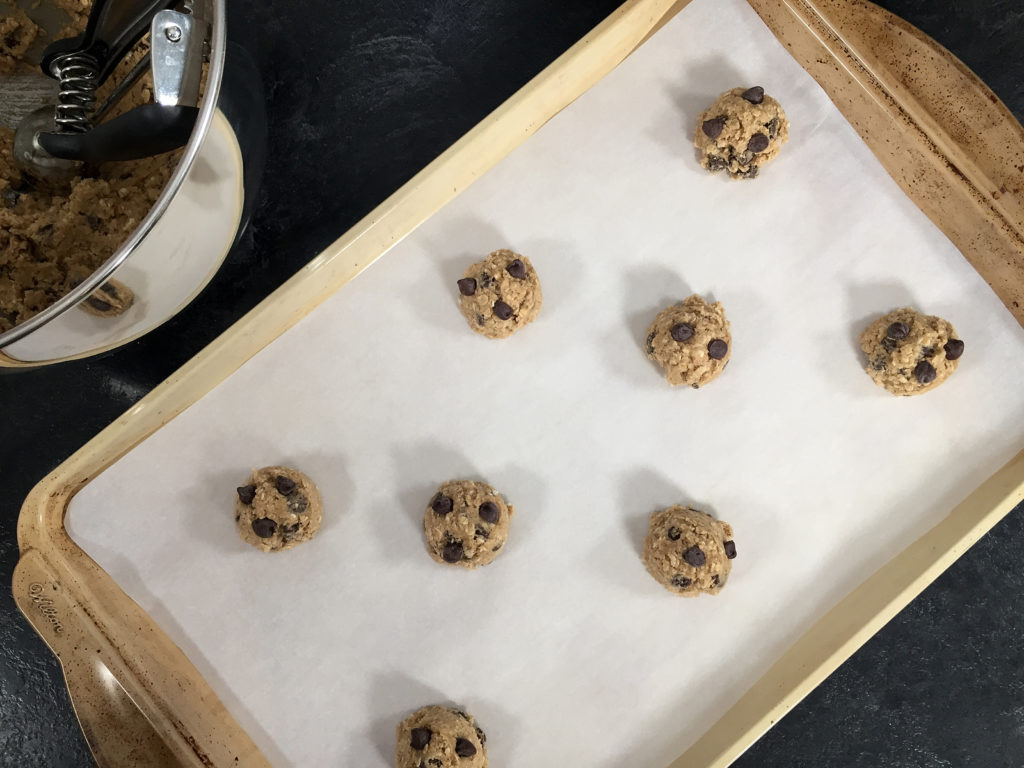 Before putting your cookies in the oven, press a few extra chocolate chips into the tops of your balls of cookie dough. They'll stay on top as the cookies bake and give them a nice finish.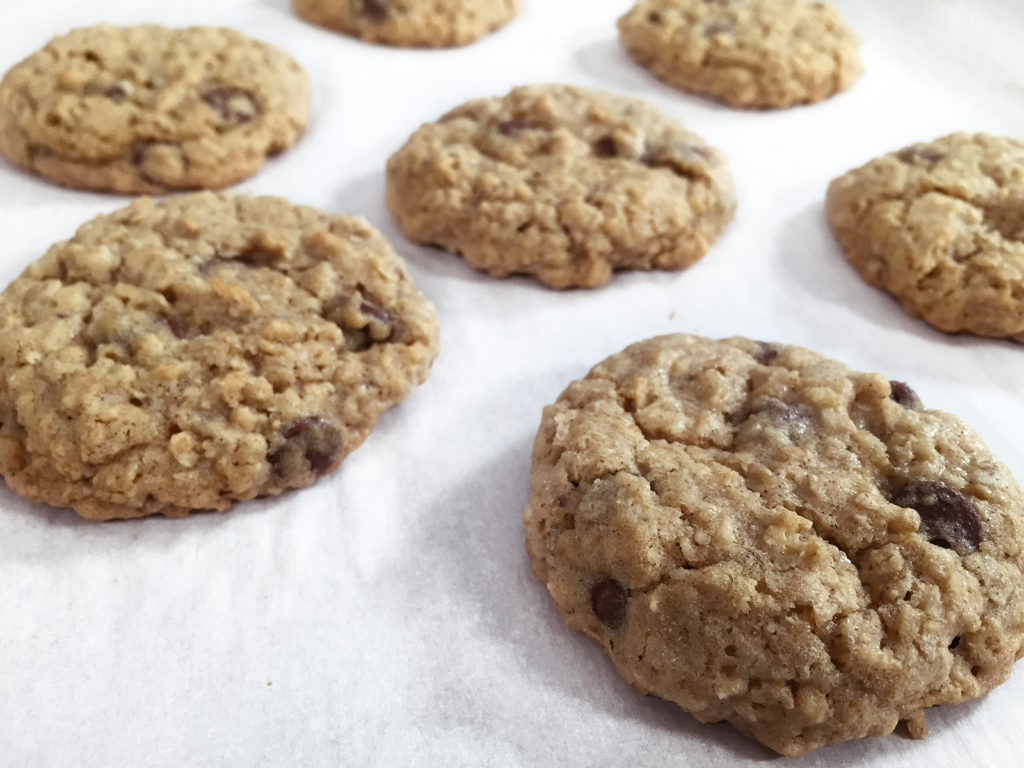 I baked one tray of cookies without adding the extra chocolate chips on top (photo above), and another tray with them (photo below). See the difference? Nice, right? And seriously, who could ever say no to a little extra chocolate?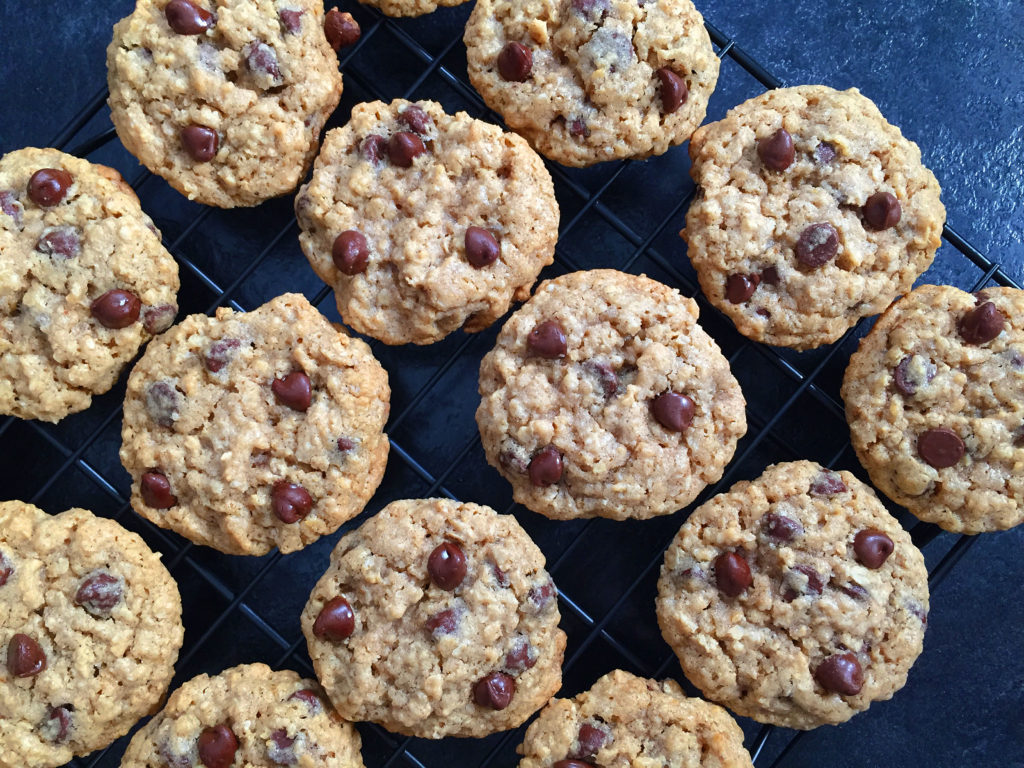 ---
MAKES: approx 2 DOZEN  |  Source: Baked by Rachel
Ingredients
1/2 cup unsalted butter (softened)
1/2 cup granulated sugar
1/2 cup brown sugar
1 egg
1 1/2 tsp vanilla extract
1/2 tsp baking powder
1/2 tsp baking soda
1/2 tsp salt
1/2 tsp cinnamon
3/4 cup all purpose flour
1 1/2 cups old fashioned oats
3/4 cup chocolate chips (plus a few extra for on top)
Method
Pre-heat your oven to 350°F.
Cream together the butter, granulated sugar and brown sugar until light and fluffy.
Beat in the egg and vanilla.
Stir in the baking powder, baking soda, salt and cinnamon.
Mix in the flour, followed by the oats, and stir until just combined.
Stir in the chocolate chips.
Place heaped tablespoon sized scoops of dough 2-3 inches apart on a cookie sheet. (For really even cookies, use a medium sized cookie scoop).
Press a few additional chocolate chips into the tops of your dough scoops before putting in the oven.
Bake for 10-11 minutes.
Let cookies cool on the pan for a few minutes before transferring them to a cooling rack.