These holiday rice krispie treats are simple, fast, and loaded with childhood nostalgia. They were one of my favourite treats growing up, and even though I've made them dozens of times, I still have to look up a recipe to remember what ratio of marshmallows to Rice Krispies to use.
Up until recently, I've always called them rice krispie squares, which is a trigger for a very repetitive argument in this house. Every time I mention making "rice krispie squares" my partner gets all excited and says, "Yes! I love rice krispie cake!"
"You mean squares…" I reply.
"No…" He says. "Cake."
"Squares." "Cake." "Squares!" "CAKE!"
And so on and so forth. While I'll admit that "squares" is a limiting term for something that can be cut and molded into so many shapes, I refuse to agree that "cake" is a more appropriate description. So for the purposes of this post, I have retreated to neutral territory where we shall henceforth refer to these as "rice krispie treats".
Regardless of what you call you them, they should be praised for their versatility. You can cut them into any shape you like and then dip them in chocolate, frost them, decorate them with sprinkles, or just eat them as is.
Melt some butter in a large saucepan over low heat. Some fancied up recipes recommend browning the butter for extra flavour. I'm sure this is delicious, but I really can't be bothered to spend the extra few minutes on a recipe that is designed to be so simple and fast.
Add your marshmallows to the saucepan. Mini marshmallows tend to melt faster (which means you can start eating these treats sooner), but large marshmallows will also work just fine.
Stir the marshmallows around until completely melted, then stir in a 1/4 tsp of vanilla. If you like chunks of marshmallow in your rice krispies, you can throw another handful into the pot and give them a quick stir so they just partially melt before adding the cereal.
Remove the saucepan from the heat and add the cereal. Give it a good stir to evenly coat the rice krispies.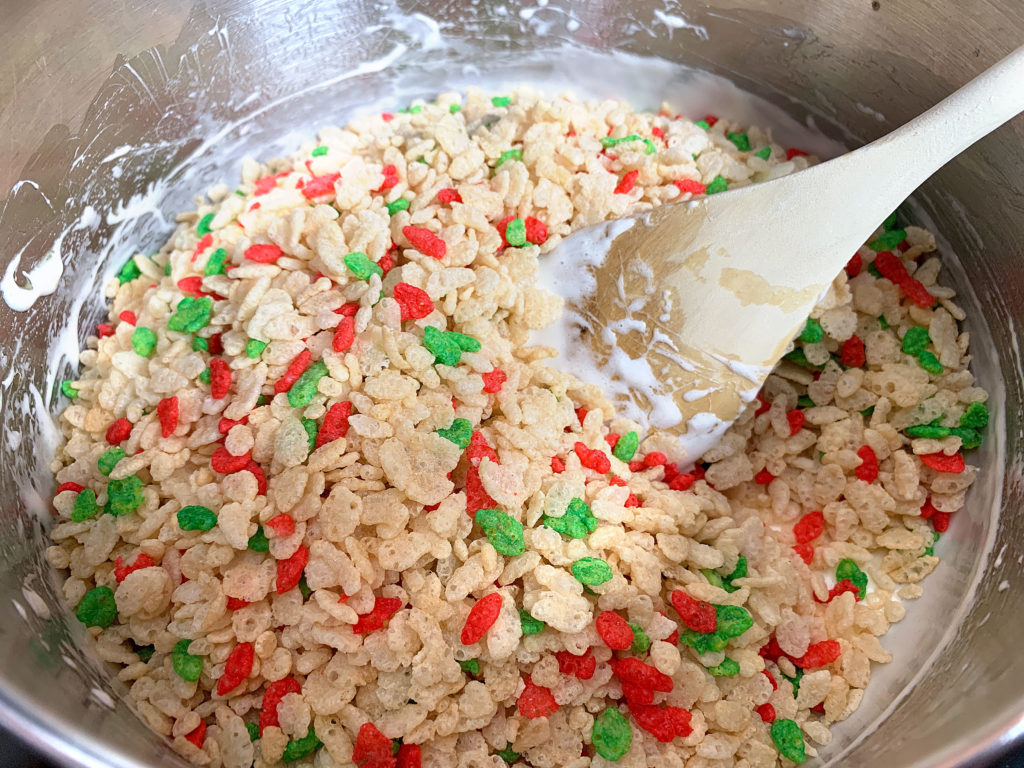 You can mold the rice krispies into any baking dish you like. The volume in the recipe below fills a 9″ x 13″ pan, resulting in rice krispie treats that are about 3/4″ high. For easy removal, be sure to butter your pan first.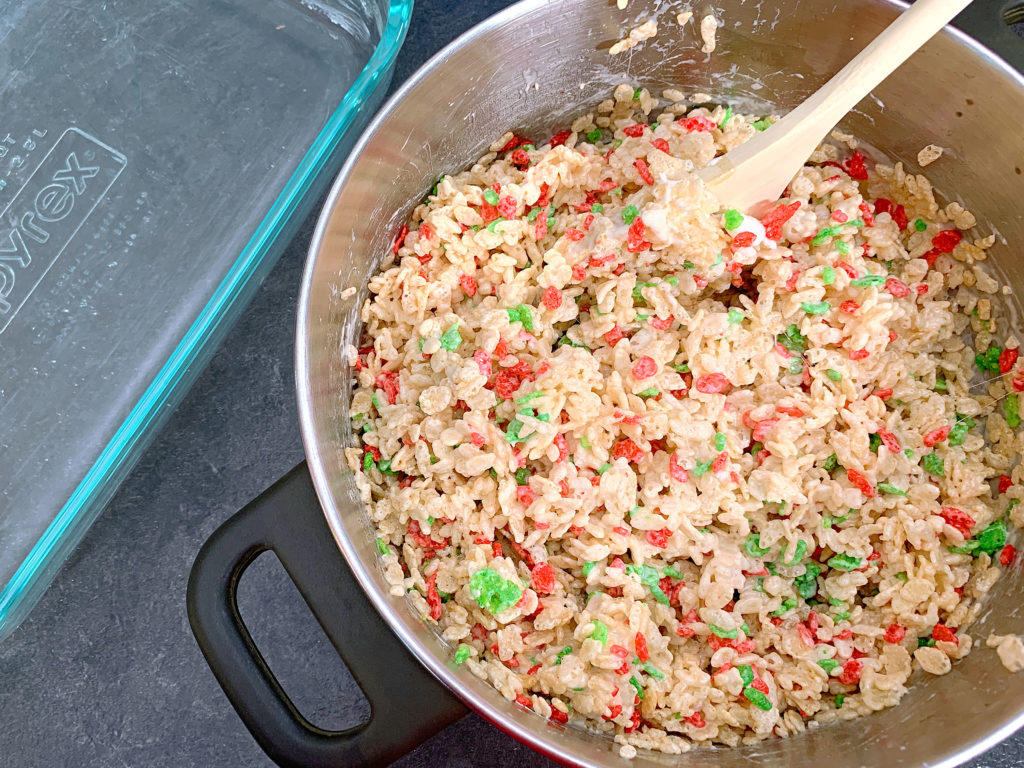 Now spread the sticky, marshmallow mix evenly across the pan. If you want to make your life really easy, thoroughly grease a large spoon or spatula with butter before you start smoothing it out, otherwise it will just stick to your spatula like crazy. You could even rub some butter on your hands and pack it down with your fingers. Just wash your hands really well first…because hygiene people…jeez…
Cut your treats up into whatever size and shape you'd like and then enjoy!
---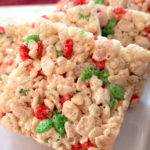 Print Recipe
Holiday Rice Krispie Treats
Classic rice krispie treats with a holiday twist.
Ingredients
3

tbsp

butter

4

cups

mini marshmallows

(or 10oz large marshmallows)

1/4

tsp

vanilla

6

cups

holiday rice krispies
Instructions
Lightly grease a 9" x 13" baking dish and set aside

Melt the butter in a large saucepan over low heat.

Add the marshmallows and stir until completely melted. (Keep your temperature low so the marshmallows don't burn.)

Remove from heat and stir in the rice krispies until completely coated.

Transfer the mixture to the 9" x 13" baking dish and press down into an even layer (the mixture will be quite sticky, so use a greased spatula, to press it down).

Let cool before cutting and serving.