One of the best things about winter time is making big pots of hearty soups and stews. This beef stew is one of my absolute favourites. To maximize its deliciousness, it does require a little bit of extra love and effort, but it's not particularly difficult, and it is definitely worth it.
I found this recipe on the Canadian Living site and have made it a few times now. You can check out the original recipe there, or try my slightly altered variation below. The only real change I make is that I add a few extra veggies, and I omit the cocktail onions, as well as the tomato paste. Cocktail onions are not something I regularly keep on hand, which is why I leave them out. As for the tomato paste, the recipe only calls for 2 tablespoons and I'm never organized enough to do anything with the left overs, so I just leave that out as well.
The original recipe also gives directions on how to make this beef stew in a Dutch oven. Believe it or not, not everyone owns a Dutch oven – myself included. I mean, I would like a Dutch oven (are you listening, Santa? If my hints aren't dropping hard enough already, you can check out these beauties that I've been eyeballing from Le Creuset!), but it is currently just not something I have in my kitchen. So, I'm going to walk you through how I made this delicious stew, sans beautiful cookware.
Start with your veggie prep. Chop up your carrots into nice big chunks, dice your celery and onion, and quarter your mushrooms. Unfortunately, I have to omit onions from everything these days to avoid killing my significant other, but PLEASE for the love of God do not omit the onion unless you really have to. In fact, you should probably double the amount of onion just to make up for the ones I can no longer enjoy.
For the potatoes, I usually buy a small bag of the assorted white, red, and purple baby potatoes, just because I like the colours. Cut them into halves, or quarter them if they are on the larger side. Alternatively, you could buy larger potatoes and just cut them up smaller. I have also made this stew with no potatoes in it. Instead, I made mashed potatoes and spooned the stew over top. I would definitely recommend this as an option if you aren't a fan of stewed potatoes.
Alright, on to the beef! The recipe calls for cutting up a blade roast to use. I ignored this the first time I made this recipe and just bought a package of stewing beef instead. I was a little disappointed because the meat was kind of meh, and a little tough. The second time I made it, I grabbed a blade roast when it was on sale. The difference was night and day. The meat was so much more tender and flavourful. I'd highly recommend grabbing a nicely marbled roast if you can find one. You won't regret it.
Cut your roast up into roughly one inch cubes. In a large bowl, mix together the flour, salt and pepper. Toss the beef cubes in the flour to coat them. I find it easier to do this in smaller batches to make sure they are well coated, and then transfer the coated ones to another plate/bowl . Depending on how much meat you have, you may need a little extra flour.
Next you're going to brown the beef. If you do have a dutch oven, cook it in there. I used a frying pan since that was the best option out of what was in my cupboards. Browning the beef is a bit of an exercise in patience, but it adds such an amazing depth of flavour and is worth the extra effort. Your goal is not to cook it through, your goal is to sear the surface of the meat and get it really nice and brown on the outside.
Over medium-high heat, melt some butter and a little bit of oil in your pot/pan. Place the beef cubes evenly around the pan. It's better to work in smaller batches and not crowd the pan, so be prepared to do this a couple of times. Try to ensure the meat gets nicely browned on all sides, and then transfer it to a bowl or plate and set aside.
When you're done cooking the beef, your pan will likely have a bunch of little brown bits stuck to the bottom. You want these! Take note, I did say brown, not black. If it's blackened you've cooked it at too high a temperature and burnt it. If this is the case, wipe away your burnt mess before proceeding.
Add a little more butter to the pan and cook the celery and onion for a few minutes until softened. Add your mushrooms and cook for a few minutes more. Now add the wine and let that cook for a couple of minutes (the wine will start to reduce). While you're cooking all this, be sure to scrape the bottom of the pan to get all those little brown bits up. They'll add a really nice flavour to the stew.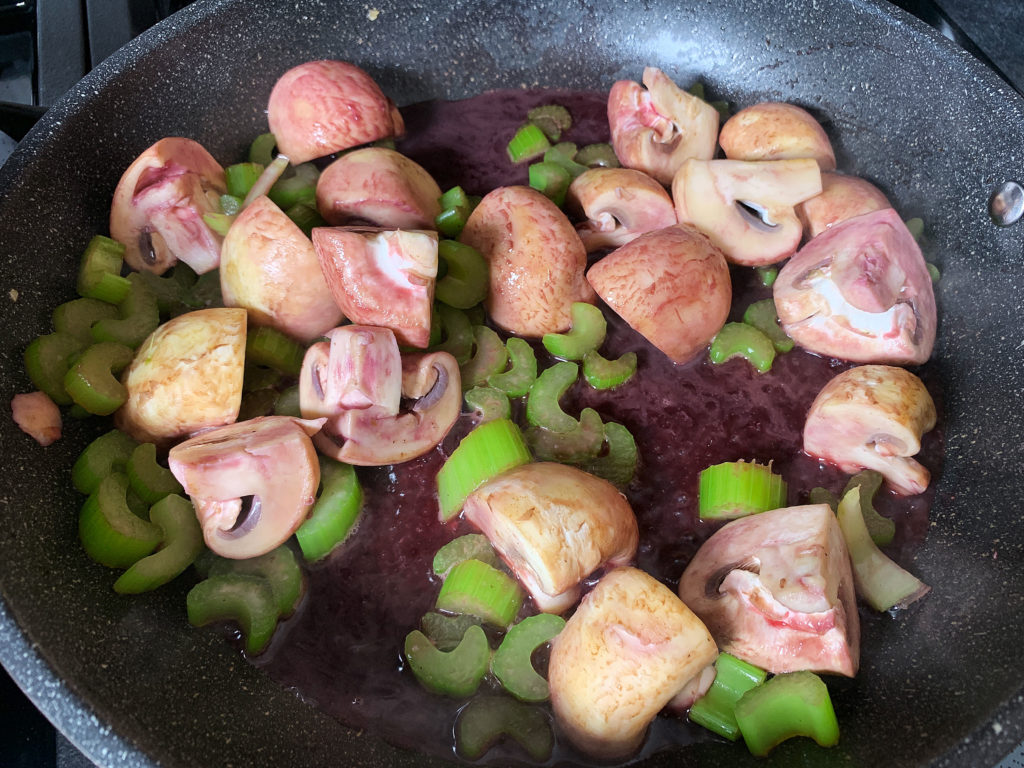 If you were cooking this in a dutch oven, you would now add the beef back in, along with the potatoes, carrots , thyme, parsley, bay leaves, beef broth and Worcestershire sauce. You'd bring it all to a boil and then transfer the whole thing to the oven as is (sounds nice, right? One pot, from stove top to oven!). However, since I was cooking this in a frying pan, there was no way all that stuff was going to fit in. I attempted to transfer everything to a large saucepan where I could bring it to a boil, but it was still not large enough.
I ended up transferring everything from the large saucepan and putting it straight into the roasting pan, without the extra bringing-to-a-boil stage. The stew still turned out just fine. As a side note, I cooked the stew in a covered roasting pan which, filled to the brim, holds about 5 quarts, just to give you an idea of the volume you need to account for.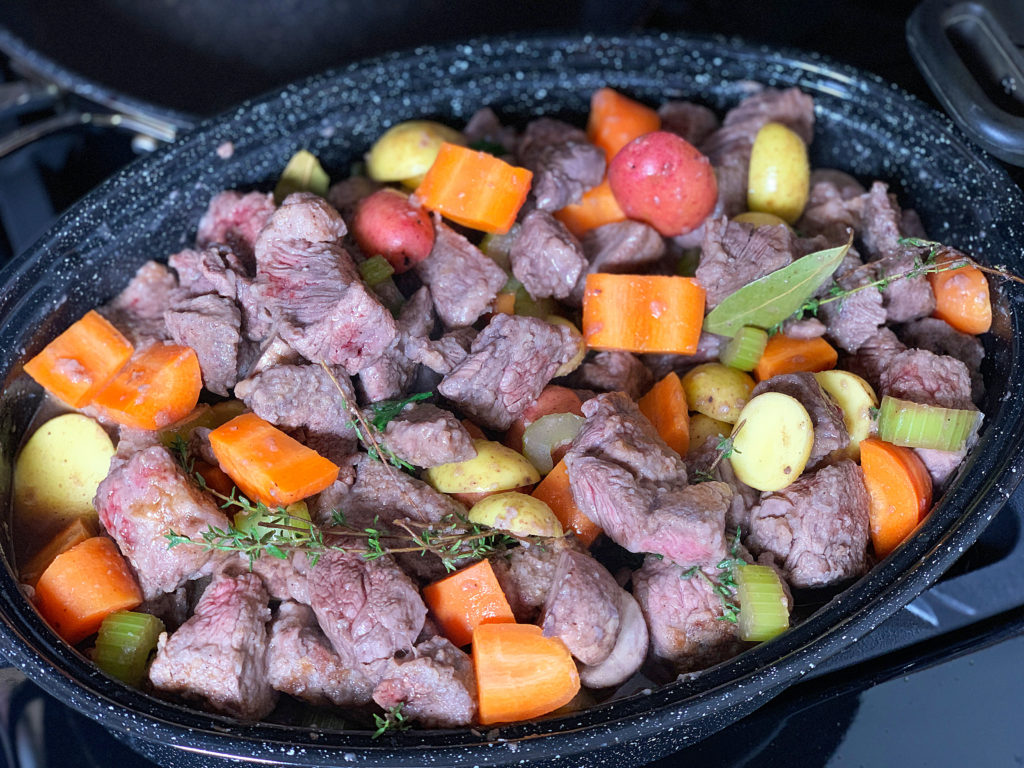 Regardless of your cooking vessel, you will eventually end up with all your ingredients (except for the peas) mixed together. Take said cooking vessel, stick it in the oven, and let it cook, covered, at 350°F for about an hour. Then uncover the stew and let it cook for another 30-40 minutes until the veggies and meat are nice and tender.
Pull it out the oven, stir in the frozen peas, and then cook for another 5 minutes or so. The peas are a lot nicer if you add them in towards the end. I've added them at the beginning with all the other veggies and they start to get a little sad after being in the oven that long.
After you've let the peas cook for a few minutes, pull the stew out of the oven. Remove the thyme twigs and bay leaves and then let the stew stand for 10 minutes before serving.
---
Recipe Source

: Canadian LIving

Prep Time: 50 minutes


Total Time

: 2 hours, 30 minutes


Makes

: 8 Servings
Ingredients
1/4 cup all purpose flour
1/2 tsp salt
1/4 tsp pepper
1.5 kg boneless beef blade roast (cut into 1 inch cubes)
3 tbsp butter
1 tbsp vegetable oil
3 sticks celery (diced)
1 large onion (diced)
6 large white mushrooms (quartered)
1/2 cup dry red wine
450g baby potatoes (halved or quartered)
3 large carrots (cut into large chunks)
10 sprigs fresh thyme
6 sprigs fresh parsley
2 bay leaves
3 cups beef broth
1 tbsp Worcestershire sauce
1 cup frozen peas
Method
Pre-heat your oven to 350°F.
In a large bowl, mix together flour, salt and pepper.
Cut the beef blade roast into 1 inch cubes.
Toss the beef cubes in the flour mixture to coat.
Over medium-high heat, melt 2 tbsp butter and 1 tbsp vegetable oil in a large dutch oven (or other frying pan/pot).
Add the beef in small batches, cooking until browned on the surface.
Transfer the browned beef to a plate or bowl and set aside.
Add the remaining tablespoon of butter to the dutch oven (or other frying pan/pot), and cook the celery and onion over medium heat until slightly softened.
Add the mushrooms and cook for a few more minutes.
Add the wine and cook for another 2 minutes. Be sure to scrape the bottom of the pan to lift off any browned bits left over from cooking the meat.
If you've been cooking the above in a dutch oven:

Return the beef to the dutch oven and add the potatoes, carrots, thyme, parsley and bay leaves.
Add the broth and Worcestershire sauce and stir well.
Bring to a boil stirring occasionally.

If you don't have a dutch oven, and need to transfer stew to a different roasting pan/oven safe dish:

Transfer the cooked celery/onions/mushrooms/wine to your oven safe dish.
Add the beef, potatoes, carrots, thyme, parsley, bay leaves, broth and Worcestershire sauce. Stir well.

Cover the stew and cook at 350°F in the oven for about 60 minutes.
Uncover the stew and cook for another 30-40 minutes until the veggies and beef are tender.
Stir in the peas and cook for another 5 minutes.
Remove the thyme sticks and bay leaves and then let sit for 10 minutes before serving.