Ah, the annual making of the rum balls…I don't know what it is about making boozy balls that I enjoy so much. Maybe it's the booze. Maybe it's the…booze. Either way, they have become a tradition of mine.
I've been making the same recipe for years now, but I can't recall where I originally sourced it from (I think it may have been an Emeril Lagasse recipe). To be honest, when I was first looking for rum ball recipes, I ended up choosing the one that had the most rum in it. After all, the secret to a good rum ball is the rum.
Start by crushing up a pile of vanilla wafers. In a large bowl, stir together the crushed wafers along with some ground pecans, icing sugar and cocoa. If you're purchasing your pecans whole, toast them in the oven for a few minutes before grinding them up. If you have pre-ground pecans, just add them to the mix as is.
Select a nice, dark rum for this recipe. I like to use The Kraken Black Spiced Rum, mostly because of the beautiful illustration of The Kraken on the bottle, and clearly bottle illustrations are the definitive test when it comes to assessing rum quality.
Mix your rum together with some honey and a bit of water before adding it to your dry mixture.
Give your boozy concoction a good mix to ensure everything is well combined. You want the mixture to be wet enough that it holds together easily when rolled into a ball, but not so wet that it is soggy and doesn't hold it's shape. If you think it's a little on the dry side, add a splash more rum and give it another good mix.
I have always rolled my rum balls in chocolate sprinkles, and then in icing sugar, but you can roll them in just one or the other, or an entirely different coating of your choosing.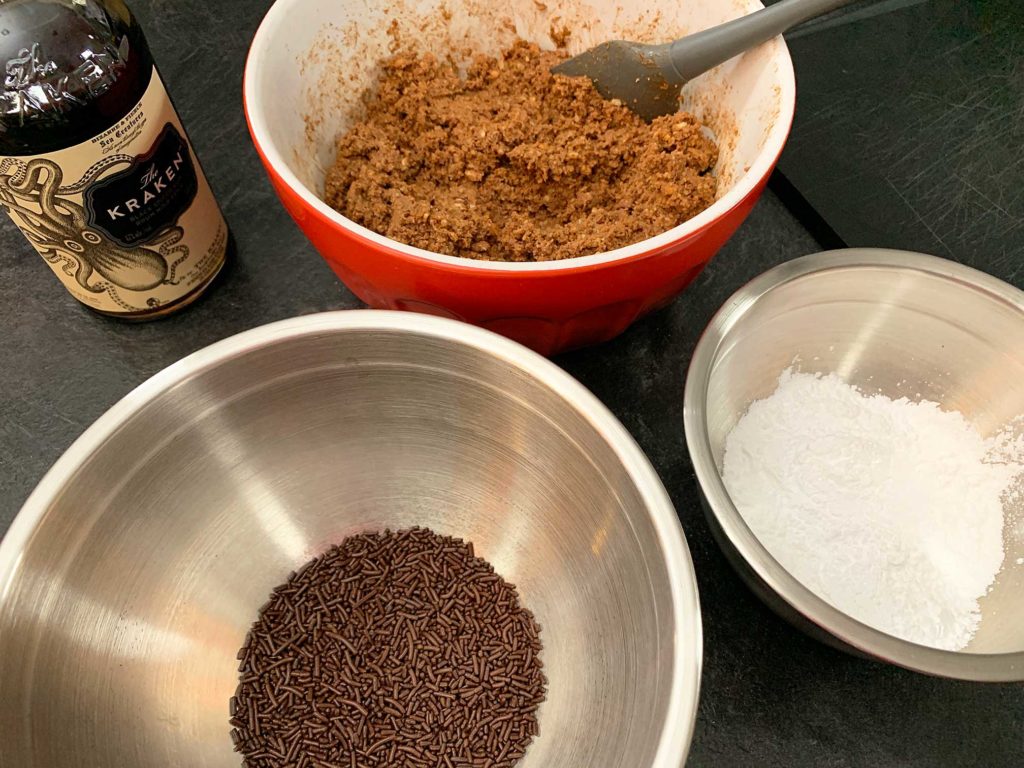 Roll the rum mixture into balls about 1 inch in size, and then roll in chocolate sprinkles. The mixture should be wet enough that the sprinkles stick to the surface.
Next, roll the sprinkle covered rum balls in a bowl of icing sugar to coat them.
Shake off the excess icing sugar and place the rum balls in little candy cups or mini cupcake liners to give them a more festive look!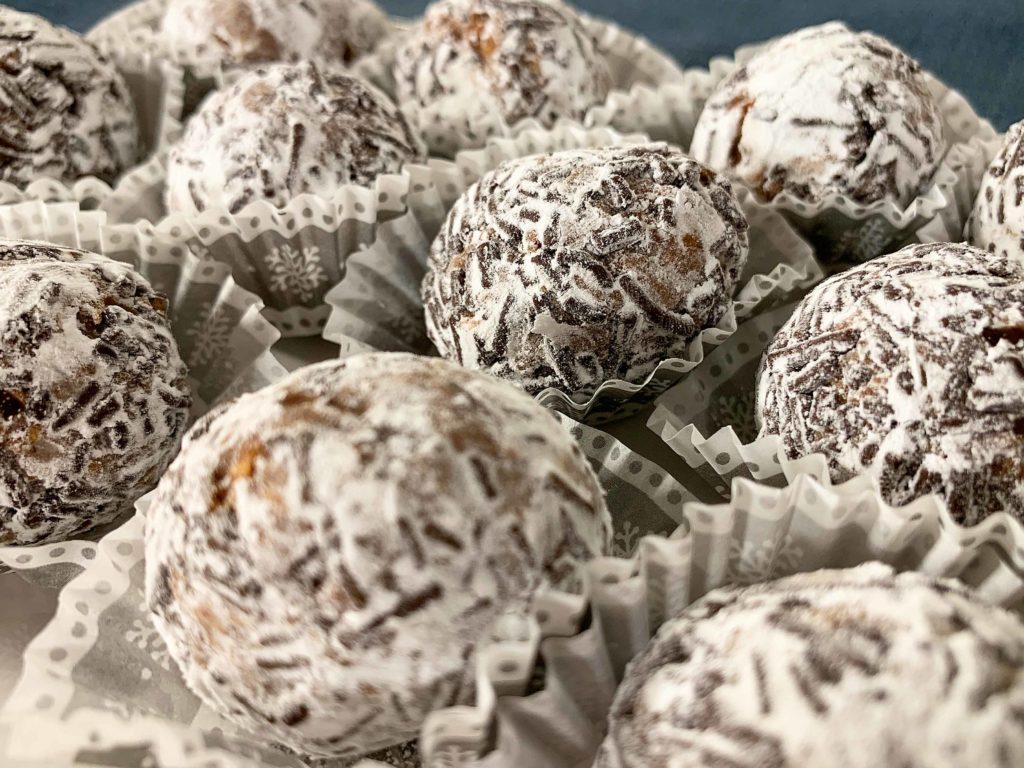 ---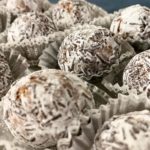 Print Recipe
Rum Balls
Extra boozy rum balls. Made with real rum! None of that silly rum extract flavouring.
Ingredients
2 1/2

cups

vanilla wafers, crushed

(about 30 wafers)

1

cup

ground pecans

1

cup

icing sugar

(plus extra for rolling)

2

tbsp

+ 2 tsp cocoa powder

1/4

cup

dark rum

3

tbsp

honey

2

tbsp

water

Chocolate sprinkles for rolling
Instructions
Combine wafers, pecans, icing sugar and cocoa in a large bowl. Stir well.

In a separate bowl or measuring cup, combine rum, honey and water.

Pour the rum combination into the dry mixture and stir well (if the mix looks a little dry, add a splash more rum).

Roll into 1 inch round balls.

Roll the balls in chocolate sprinkles.

Roll the sprinkle coated balls in icing sugar.
Notes
If you find the mixture is starting to dry out a bit as your rolling out all the balls, just mix in another splash of rum!