Every once in a while I will get a message from someone asking if I know of any good gluten free or vegan recipes. The short response is usually a no. I just haven't made many gluten free or vegan friendly desserts, so there aren't any I can recommend without having tried them out first…until now!
A couple of weekends, ago we were attending a Ukrainian Christmas party hosted by some friends of ours. They'd suggested that if we were to bring something, a vegan dessert would be a good option.
I had a slight panic moment because, as I mentioned, I haven't had much experience with vegan baking. I started to search for some ideas online, trying to find something that was relatively quick and easy to make, in case it was a major fail and I had to find something else to try. I also wanted something that wasn't going to leave me with a load of leftover ingredients that I may or may not end up using afterwards.
I found the recipe for these on the blog Yummy Healthy Easy. I have to say, they were just that! There are only 5 ingredients, all of which are regularly used in my kitchen. They were also really quick to make!
I was a bit hesitant at first, because I once tried to make another chocolate avocado dessert and it was an absolute disaster. Although, that was a long enough time ago, so I was willing to test these out.
You start off by mashing one ripe avocado in a medium sized bowl. Spend the time trying to get it as smooth as possible at this stage, so you don't have little avocado chunks in your truffles later.
Melt 3/4 of a cup of vegan dark chocolate chips.
Stir the melted chocolate into the mashed avocado.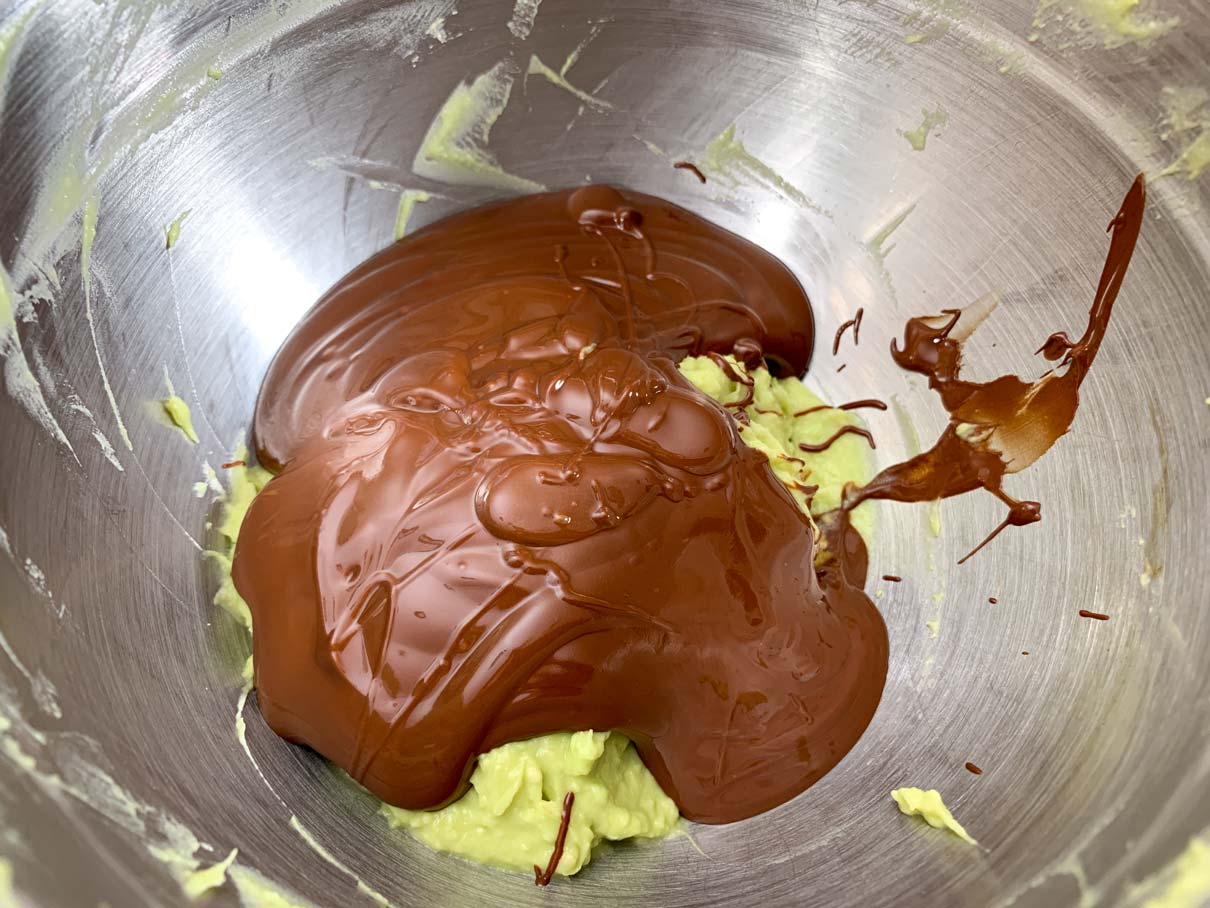 Next, stir in a 1/2 teaspoon of vanilla extract and 1/4 tsp of cinnamon.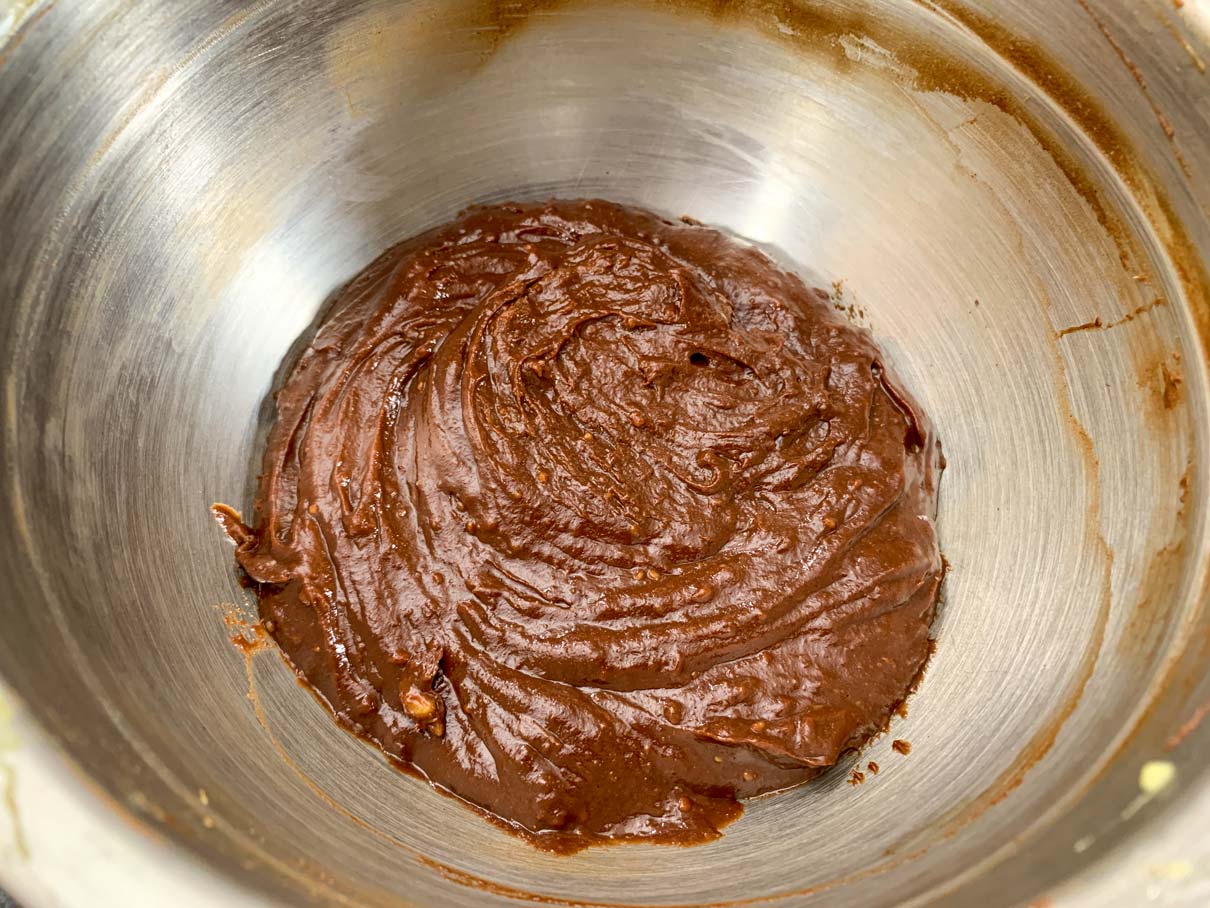 Chill the mixture in the fridge until it has firmed up (about 30 minutes to an hour).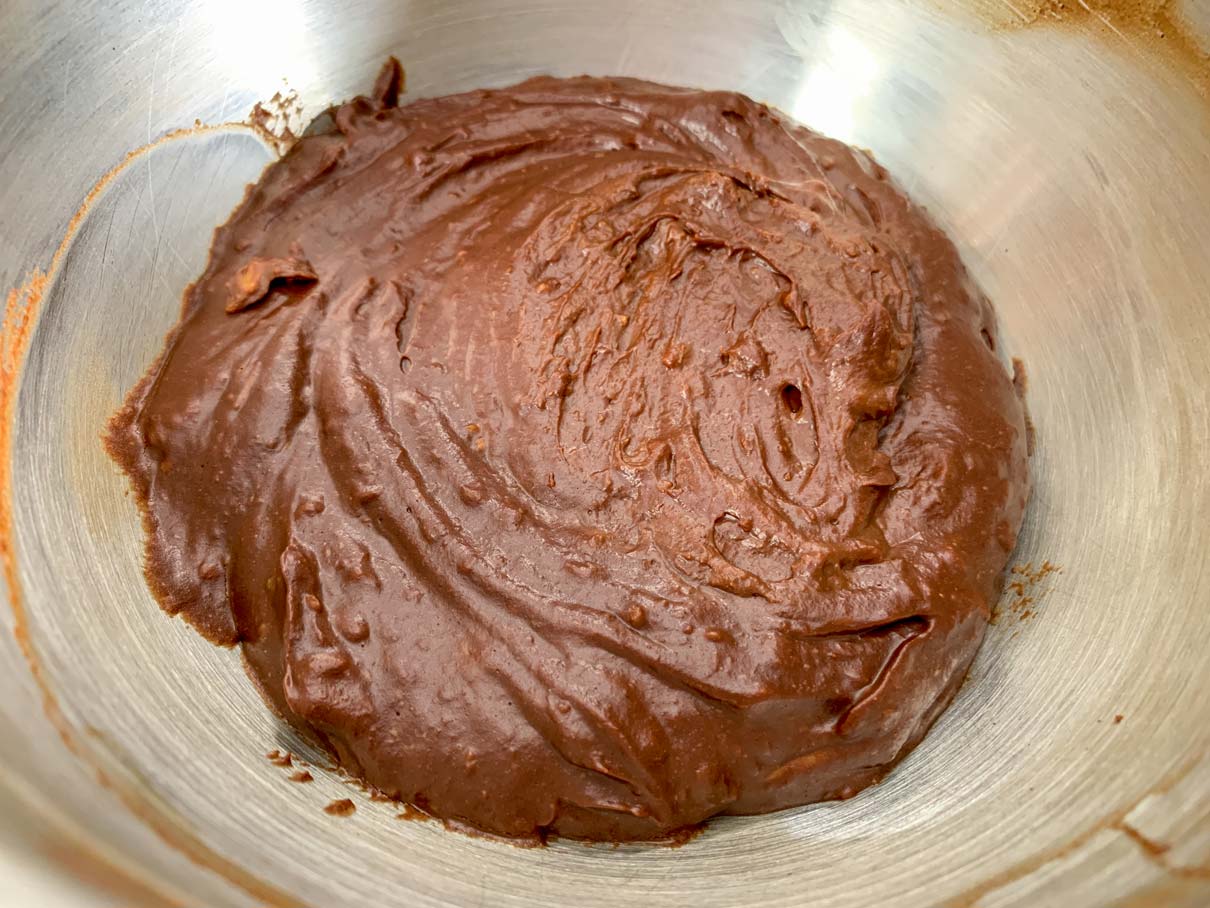 Take about a tablespoon of the mixture and roll it into a ball, then roll it in cocoa powder to coat it. I didn't realize until after I had taken this photo, but this first ball that I rolled out totally looks like it has a little frownie face. It kind of reminds me of the little Pod people in the Dark Crystal!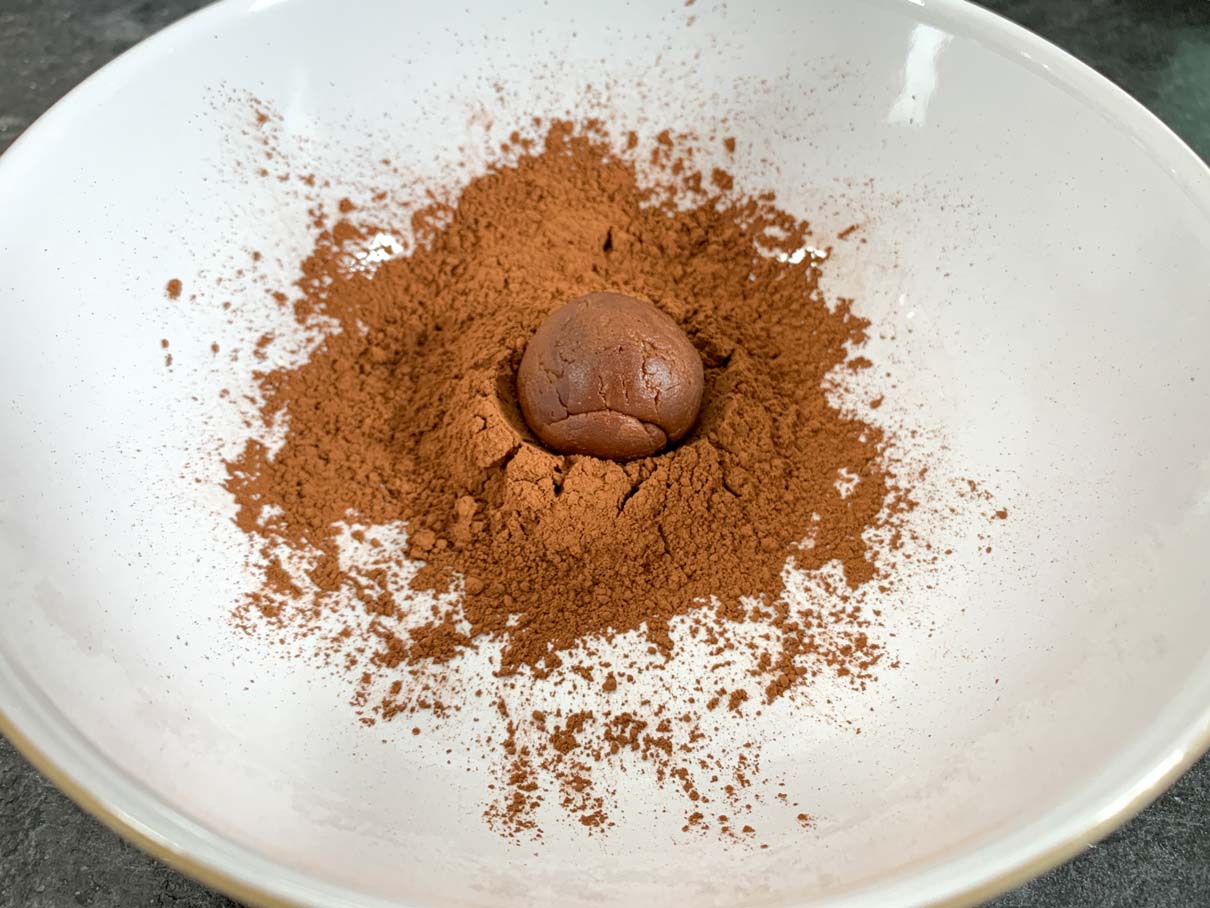 If you don't make your balls too large, you should be able to get at least a dozen truffles out of this mixture. I think I ended up with about fifteen.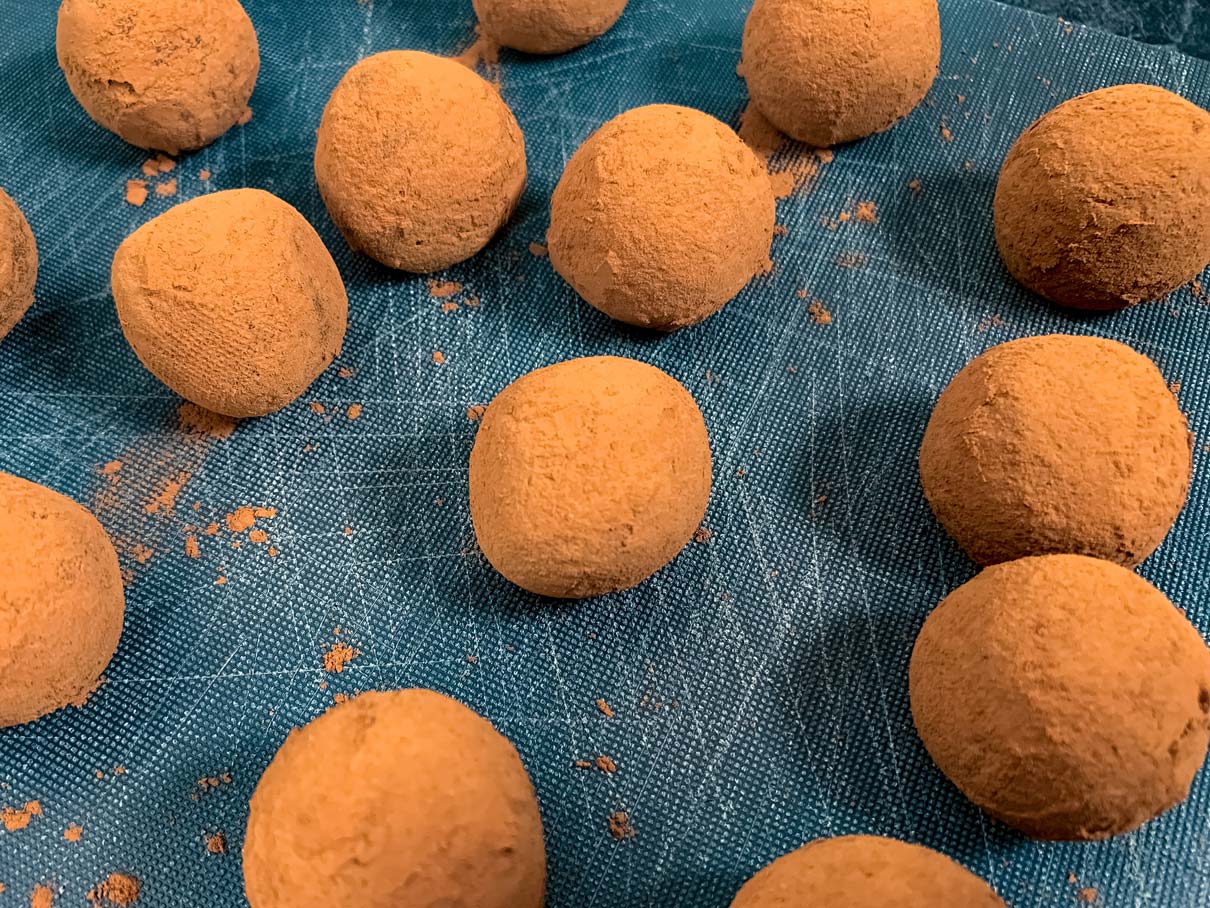 I cut one of the truffles in half so you could see the inside below. There are a few little flecks of green from where the avocado wasn't completely mashed, but otherwise they're quite smooth and creamy.
I made these in the evening the day before the dinner we were going to, so they were stored in an airtight container in the fridge overnight before they were served. I found that the cocoa powder went a bit damp from the moisture of the truffle, so they didn't look quite as nicely dusted by the next day. I ended up rolling them in a bit more cocoa powder before serving them.
I would make these little truffles again. They were nice as is, but I think next time I would like to try increasing the amount of spice just a bit, or perhaps try a version with some crushed pistachios mixed in as well!
---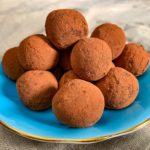 Print Recipe
Vegan Chocolate Avocado Truffles
These smooth and creamy vegan chocolate avocado truffles have only 5 ingredients, require no baking, and are super quick and easy to make.
Ingredients
1

ripe avocado

¾

cup

dark chocolate chips

½

tsp

vanilla extract

¼

tsp

cinnamon

cocoa powder

(for rolling)
Instructions
Mash the avocado until it's as smooth as you can make it.

Melt the dark chocolate in the microwave or over a double boiler.

Add the melted chocolate to the mashed avocado and stir until combined.

Stir in the vanilla and cinnamon.

Chill the mixture in the fridge for about 30 minutes, or until firm.

Roll the mixture into balls, using about a tablespoon sized portion for each.

Roll each ball in cocoa powder and serve.