While visiting my family over thanksgiving weekend, a lovely friend of ours gave us a heap of vegetables fresh from her garden including some leeks, a big bag of potatoes, squash, eggplant and some fresh bay leaves. The first thing I made with them was this creamy potato leek soup with bacon.
I love making soups and stews because you can pretty much throw whatever you have on hand into a pot, let it simmer for a little while, and you end up with a delicious hearty bowl of soul warming goodness.
The only problem is I usually never pay attention to what I'm throwing in the pot, so it always turns out a little differently. I made sure to pay close attention this time, and actually recorded everything down, so now I can make a repeat of this in the future.
To start, prepare all your veggies. Slice the white and light green parts of the leeks up nice and thin, and mince a couple of cloves of garlic.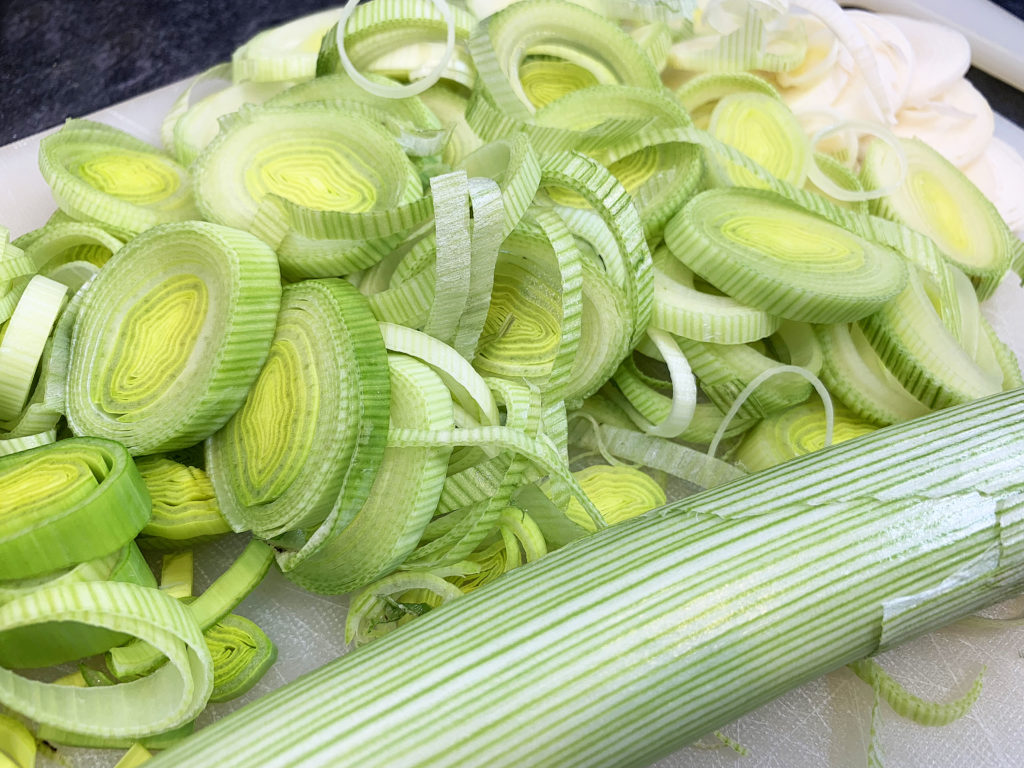 Peel the potatoes and then chop them up into roughly half inch cubes. Slice up the carrots and celery as well.
Next, fry up a few strips of bacon until they get nice and crispy. Pull them out of the pan and blot them with a paper towel to absorb some of the extra grease. Once they're cool enough to handle, you can chop them into small pieces. Reserve about a tablespoon of the bacon grease in the frying pan, and discard the rest appropriately (i.e. NOT down your kitchen sink).
Cook the leeks and garlic in the reserved bacon grease with an added nob of butter for good measure.
Transfer the leeks to a big soup pot, and add the other veggies along with the salt, pepper, thyme and bay leaf. I have a beautiful little thyme shrub in the garden that seems to have particularly thrived over this past summer, so I have been using it in everything. I'm obsessed with the flavour that it added to this soup! Definitely don't skip out on including it. If anything, add a little more!
Give the pot a good stir to mix everything together and then bring the soup to a boil. Turn the temperature down until the soup is just simmering.
Keep it simmering until the potatoes are tender and then add the cream and chopped bacon. Let the soup simmer for just a few minutes more.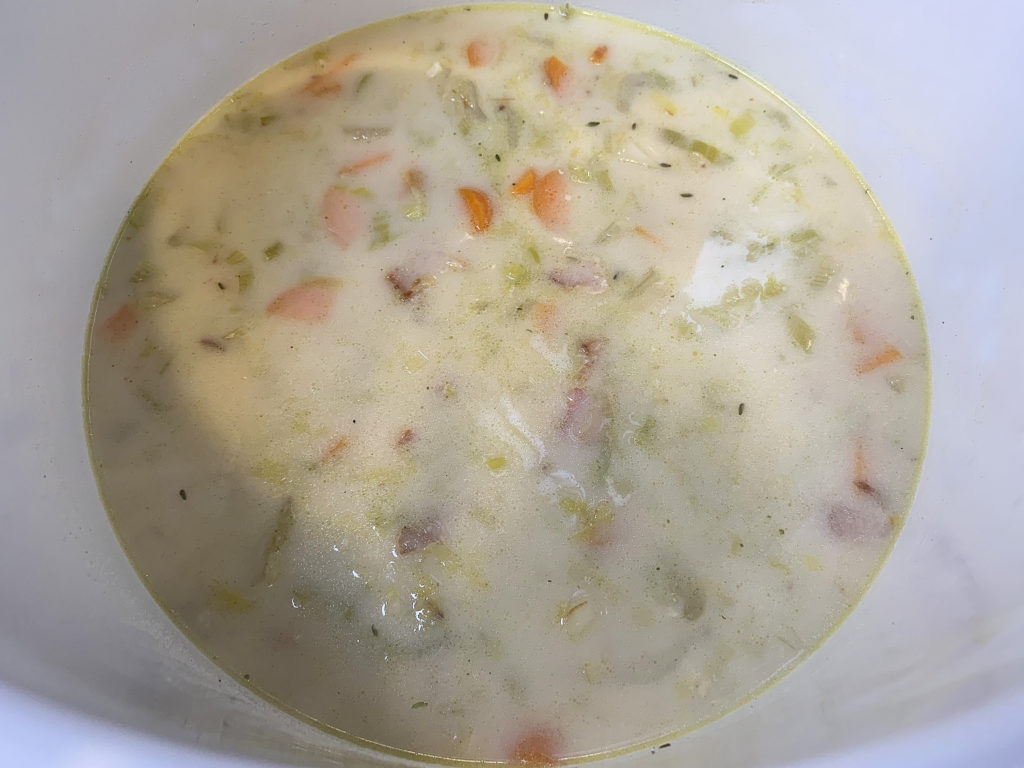 This soup goes really well with the rosemary focaccia bread I talked about last week. Serve it hot, with a big slice of focaccia on the side, and fancy it up with a little sprig of fresh thyme. This makes quite a hearty soup and yields about six large, meal-sized bowls.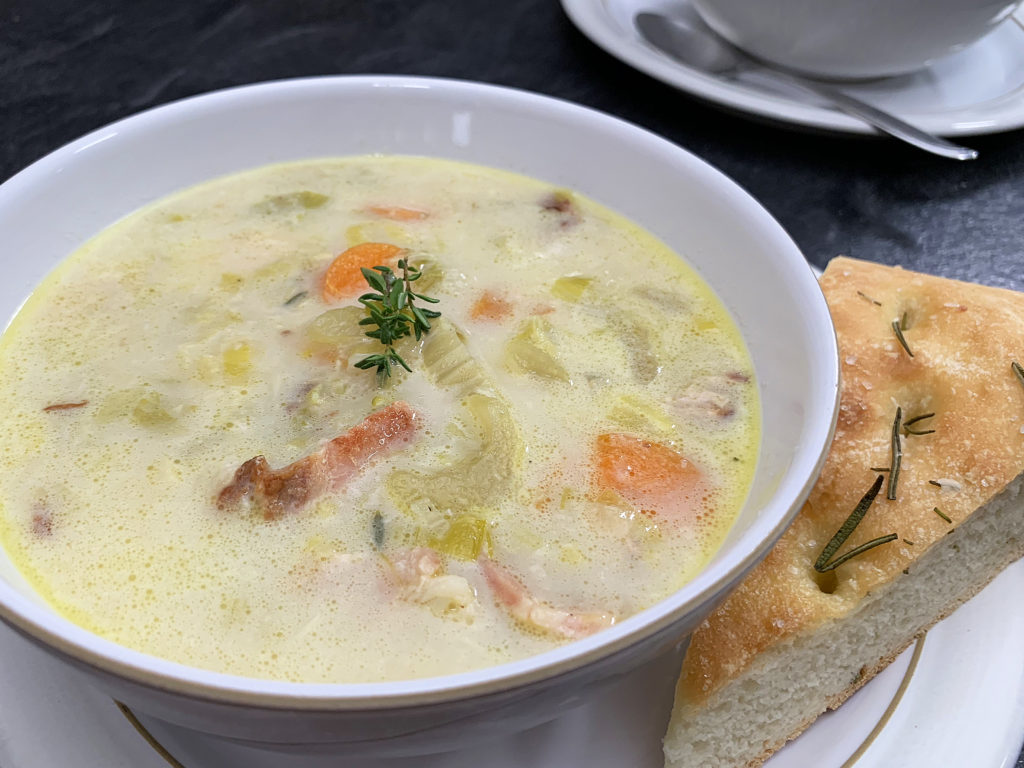 ---
Makes: 6-8 servings
Ingredients
5 strips of bacon
1 tbsp butter
2 large leeks, thinly sliced (white and light green parts only)
2 cloves garlic, minced
6 cups chicken broth
2 cups water
3 medium russet potatoes, peeled and cut into 1/2-inch pieces
1 cup chopped carrots
1 cup sliced celery
1/4 tsp salt
1/4 tsp black pepper
2 tsp fresh thyme
1 bay leaf
1/2 cup heavy cream
Method
In a large frying pan, cook the bacon until crisp.
Remove bacon from pan, and blot the excess grease off with a paper towel.
Chop the bacon into small pieces and set aside.
Reserve 1 tbsp of the bacon grease in the pan and discard the rest.
Add the butter to the pan, along with the leeks and minced garlic.
Cook until soft (about 5 minutes).
Transfer the leeks to a large soup pot.
Add the broth, water, potatoes, carrots, celery, salt, pepper, fresh thyme and bay leaf.
Bring to a boil over high heat.
Reduce to a simmer and cook until potatoes are tender.
Add the cream and bacon, bring to a simmer again.
Serve hot