How often do you find yourself sitting around thinking: "Wow…I could really use some focaccia bread right now."? If your answer is never, I don't think we can be friends. I LOVE a good focaccia bread, and this rosemary focaccia is particularly delightful.
I've always been a little intimidated at the thought of making bread. I've made a couple of very simple loaves in a bread maker before, but I think this is my first real bread experiment. The best part about the whole thing is that it turned out to be WAY easier than I thought!
Here's a fun fact…I applied to be a participant on the first season of the Great Canadian Baking Show. I never got a call back (we'll discuss my very deep feelings about this another time) but one of the questions on the application form was "Describe the most difficult bread you have baked".
Well dang…I hadn't really baked any bread before…but I waffled my way through an answer which involved my desire to make focaccia. Now that I've bitterly ignored gracefully accepted my rejection, I thought it was about time I finally got around to making this bread.
I found this recipe on Gimme Some Oven. The only modification I made was that I added some extra rosemary right into the dough instead of just sprinkling it on top.
If you, like me, have expressed any hesitation when it comes to bread making, now is your chance to get over it. This is seriously simple and definitely worth the effort.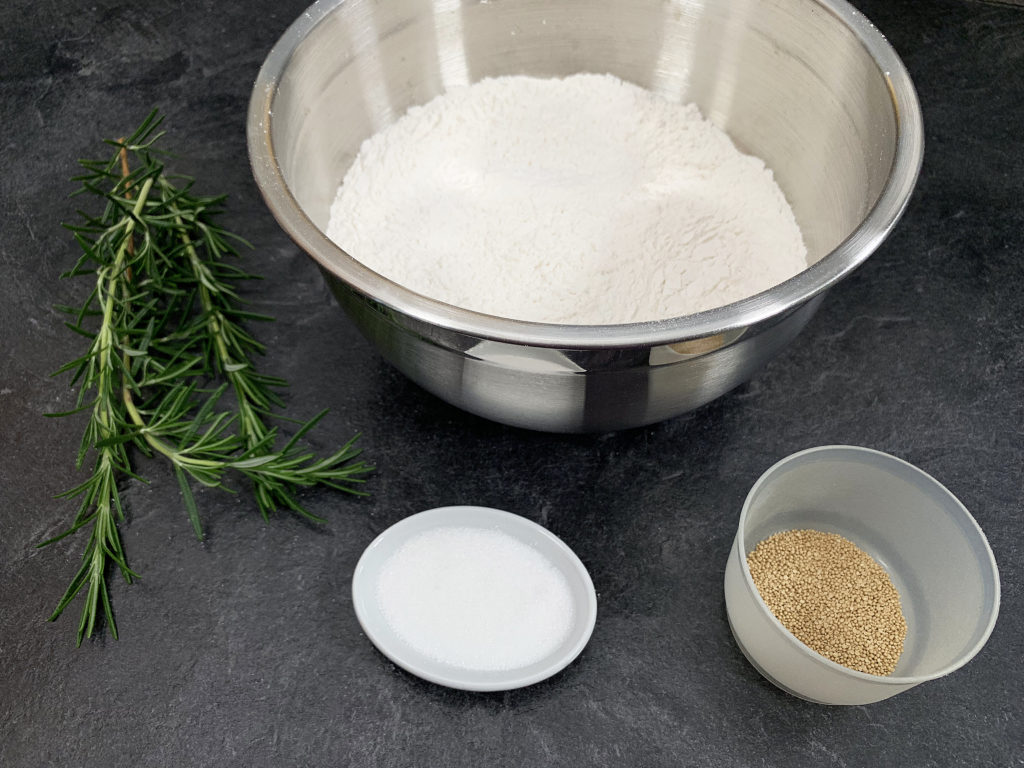 To start off, you add some warm water and sugar to a mixing bowl, and then sprinkle the yeast on top. Mix the yeast in with just a couple of quick stirs, and then leave it to sit for five to ten minutes. The yeast should turn foamy.
Fit your mixer with the dough hook attachment. Then, with the mixer on low speed, slowly add the flour, olive oil, salt and some chopped rosemary. Increase the speed to medium-low and keep mixing for another five minutes.
The dough will start to come together fairly quickly and should pull away easily from the sides of the bowl as it mixes. If it looks too sticky, you can add a little bit more flour.
Once your dough is all mixed up, pull it out of the bowl and shape it into a ball. Use a little bit of olive oil to grease the inside of the bowl and return the dough to it. Throw a damp towel over the top of the bowl and leave in a warm spot for 45-60 minutes. The dough should rise to nearly double the size like in the picture below.
Now you're going to take that big, beautiful, poofy ball of dough and plop it onto a lightly floured surface to roll it out. You want it about 1/2 inch thick, but you can shape it into a circle, rectangle, square…whatever you want really.
I rolled mine out into a 12 inch circle since a had a round pan I was going to bake it on. After you've got the dough shaped, cover it with a piece of greased plastic wrap and leave to sit for another 20 minutes to rise some more.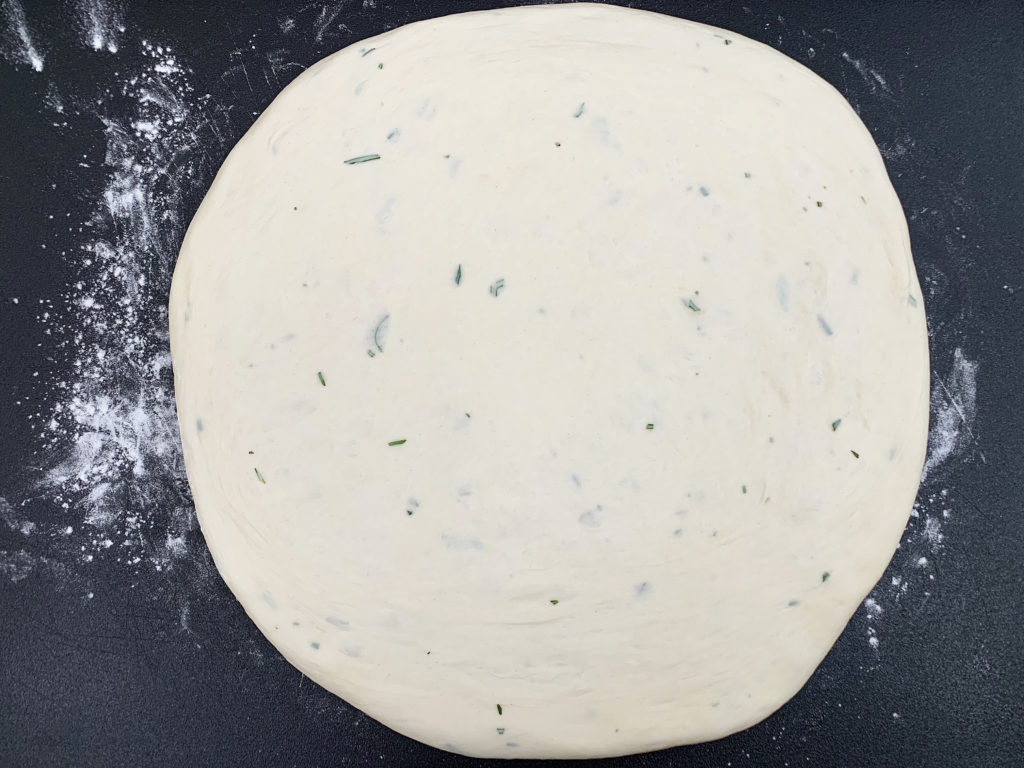 Transfer the dough to a large baking sheet, or similar shallow pan, and then poke dents all over the top with your finger. Don't be shy! Poke right down until your finger touches the surface of the pan.
Drizzle some more olive oil over the surface and sprinkle with a generous amount of fresh rosemary and sea salt.
The dough only takes 20 minutes to bake. Once it's out the oven you can drizzle with a little more olive oil or leave it as it.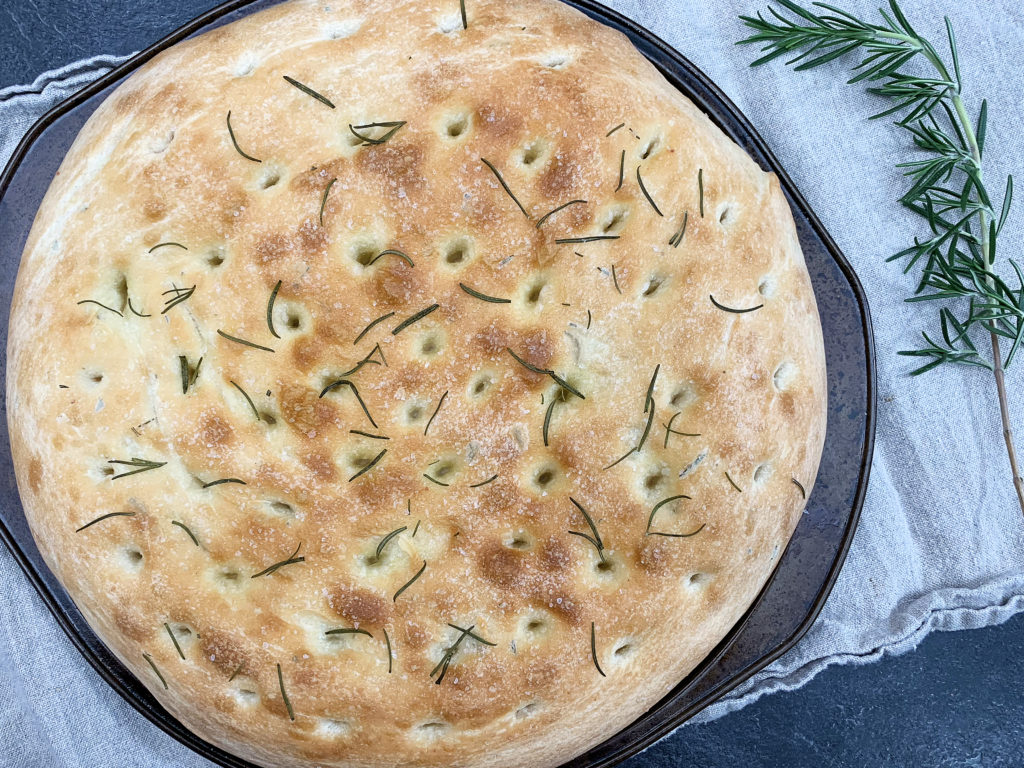 This bread is sooo good fresh out of the oven (we devoured it really quickly). You can eat it on its own, use it for sandwiches or have it on the side of a big, hot bowl of soup or stew.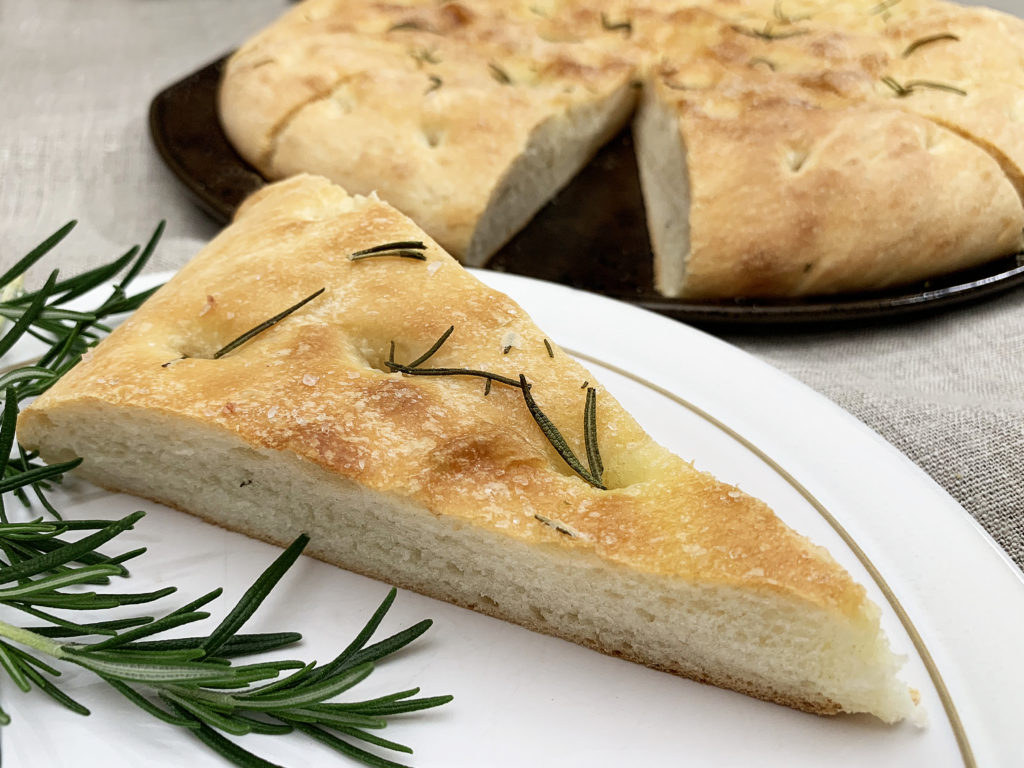 ---
Prep Time: 1 hour 15 min  |  Cook Time: 20 min
Ingredients
1 1/3 cup warm water (110°F)
2 tsp sugar
1 (0.25 oz) package active-dry yeast
3 1/2 cups all purpose flour
1/4 cup extra virgin olive oil (plus more for drizzling)
2 tsp sea salt (plus more for sprinkling)
1 tbsp fresh chopped rosemary (plus more for on top)
Method
Add the warm water and sugar to a mixing bowl.
Sprinkle the yeast on top of the water, and stir a couple of times just to mix it in.
Leave the yeast to sit for 5-10 minutes until it gets foamy.
Fix your mixer with the dough attachment and set speed to low.
Slowly add the flour, olive oil, salt and chopped rosemary.
Adjust the mixer speed to medium-low and mix for another 5 minutes.
Remove the dough from the bowl and shape it into a ball.
Grease the bowl with a little bit of olive oil and return the dough to the bowl.
Cover the bowl with a damp towel and leave to rise for 45-60 minutes in a warm location (dough should roughly double in size).
Place the dough on a lightly floured surface and roll it out to about 1/2 inch thick (you can roll into a circle, square or rectangle).
Lightly cover the dough with a piece of greased plastic wrap and leave to sit and rise for another 20 minutes.
Pre-heat your oven to 400°F.
Remove the plastic wrap from your dough and transfer to a baking sheet.
Use your finger to poke deep dents into the dough (poke all the way down until your finger touches the surface of the pan).
Drizzle with 1-2 tablespoons of olive oil.
Sprinkle generously with sea salt and fresh rosemary.
Bake for about 20 minutes until the dough is slightly golden brown.