I could write an entire book about my relationship with shortbread, and this savoury herb version has just added another chapter to my already buttery life story.
This was my first attempt at a savoury shortbread. I spotted the recipe I wanted to try on The View from Great Island. The recipe there calls for unsalted butter, but since I only had salted butter on hand I used that instead and reduced the salt. The end result was still a bit saltier than I would prefer so next time I would omit the salt altogether.
Once I'd mixed the dough together I found it was a bit on the dry side and too crumbly to hold together in a ball, so I added an extra 2 tbsp of butter. This made quite a difference and I think in hindsight 1 tbsp extra would probably have been enough.
The original recipe calls for blending the dough together in a food processor, which I do not possess. Instead I used my trusty mixer to beat the butter, cheese, herbs and black pepper together first and then added the flour at the end.
After the dough is assembled, it needs to chill in the fridge for an hour. If your baking process is anything like mine, your kitchen will already be sufficiently messy so this should give you ample time to get things back in order before proceeding with the rolling and cutting of the dough.
I've heard recommendations from numerous sources that one of the best ways to roll out dough is by placing it between two sheets of parchment or wax paper so that it doesn't stick. This is a great idea in theory, and I'm sure it works well for some people, but I have tried it several times and found that the whole thing slides all over the place as soon as I start trying to roll it.
My solution for this is to get an extra set of hands involved! I wrangle whichever unsuspecting person is closest and have them hold each side of the parchment flat against the counter so it doesn't shift while I roll out the dough. I'm sure there is an easier solution to this, but clearly I haven't figured it out yet.
After the dough is rolled, you can either cut it into shapes right away, or if you're feeling extra fancy, you can decorate the tops a bit with some extra herbs. Just place the herb leaves onto the surface of the dough and then gently roll over them with your rolling pin to press them down. I tried just pressing them with my fingers at first, but I found that placing a sheet of parchment on top and then going over it with the rolling pin really did work better.
Use a 2 inch round cookie cutter to cut your circles around the herbs. Transfer the cookies to a baking sheet lined with parchment and bake until they just barely start to turn golden at the edges.
I get cranky about over baked shortbread so I will carefully lift a cookie off the tray and check the bottom before I notice the edges going brown. If the bottoms look golden I usually pull them out.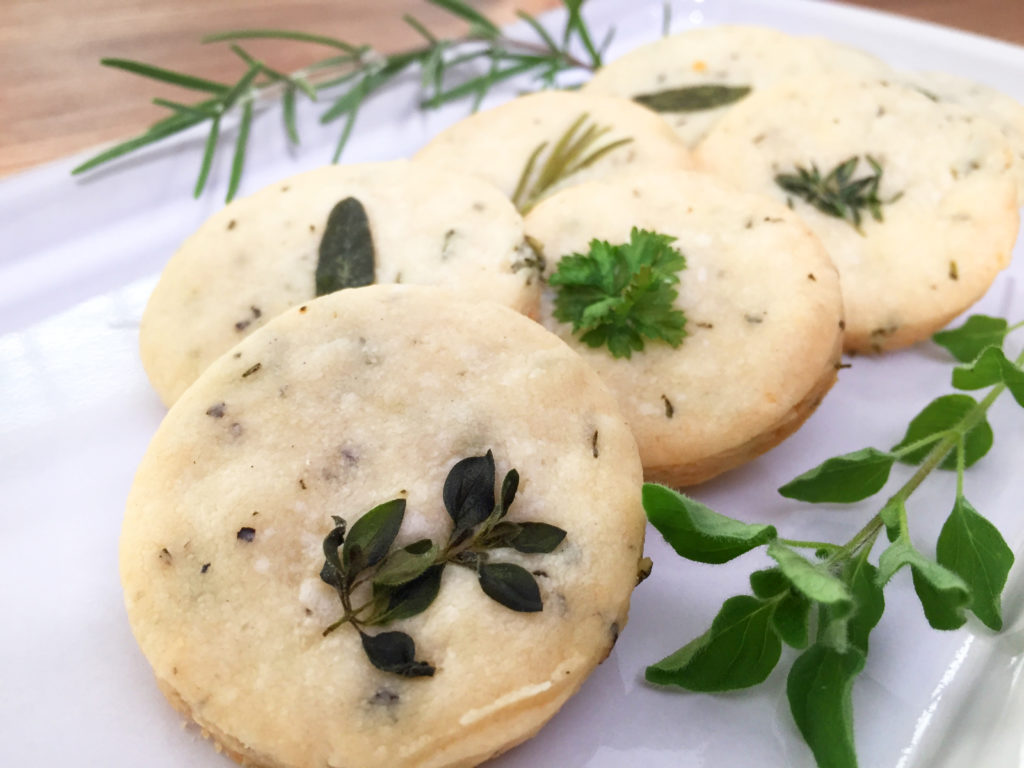 I would like to try making these again using a blend of cheeses, not just parmesan. I also suspect they would go really well with some apricot jam. Regardless I think these are a winner, especially since they look really pretty but are dead simple to make (as long as you have someone to help you hold the parchment while you roll).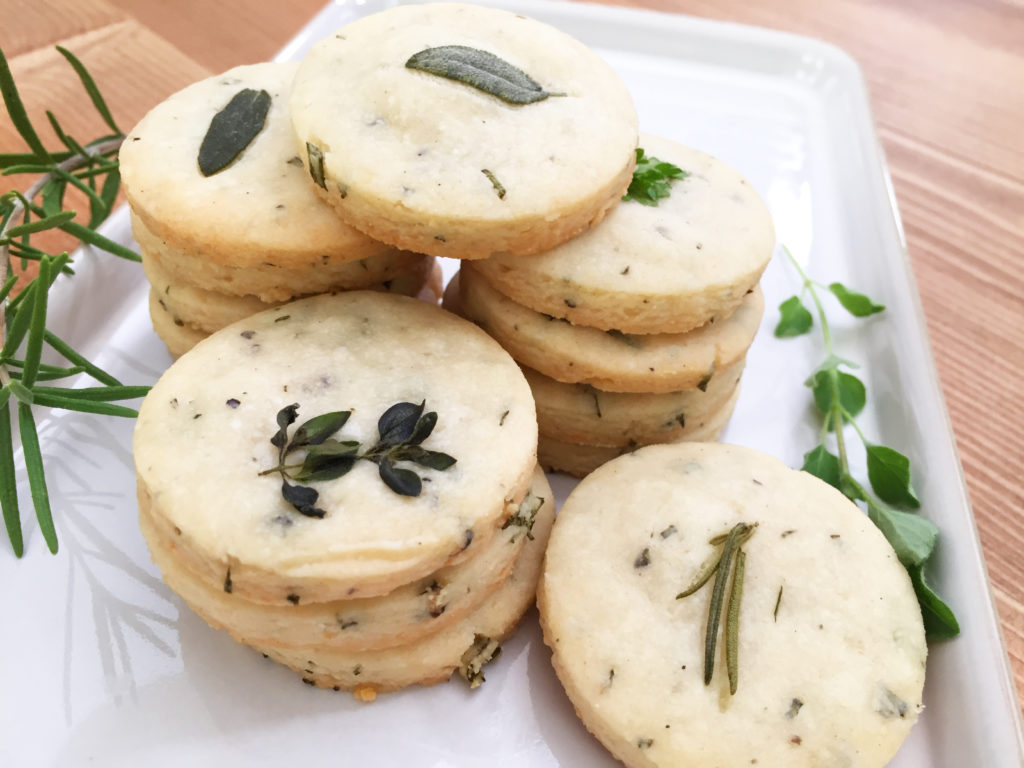 ---
Ingredients
1/2 cup + 1 tbsp butter (room temperature)
1 cup grated parmesan
2 tbsp finely chopped rosemary leaves
1/4 tsp fresh cracked black pepper
1 1/4 cups all purpose flour
Assorted herbs such as sage, parsley, rosemary, thyme, basil or oregano for pressing into the dough (optional)
Method
Cream the butter in a mixing bowl until smooth.
Mix in the cheese, rosemary and pepper.
Stir in the flour until just combined.
Knead the dough until it comes together in a ball, then shape into a disk. Wrap the disk tightly in plastic wrap and chill in the refrigerator for an hour.
Preheat your oven to 350°F.
Roll the dough flat to about 1/8 inch thick.
If decorating with extra herbs, place them onto the surface of the dough and use your rolling pin to press them down.
Use a 2 inch round cookie cutter to cut out your shortbread rounds.
Collect any scrap dough and re-roll it flat, continuing to cut rounds until all the dough is used up.
Place the rounds on a baking sheet lined with parchment.
Bake for 10-15 minutes until the edges just start to turn a pale golden colour.
Transfer to a wire rack to cool, and then enjoy!