The wonderful thing about peanut butter cookies, is that there are so many recipes out there that require so few ingredients. The peanut butter flavour in itself is very distinct, so as long as you like peanut butter, I find it's actually hard to come across a really bad peanut butter cookie.
Sure you might have a preference for a softer cookie or a thinner, crispier cookie, but in general I don't think I've ever eaten a peanut butter cookie and thought "Man, that was terrible." I cannot say that for other cookies that I've eaten.
Still, I don't actually make peanut butter cookies very often, and as a result I don't have a favourite go-to peanut butter cookie recipe. To be honest, I usually end up making the 3 ingredient Kraft peanut butter cookie recipe (peanut butter & sugar mixed with an egg). This is because I almost always have these 3 ingredients on hand, but I may not have what I need for a good chocolate chip cookie recipe.
I decided to try and branch out with a different recipe this week. I found a recipe for these Chewy Peanut Butter Cookies on The Anthony Kitchen blog. As promised, they were super fast and easy to make.
The recipe didn't specify whether to use sweetened or unsweetened peanut butter. I had planned to use unsweetened, but Collin believes unsweetened peanut butter should only be served to prison inmates as some sort of cruel and unusual punishment. You know that saying about choosing your battles? Let's just say we ended up with sweetened peanut butter this time.
To make these cookies, start off by whisking flour, baking powder and salt together in a medium sized bowl. This recipe calls for unsalted butter and 1 teaspoon of salt. Since I only had salted butter on hand, I only added a pinch of salt instead of the full teaspoon.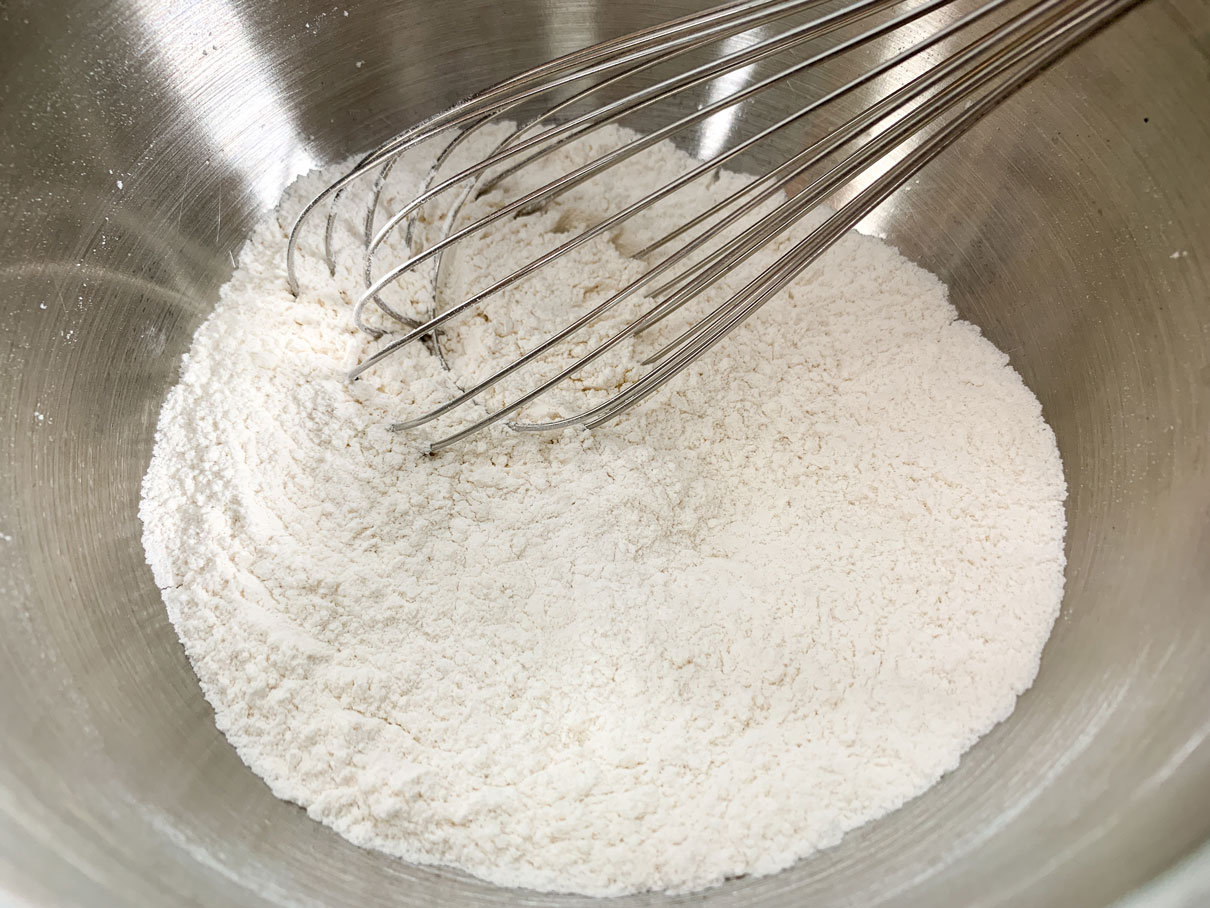 In a large bowl, or in the bowl of a stand mixer, combine the melted butter, brown sugar, white sugar, peanut butter and vanilla. See how easy this is? You literally just dump everything in.
Beat on medium high speed until smooth and creamy. The ingredients are quite soft and easy to mix together, so this could easily be done by hand. I lack any semblance of upper body strength and I would still be happy to mix this up sans-mixer.
Add the dry ingredients to the wet ingredients and mix until just combined.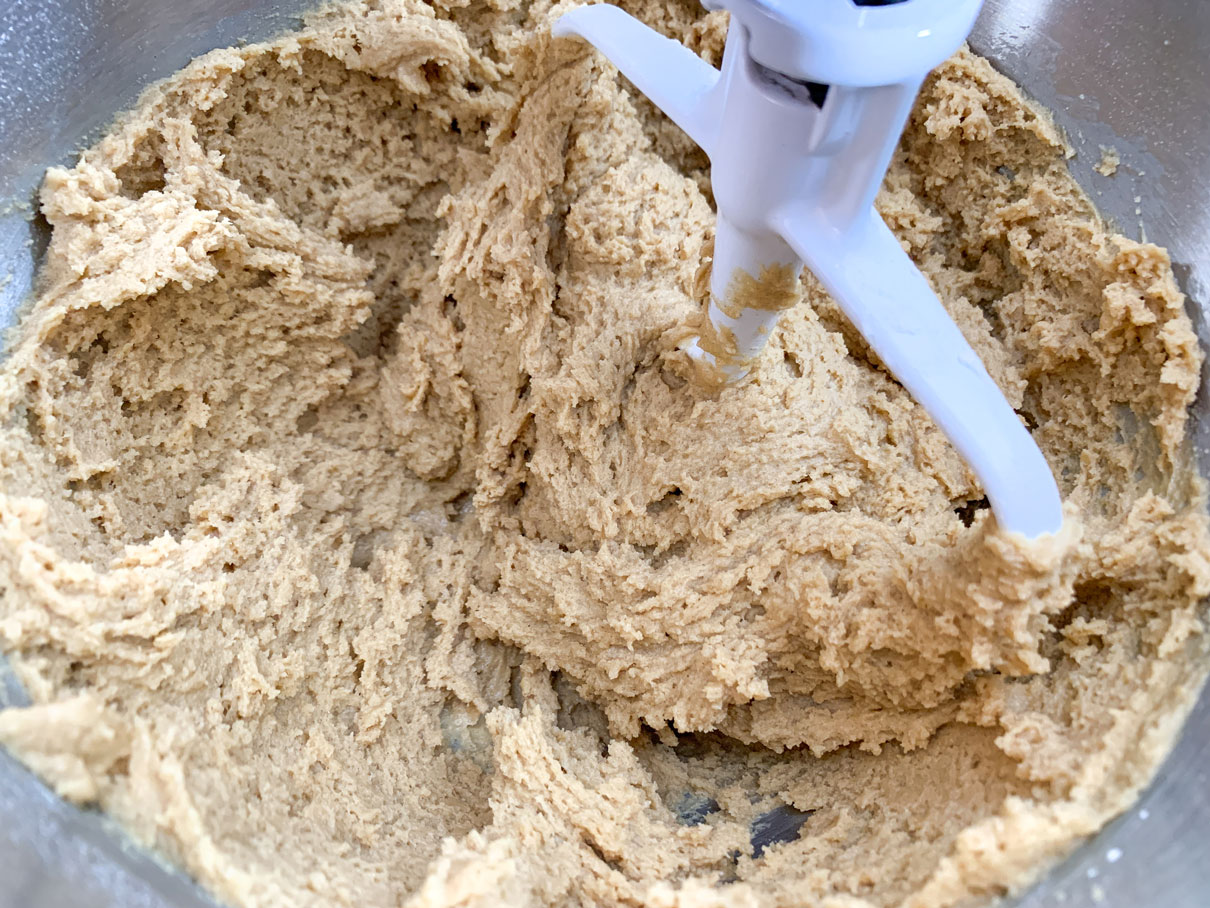 Take heaping tablespoons of dough and roll them into a ball. I used a medium sized cookie scoop to measure out the balls of dough to get them as consistent in size as possible. You'll notice that the dough is quite soft, so you likely won't get a perfectly shaped ball as you roll them.
Roll each ball of dough in a thin coating of white sugar and place them on a baking tray. Use a fork to make some crosshatch lines across the top of each ball of dough. These cookies do spread a fair bit, so be sure to give them some room on the tray.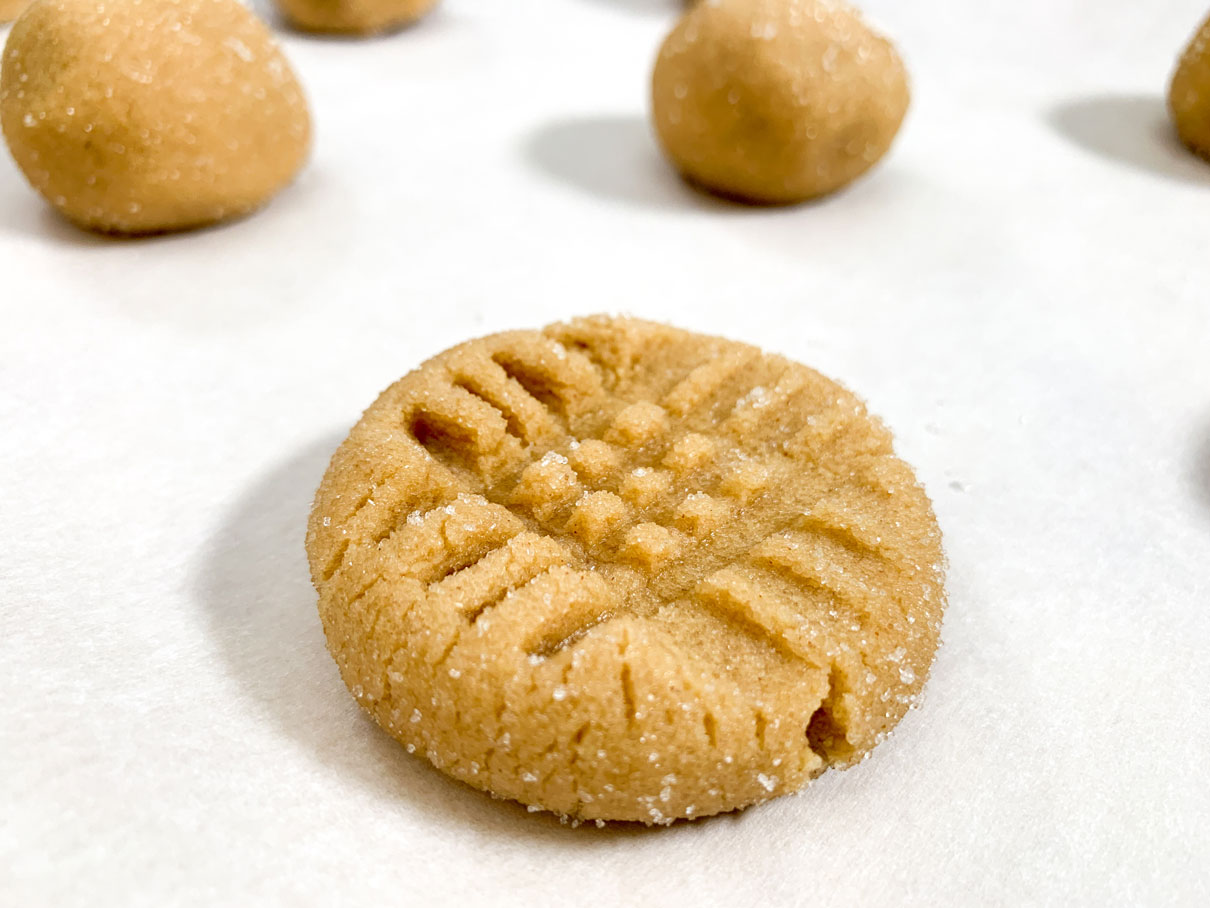 Bake for 12-14 minutes until the edges are just starting to turn a darker, golden brown.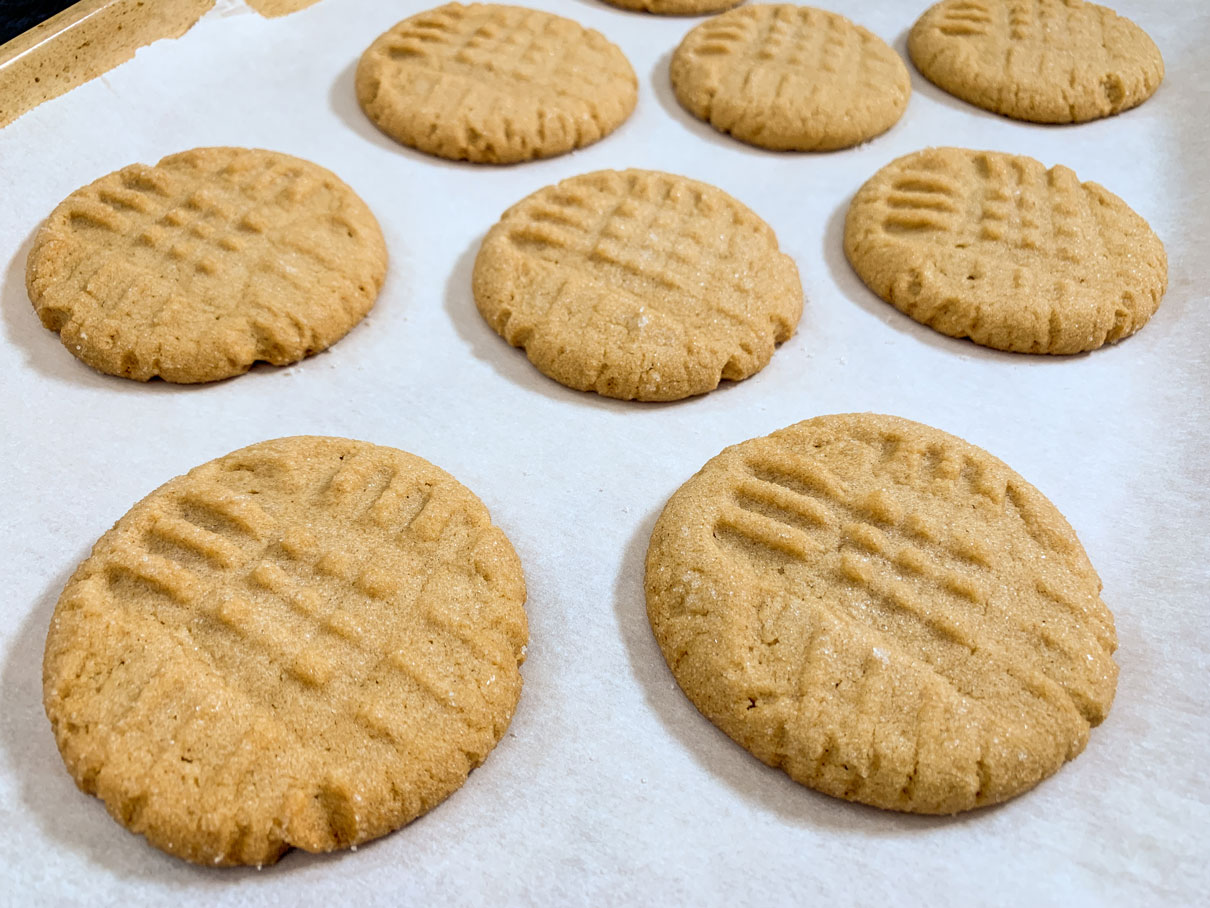 Rolling the cookies in the granulated sugar before baking gives them a delightful sweet, thin crunch to the outside which I really like, so I wouldn't omit that step.
I did find the cookies to be a little sweeter than I would prefer, so I would like to try them another time with unsweetened peanut butter, despite Collin's protests. I also think they would be nice with some finely chopped peanuts stirred in, or perhaps just using chunky peanut butter instead of the smooth.
I would happily make and eat these again. Like I said, it's hard to find a bad peanut butter cookie recipe…or, more accurately, a peanut butter cookie that I wouldn't be willing to eat.
---
Print Recipe
Peanut Butter Cookies
Simple and easy to make peanut butter cookies. Makes around 30 cookies.
Ingredients
1 1/3

cup

all-purpose flour

1

tsp

baking powder

1

tsp

sea salt

2/3

cup

unsalted butter

(melted)

1

cup

creamy peanut butter

1/2

cup + 1 tbsp

brown sugar

1/2

cup

granulated sugar

(plus an extra 1/4 cup for rolling)

1

large egg

1

tsp

vanilla extract
Instructions
Pre-heat your oven to 350° F, and line a couple of baking sheets with parchment paper.

In a medium sized bowl, whisk together the flour, baking powder and salt.

In a large bowl, or in the bowl of a stand mixer, combine the melted butter, peanut butter, brown sugar, granulated sugar, egg and vanilla. Beat on medium-high speed until smooth.

Add the flour mixture to the peanut butter mixture, and mix until just combined.

Scoop out a heaping tablespoon sized mound of dough and roll it into a ball. Roll the ball in the 1/4 cup of granulated sugar until coated.

Place the dough balls onto the parchment lined baking sheet about 2 inches apart.

Use a fork to create crosshatch lines on the top of each cookie.

Bake for 12-14 minutes until the edges of the cookies start to turn golden brown.

Allow cookies to cool on tray for a few minutes before transferring them to a wire cooling rack.
Notes
Recipe Source:  The Anthony Kitchen
If using salted butter, omit or significantly reduce the salt.
I baked these with sweetened peanut butter, but would like to try them with unsweetened peanut butter instead.
I'd like to try using chunky peanut butter, or adding some fine chopped peanuts to these cookies next time.