Between work, appointments, errands, house warmings, and other events that have popped up unexpectedly over the past couple of weeks, things have been pretty busy around here. The weather has also been gloriously warm, so I've chosen to spend what little spare time I have had puttering around the garden and fussing over my plants. As such, I haven't had much free time to hunt down new recipes to try out.
This weekend was rapidly approaching, and I was getting anxious because I had no idea what to make. Then, I got distracted by the warmth of a sunbeam. It has been exceptionally warm this week and every day has felt like a summer day. I started thinking about all the delicious summer fruits that will soon be ripening. That's when I started day dreaming about peaches.
There's nothing better than a fresh, warm, juicy, sun-soaked peach. I start salivating just thinking about it. In fact, I think peaches may just be my favourite fruit! When they're ripe that is. As far as I'm concerned, having no peach is better than having an underripe peach.
Anyhow,  at this point I couldn't stop thinking about peaches, and I decided that whatever I was going to make was going to have to have peaches in it! So I started looking for some peach themed recipe ideas. But as I said, this week has been crazy busy, so I needed to find something I could throw together quickly. That's when I found this recipe for Peach Ricotta Cake on the blog Food and Table.
I already had all the ingredients I needed in my kitchen, except for the ricotta, which I picked up on my way home from work. The recipe is very simple, takes no time to put together, and only dirties up two bowls. It reminded me a bit of the Strawberry Summer Cake which I posted previously. That strawberry cake is my go-to summer dessert. I make it every year, but I've decided it's about time I try to expand my summer dessert collection.
To start the cake, whisk together the flour, sugar, baking powder and salt in a medium sized bowl.
In another larger bowl, whisk together the eggs, ricotta and vanilla until smooth and creamy. I added a little extra vanilla, because I love vanilla and using only half a teaspoon didn't seem quite right.
Fold the dry ingredients into your egg and ricotta mixture until just combined. The batter will be quite thick at this stage, but you're going to add some melted butter which will thin it out a bit.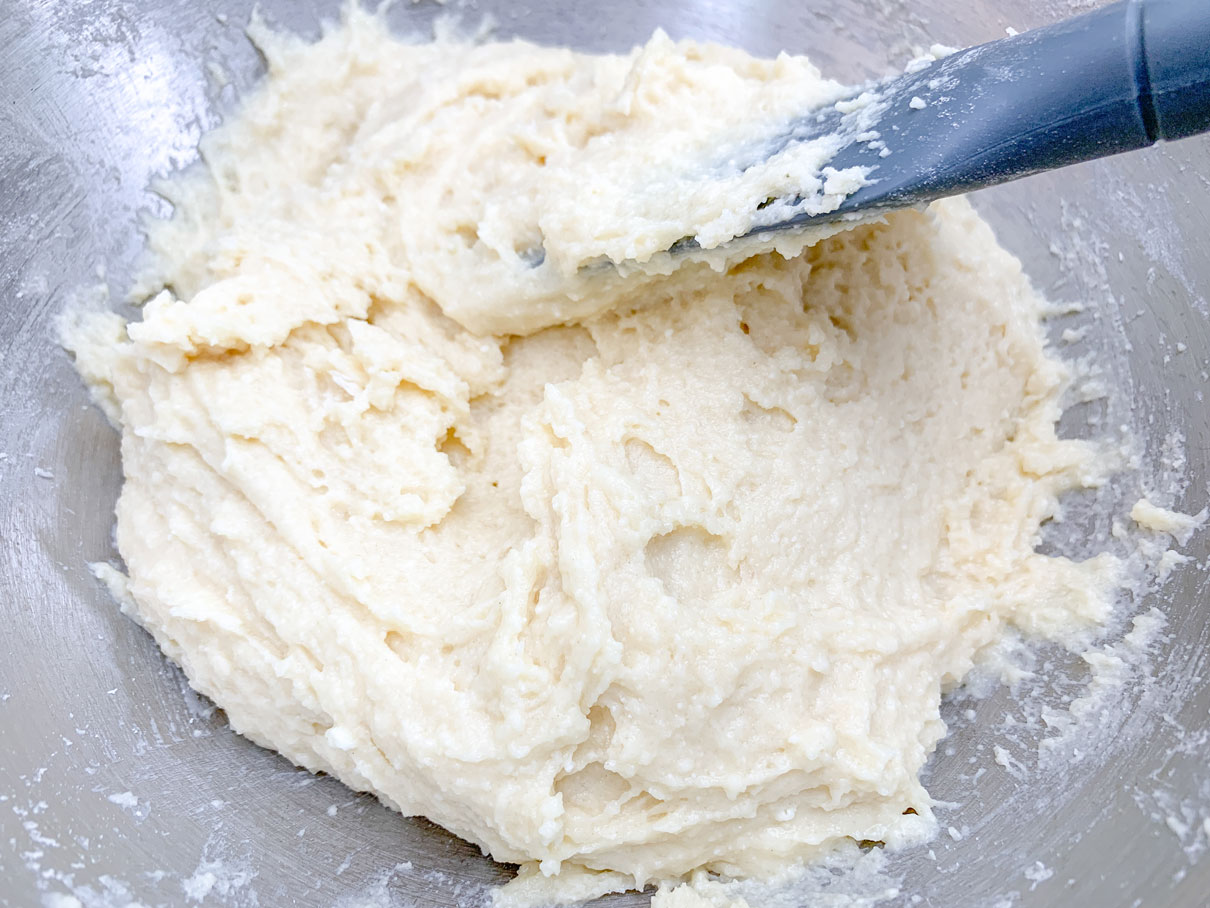 Fold in the melted butter until well combined. The batter will be a little bit softer now.
Spread about two thirds of the batter into a greased 9 inch round cake pan.
Sprinkle about a cup of chopped up peaches evenly across the surface of the batter. The recipe specifies using fresh peaches, but I used canned because it's not quite peach season, and I couldn't wait that long to try out this recipe.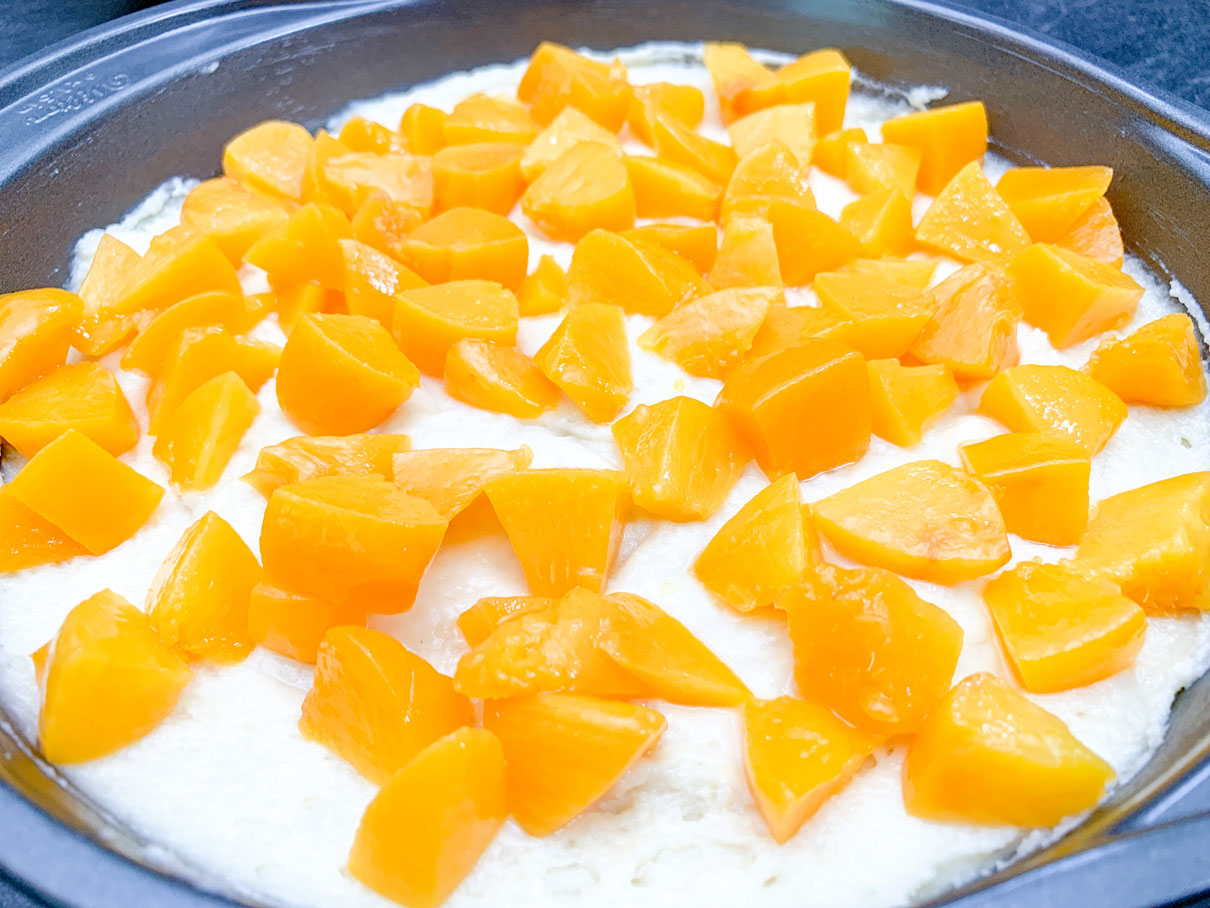 Spread the remaining batter evenly across the top of the peaches, then sprinkle another half a cup of chopped peaches over the surface of the cake.
Bake the cake for 45-55 minutes until a tester inserted into the centre comes out clean. The batter for this cake filled my pan right to the top, which made me a little nervous that it might overflow.  Just to be safe, I placed it on a baking tray, but I ended up not having any issues. The cake baked just fine and didn't overflow the pan.
Let the cake cool for about 20 minutes before removing it from the pan. To get the cake out, I flipped it onto a wire rack, then flipped it again so it wasn't upside down, then left it to cool completely.
Once the cake has cooled, you can dust it with a little bit of icing sugar. To get a fine dusting, place a small spoonful of icing sugar into a fine sieve and gently shake it over top of the cake.
I found this cake to be quite moist, and not overly sweet. Overall it had a nice texture, and really is very reminiscent of the strawberry summer cake. You do end up with a few slightly soggy bits throughout the cake, which is a result of the moisture from the peaches.
The canned peaches I used were good, but not great. I found that in this particular cake they fell a bit flat, and I wanted to add something to try and enhance the flavour. I think with some really good, fresh, ripe peaches, the peach flavour would be much more powerful and the cake would need nothing else.
I would like to try making this again, perhaps tweaking it a bit to see if I can find a way to add a little more flavour punch for the canned peaches.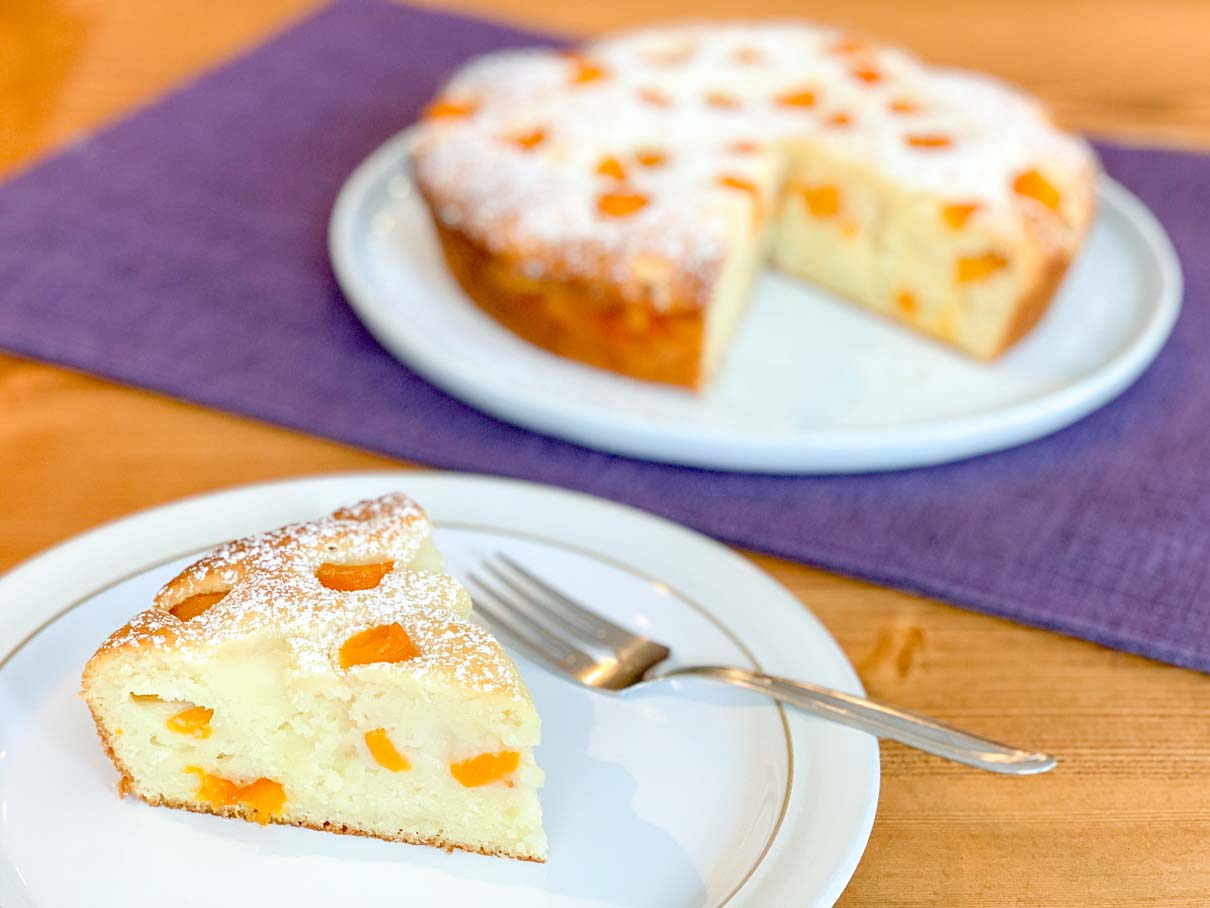 ---
Print Recipe
Peach Ricotta Cake
Ingredients
1 3/4

cup

all-purpose flour

1

cup

granulated sugar

2

tsp

baking powder

3/4

tsp

salt

3

large eggs

1 1/4

cup

ricotta cheese

(full fat)

1

tsp

vanilla extract

1/2

cup

unsalted butter

(melted & cooled slightly)

1 1/2

cup

peaches cut into 1/2 inch chunks

1

tbsp

icing sugar

(optional)
Instructions
Pre-heat your oven to 350°F. Grease a 9 inch round cake pan and line it with parchment.

In a medium bowl, whisk together flour, sugar, baking powder and salt.

In a separate larger bowl, whisk together eggs, ricotta and vanilla until smooth and creamy.

Fold the dry ingredients into the wet ingredients until just combined.

Add the melted butter and mix until well combined.

Evenly spread two thirds of the cake batter into the prepared cake pan.

Sprinkle 1 cup of the chopped peaches across the top of the batter.

Spread the remaining batter evenly over the top of the peaches in the cake pan.

Sprinkle the remaining 1/2 cup peaches onto the top of the cake batter.

Bake for 45-55 minutes or until a tester comes out clean when inserted into the centre.

Allow cake to cool for at least 20 minutes before removing from pan.

Dust with icing sugar before serving (optional).
Notes
Recipe Source:
Food and Table
I increased the amount of vanilla slightly from the original recipe, and used canned pieces instead of fresh. I think some really good fresh peaches would give this cake a bunch better flavour. The canned peaches were good, but not mind blowing.