I've baked very few breads in my life. Something about the process just seems so intimidating and time consuming. However, when I saw the recipe for these Rosemary Sea Salt Sweet Potato Rolls on the blog Country Cleaver, they looked completely irresistible, and my intense desire to eat them overpowered any fears I had about the baking process.
I tried making some garlic parmesan dinner rolls a couple of weeks ago and was a little disappointed. They didn't quite have the flavour I was hoping for, and the bread wasn't as soft and buttery as the recipe boasted.
When I started mixing up the dough for these sweet potato rolls, I was a little worried I'd experience the same let down. How wrong I was. These rolls are off the charts delicious. They are so soft and pillowy, you could make a bed out of them. They bake up beautifully with a divine golden top crust.
The recipe includes directions to brush them with a combination of honey and butter after baking, and to add a sprinkle of extra salt and rosemary on top. I was thinking about skipping this step due to sheer laziness, but at the last minute decided to do it, and I'm so glad I did. This last little touch adds just the right finish to these already incredible buns.
Mixing and preparing the dough is very quick and easy. The tedious part with this recipe (and all other recipes that aren't quick bread recipes), is that you need to leave the dough to rise for 1 hour after mixing, and then another hour after shaping.
As long as you have other things you can do to busy yourself while you wait, you'll be just fine. You can also do what I do, and check the dough every 5 minutes to see how much it's grown. Hey, it's better than watching paint dry, okay?
This recipe calls for 1 cup of mashed sweet potato. Apparently you can buy sweet potato puree in a can, although I've never thought to look for it before. Instead, I peeled and boiled a few sweet potatoes until they were just tender. I drained them, mashed them, then let them cool.
I was worried at first that boiling them might make them too wet for the dough, but it seemed to work just fine. I would be interested to try roasting them instead of boiling them to see how the flavour changes.
Whether you decide to boil them, roast them, or scoop them from a can, just be sure you've prepared them well enough in advance that they have time to cool down before you start on your dough. It's okay if they're a little warm, just make sure they aren't super hot.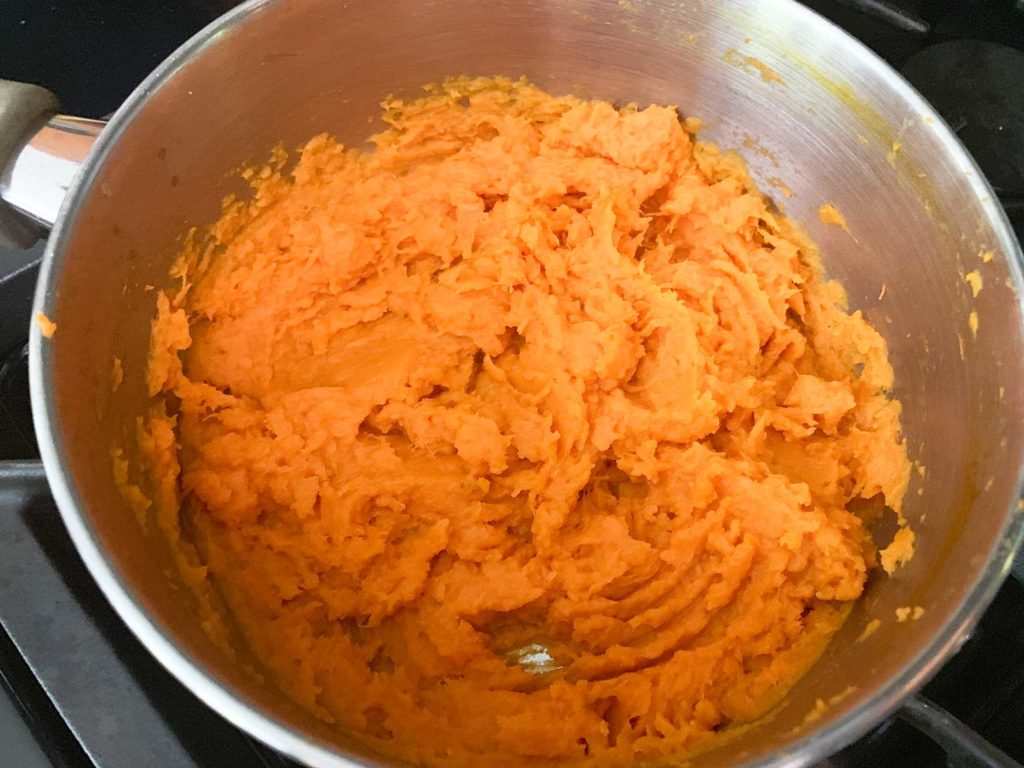 Once your potatoes are ready, you can start on the dough. Begin by heating your milk and water to about 110°F. You can do this in a microwave, but I prefer to do it on the stovetop. That way you can stick a thermometer in and watch it until you've got it to the right temperature.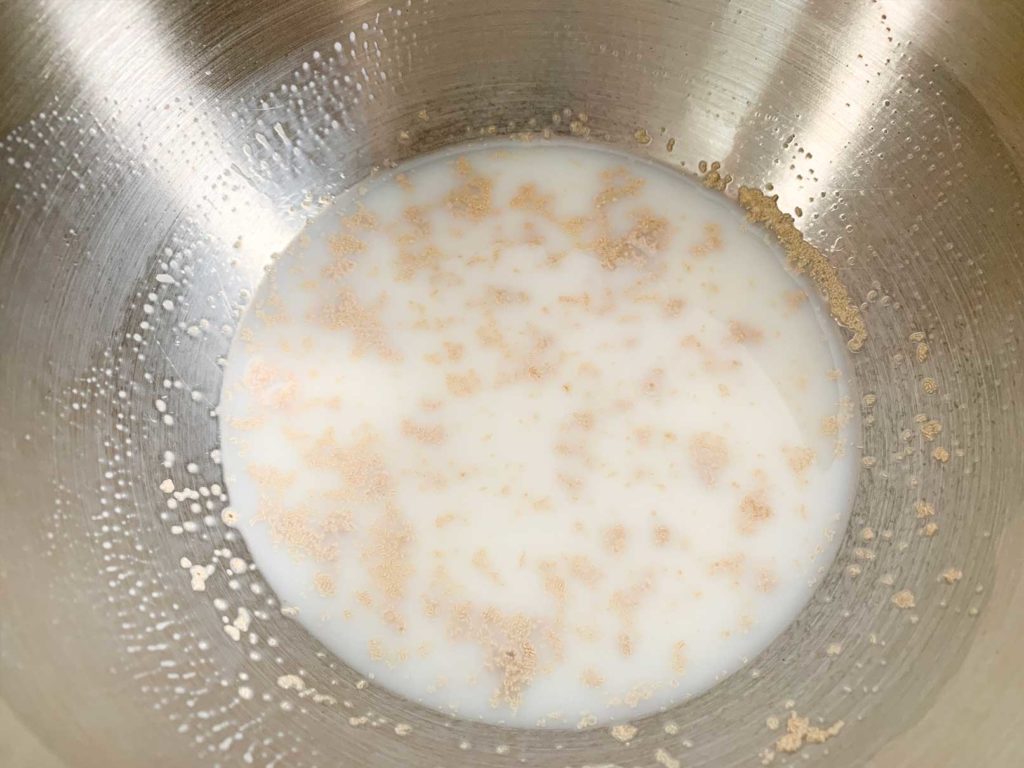 Once your milk and water is heated, add a teaspoon of sugar along with the yeast. Leave it to sit for 5 minutes to bubble and do its thing.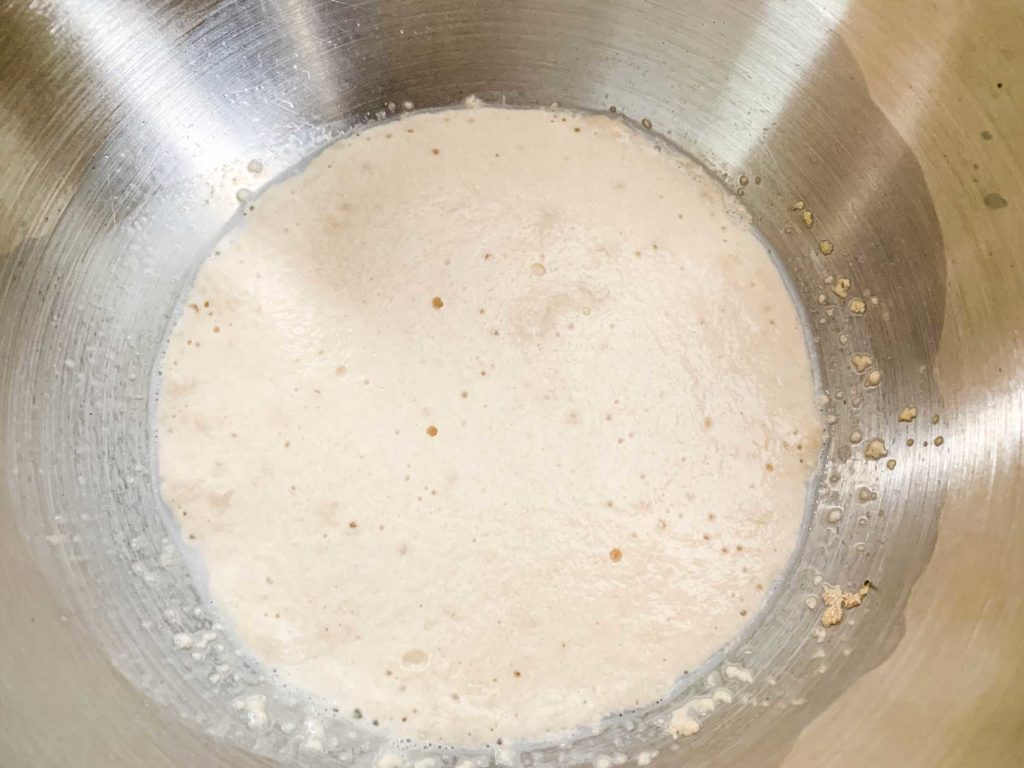 Meanwhile, dump all your other ingredients into the bowl of a stand mixer, fitted with a dough hook attachment. Turn it on low and let it mix until all the ingredients are combined. It will be quite dry and crumbly. I stopped the mixer a couple of times to scrape the edges down and make sure everything was incorporating well.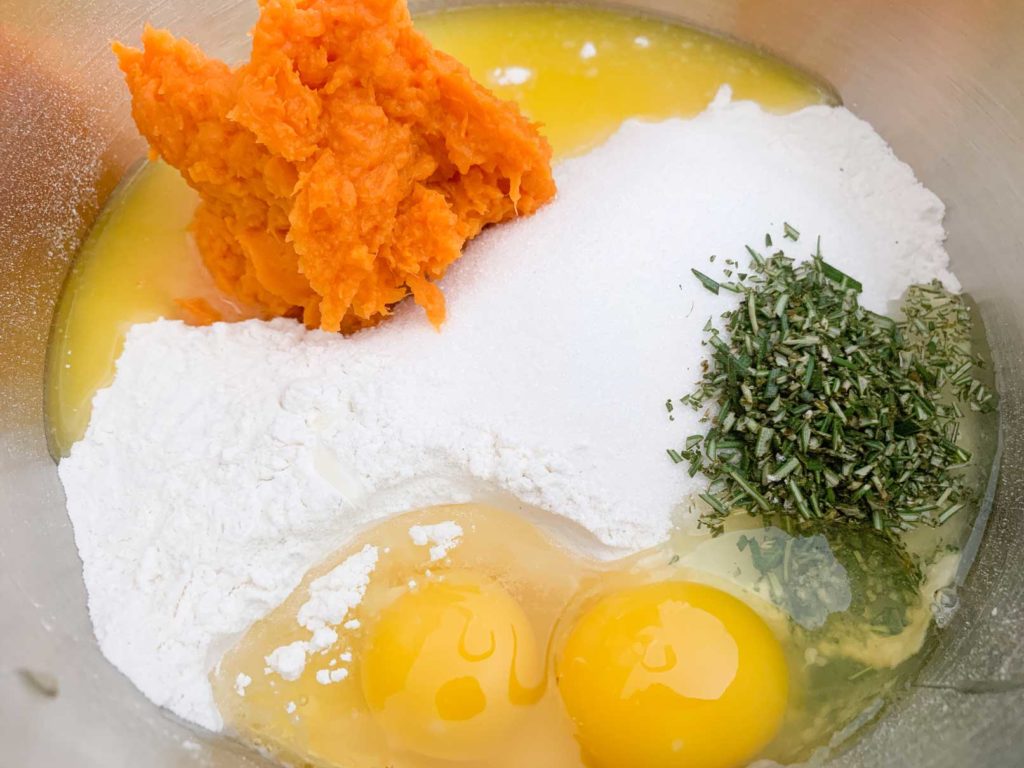 Your yeast/water/milk mixture should be about ready now. Pour it in with the rest of the dough and mix on low speed until a nice smooth dough forms.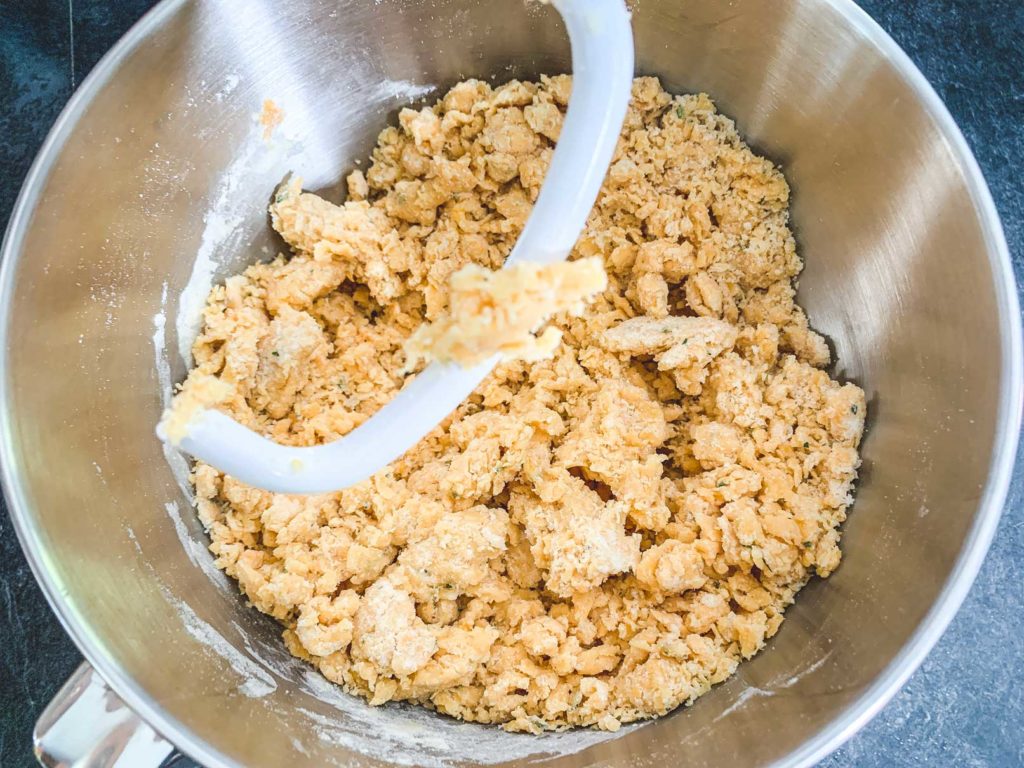 When you first start mixing, the dough will be a rather unpleasant, sloppy, chunky looking mess. After a few minutes it will look much better. You can stop mixing when the dough pulls away from the sides of the bowl cleanly, but is still just a little sticky on the bottom.
Turn the mixer off and plop your dough onto a lightly floured surface. Knead it a few times until you can form a nice, smooth ball.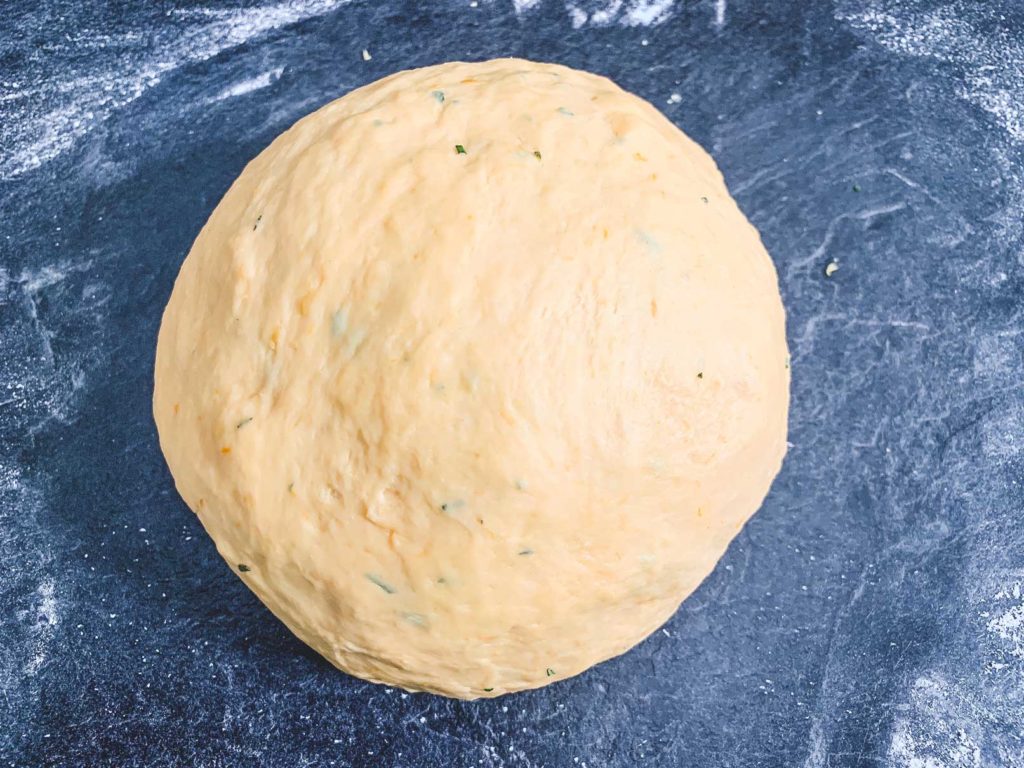 Lightly grease a large bowl (I wiped the inside of my bowl with just a teeny bit of olive oil), and place your dough inside. Cover with a piece of plastic wrap and place in a warm location for an hour to rise. The dough should about double in size.
Now it's time to shape your buns! The recipe recommends cutting the dough into 16-20 pieces. Since I baked these in a 9″x13″ dish, I found that 20 pieces worked quite while with 4 rows of 5 buns (or 5 rows of 4, depending which way you look at it).
Because I'm a little OCD, I used a scale to weigh the entire ball of dough and then divided the amount by 20 to determine the weight of each bun. If you don't have a scale, you can eyeball it as well.
If you have trouble getting the sizes similar, I'd recommend cutting the whole ball in 4 equal pieces then cutting each quarter into 5. You don't have to do it that way, but I find it easier to get them roughly the same size when you're working in smaller portions.
Shape each chunk of dough into a smooth ball and place them in a lightly greased 9″x13″ baking dish lined with parchment paper.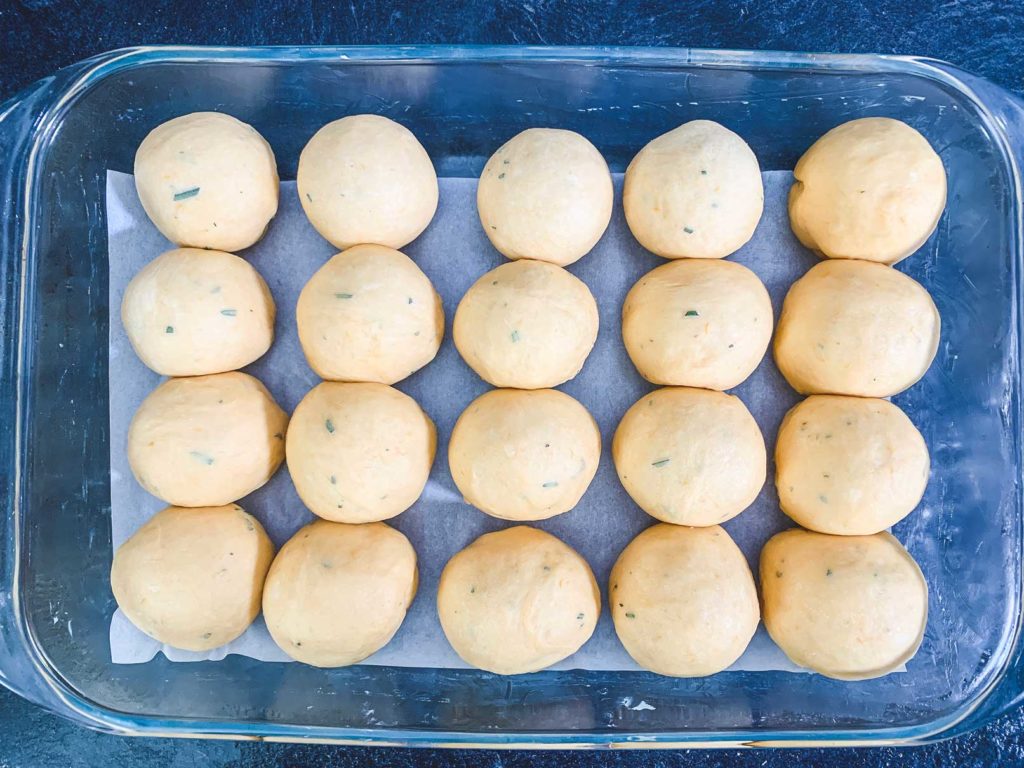 Cover the buns with a piece of plastic wrap and leave to sit for another hour to finish rising.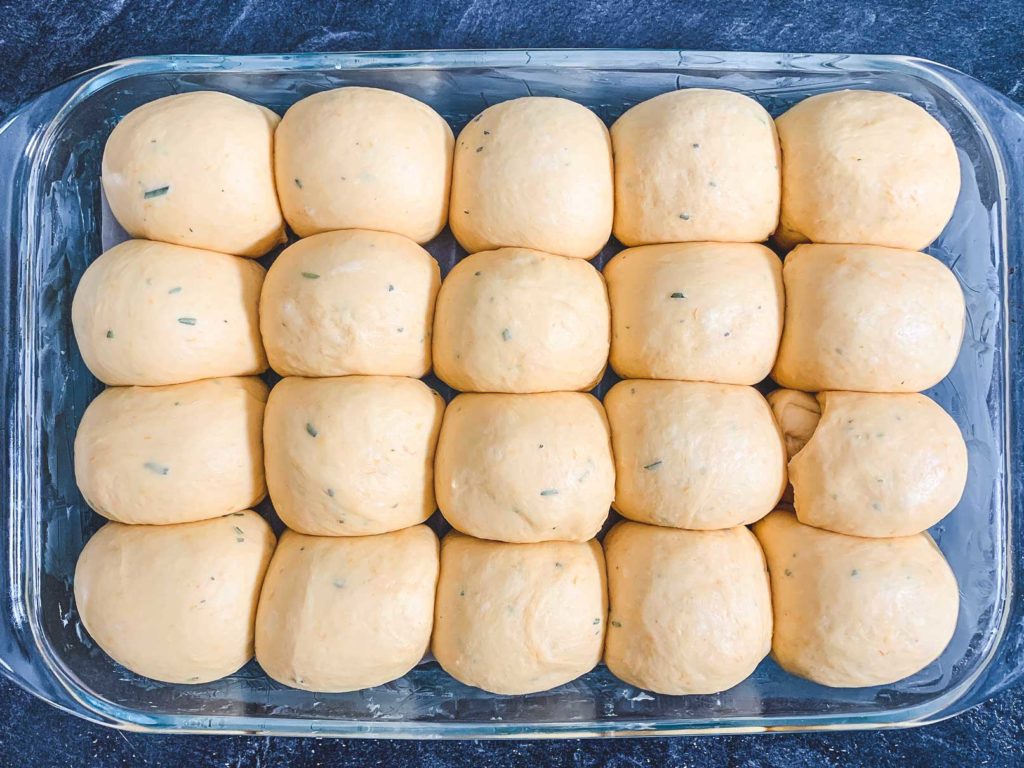 Bake for 20-25 minutes until the tops are golden brown. You can also insert a thermometer to check the temperature. They should be done when they hit 200°F.
Now it's time to brush the tops with a honey-butter glaze. I made the amount suggested in the original recipe and found I only used about half, so I've reduced the quantity in the recipe below.
Warm some butter until just melted, then stir in some honey. Use a pastry brush to spread a thin coat of the mixture on top of the buns. Sprinkle with some coarse sea salt and a little more finely chopped rosemary. The honey and butter will give the buns a beautiful sheen and just a hint of sweetness.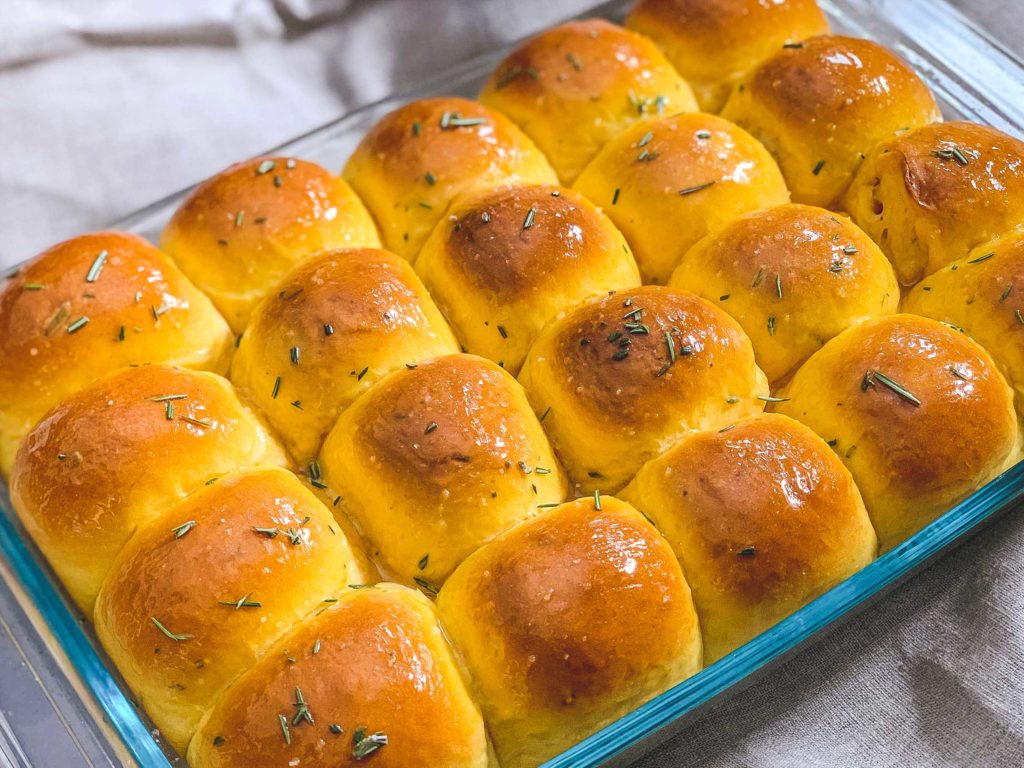 ---
Print Recipe
Rosemary Sea Salt Sweet Potato Rolls
Ingredients
For the rolls
1/2

cup

water

1/4

cup

milk

2 1/4

tsp

yeast

1 tsp + 1/3 cup sugar

(keep separated)

5

cups

all-purpose flour

1 1/2

tsp

salt

2 1/2

tsp

fresh rosemary

(minced)

2

eggs

6

tbsp

butter

(melted and cooled)

1

cup

mashed sweet potato

(see notes)
For the honey butter topping
1/8

cup

butter

1

tbsp

honey

coarse sea salt

fresh rosemary

(minced)
Instructions
Combine the milk and water in a small saucepan and heat until it reaches a temperature of 102°F-110°F.

Add 1 tsp of sugar, along with the yeast, to the milk/water mixture. Gently stir a few times and then set aside to proof for about 5 minutes.

Fit a stand mixer with a dough hook attachment. Add to the mixing bowl the 1/3 cup of sugar, flour, salt, rosemary, eggs, melted butter and mashed sweet potato.

Stir on low speed until all the ingredients are combined. It will be quite dry. You may need to scrape down the sides of the bowl to help ensure everything is well incorporated.

Add the yeast mixture and keep mixing on low speed until a smooth dough forms. You'll know its ready when the dough easily pulls away from the sides of the mixing bowl.

Take the dough and place it onto a lightly floured surface. Knead a few times until it becomes a smooth, uniform ball. Place in a large, lightly greased bowl. Cover, place in a warm location, and let rise for about 1 hour until the dough doubles in size.

Turn the risen dough out onto a lightly floured surface. Divide into 20 equal pieces. Shape each piece into a smooth, round ball and place in a lightly greased 9x13 baking dish, lined with parchment. Cover again and let rise for another hour.

Pre-heat your oven to 325°F. Bake the buns for 20-25 minutes until golden brown on top.
For the honey butter topping
Warm the butter until it's just barely melted. Stir in the honey. Use a pastry brush to thinly coat the top of the rolls with the mixture. Sprinkle with sea salt and minced rosemary.
Notes
Recipe source: Country Cleaver.
Sweet Potato: If using fresh sweet potato, make sure to give yourself time to cook it, mash it, and let it cool before starting on the recipe. If you can find canned, pureed sweet potato, you could use that instead.