Whenever anyone asks me to recommend a cake recipe, this is always the first one I suggest. I love everything about this cake. It's moist, buttery, fruity, not too sweet, and it smells absolutely heavenly. 
My obsession with this cake began several years ago when my sister sent me a link to the recipe on Smitten Kitchen.  I have made it at least a dozen times since. I like to call it a rustic show stopper. It's super easy to put together and even the most novice baker can pull it off.
Every part of this cake is delightful. It doesn't require any one off ingredients that you aren't likely to have in your cupboards already. The batter is creamy and silky and takes only a few minutes to throw together. I have tried making it with both milk and buttermilk and both variations have turned out well.
You'll need to use a 10-inch pie plate or a 9 inch deep dish pie plate (If you use a shallow 9 inch pan it will overflow). Just spread the batter out in the pan and press as many strawberries into the surface as you can fit.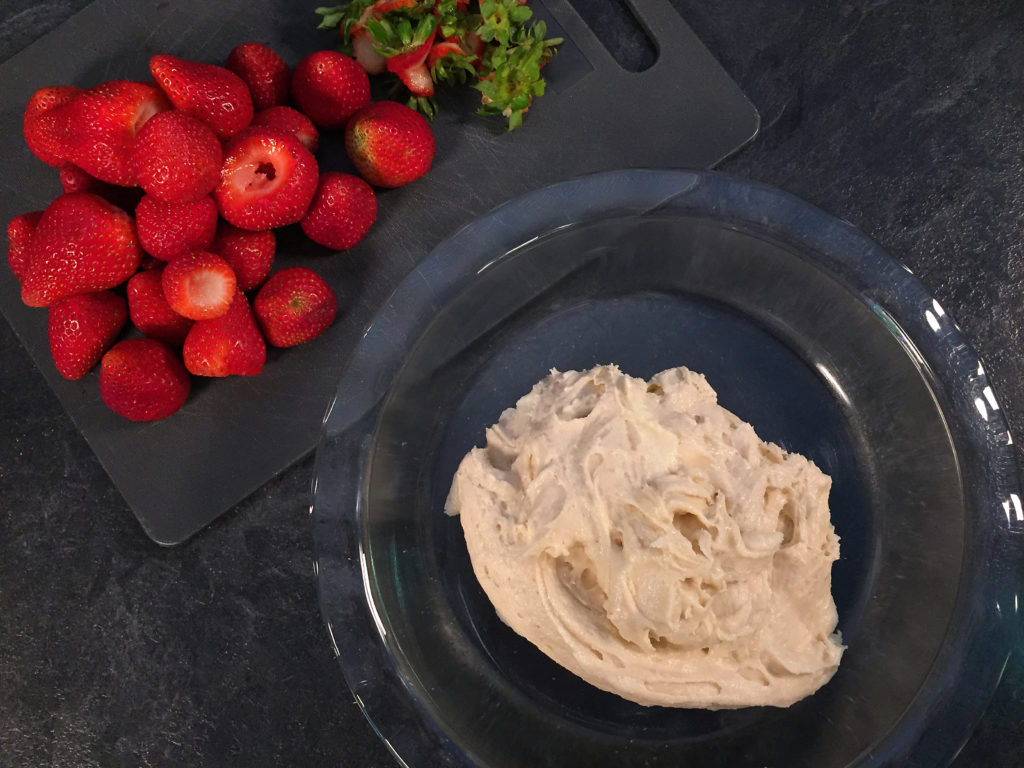 As soon as you start thinking there are too many strawberries and that there isn't possibly room for any more, keep going. Just cram them in there as close together as you can manage. Seriously, the more the better. You won't regret it.  As the cake bakes, it will rise and the strawberries will slowly start to drift apart.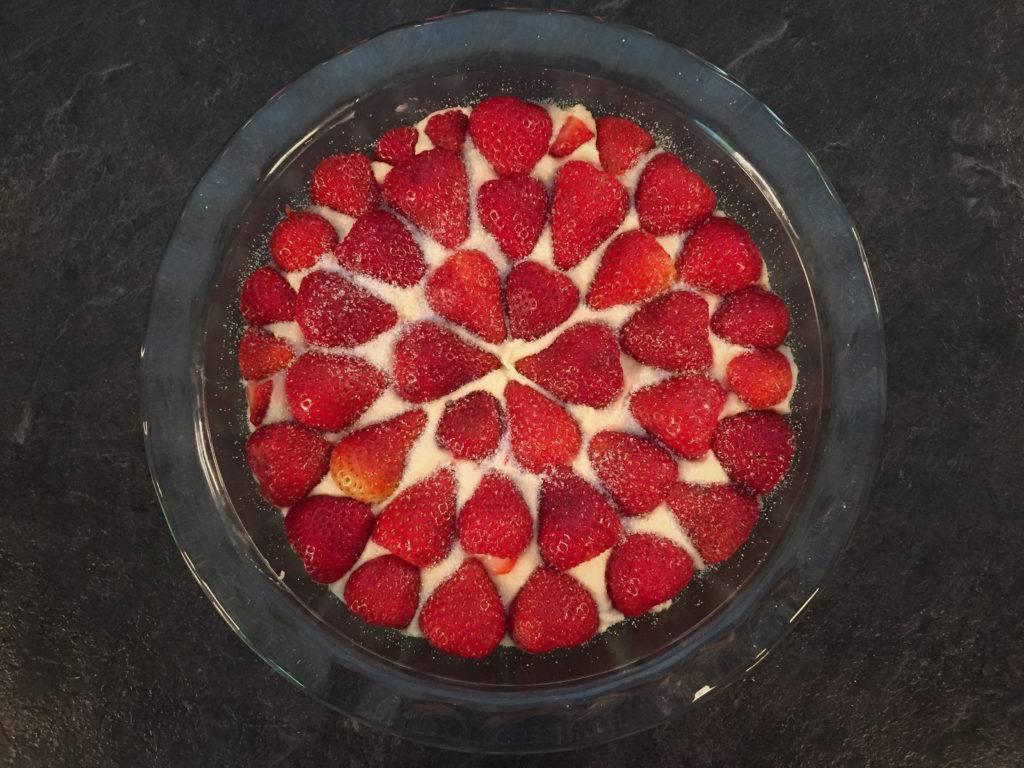 Before the cake goes in the oven, sprinkle the top with some granulated sugar. The original recipe calls for using 2 tablespoons on top. I usually just do 1 tablespoon. Either way, don't skip this step. It's not that it'll ruin your cake if you don't, but you'll miss out on something magical that happens. The surface of the cake gets sort of crispy and sweet and the tops of the strawberries get all jammy and delicious.
Once the cake is out of the oven, set it aside to cool. For a little extra pizazz you can dust the surface with a little bit of icing sugar. Eat as is or serve with a little (or big) dollop of whipped cream.
---
Ingredients
6 tbsp unsalted butter (room temperature)
1 1/2 cups all-purpose flour
1 1/2 tsp baking powder
1/2 tsp salt
1 cup granulated sugar (plus 1-2 tbsp to sprinkle on top)
1 large egg
1/2 cup milk
1 tsp vanilla extract
1 pound strawberries, hulled and halved
Method
Preheat your oven to 350°F.
Butter a 9 inch deep-dish pie plate (or 10-inch shallow plate).
Whisk together flour, baking powder and salt.
Use an electric mixer to beat butter and 1 cup sugar together until pale and fluffy (about 3 minutes).
Add egg, milk and vanilla  until just combined.
Add the dry mixture to the batter and mix until smooth (as always, try to avoid over mixing).
Pour batter into your prepared pie plate.
Place strawberries on top, cut side down (really squish them together so they are as close as possible).
Sprinkle the top of the cake with 1-2 tablespoons of granulated sugar.
Bake for 10 minutes then reduce the oven temperature to to 325°F.
Bake for another 50-60 minutes until golden brown and a tester comes out clean.