These spiced chai tea snowflake cookies are light, aromatic, and will fill you with the warm and fuzzies with every bite you take. They get just a hint of sweetness from their decorative iced snowflakes, and pair perfectly with a cup of tea or coffee.
This recipe comes from a Better Homes and Garden cookie book that I've had sitting on my shelf for ages. The original recipe includes directions on making a creamy, soft frosting to spread on top of the cookies. This looks and sounds amazing, but since I pack my Christmas cookies into containers to give to friends and family, I find creamy, spreadable frostings don't hold up as well in transport. That's why I opted to pipe some royal icing snowflakes onto these cookies instead.
The recipe is quite simple. Start by beating your butter and brown sugar together until nice and fluffy. Next, you'll want to add in your chai tea.
Select a good quality loose leaf Chai tea for these cookies. Fine grind the tea using a spice grinder or small food processor. You will likely have a few slightly bigger pieces, no matter how much you grind the tea, but that's okay.
Add the chai tea, along with the vanilla, baking soda, and salt, to your butter/sugar mixture and give it another good mix.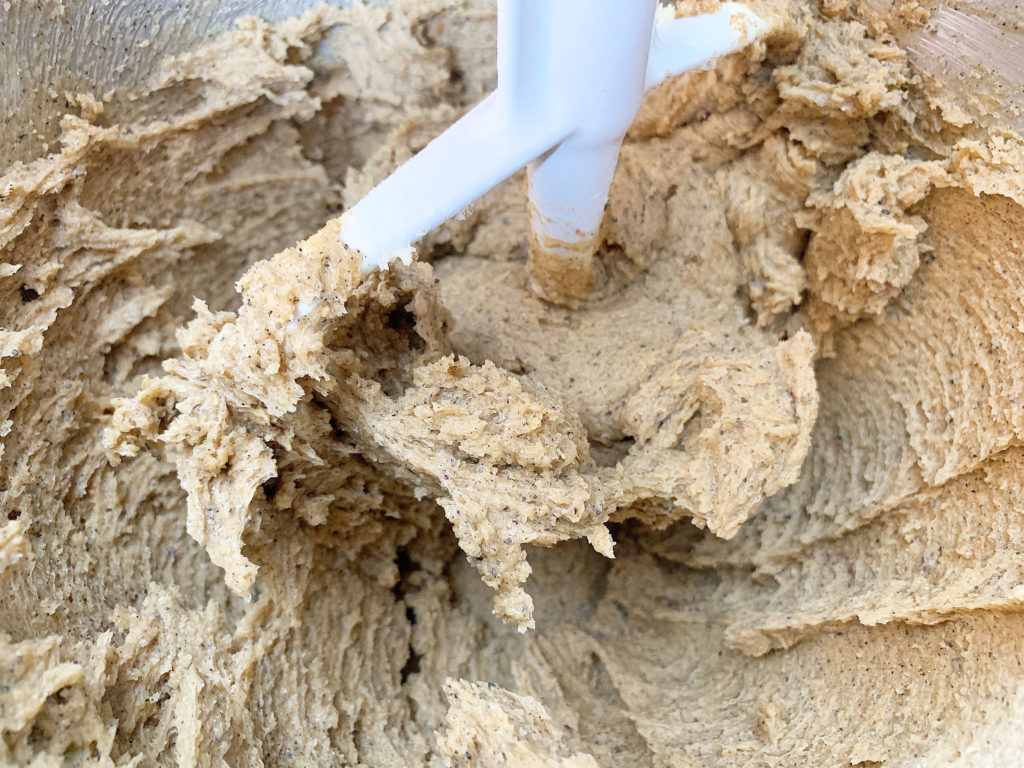 Gradually add the flour, stirring until just combined. This dough is a little trickier to work with as it is more on the dry side and slightly crumbly.
Bring the dough together into a ball, kneading it a few times to get all the little dough bits to stick together. If you're really struggling with it, you can try adding another tablespoon of butter to help bring it together, but this should really be as a last resort.
Divide the dough in half, wrap each piece tightly and chill in the fridge for about an hour.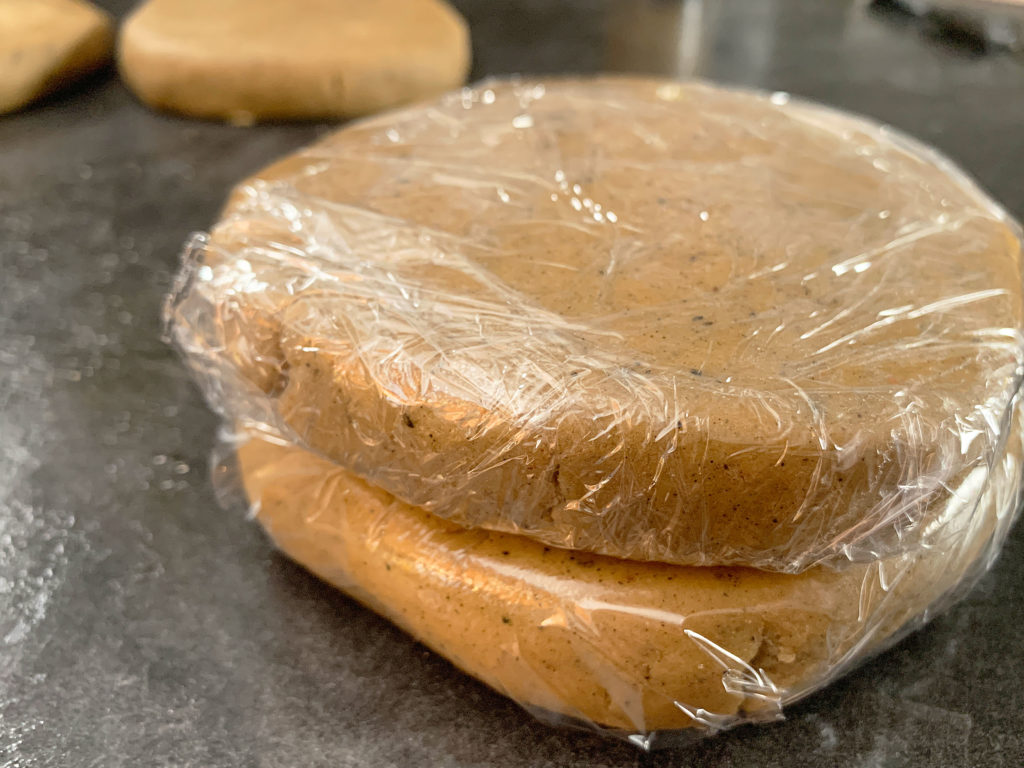 After your dough has chilled, it's time to roll it out. Lightly flour your work surface and roll one half of the dough to about 1/4 inch thickness. You may need to let the dough warm up a bit to make it easier to handle. I find this particular dough quite tough to roll out. Be patient with it and work slowly. If you hammer away at it with a rolling pin too aggressively, you'll find it starts to crack.
Cut the dough into 2 inch circles using a round cookie cutter. Re-roll any scraps and keep cutting circles until you've used up all the dough. Repeat with the second half of the dough.
Place your dough cut outs onto a parchment lined baking tray about an inch apart. Bake until the edges are just slightly golden in colour. I find the best way to check how done they are is to gently lift one of the cookies and inspect the bottom. They should be golden brown, but not too dark.
Allow the cookies to cool completely before moving on to the frosting. I usually use a very simple royal icing consisting of icing sugar, water, almond extract, and a teeny bit of corn syrup. There are many more traditional royal icing recipes out there that include egg whites or meringue powder. I know lots of people who are nervous about using egg whites, so if you're one of those people, than this is the icing for you!
Just add the water, corn syrup and almond extract to the icing sugar and mix well. Add a little more water if the icing is too stiff, or a little more icing sugar if the icing is too runny. You want it to be runny enough that you can pipe it easily, but not so runny that it spreads out thin. You can test it by spooning a teeny blob, a little smaller than a pea, onto a flat surface and watching to see how far it spreads. Ideally it should hardly move.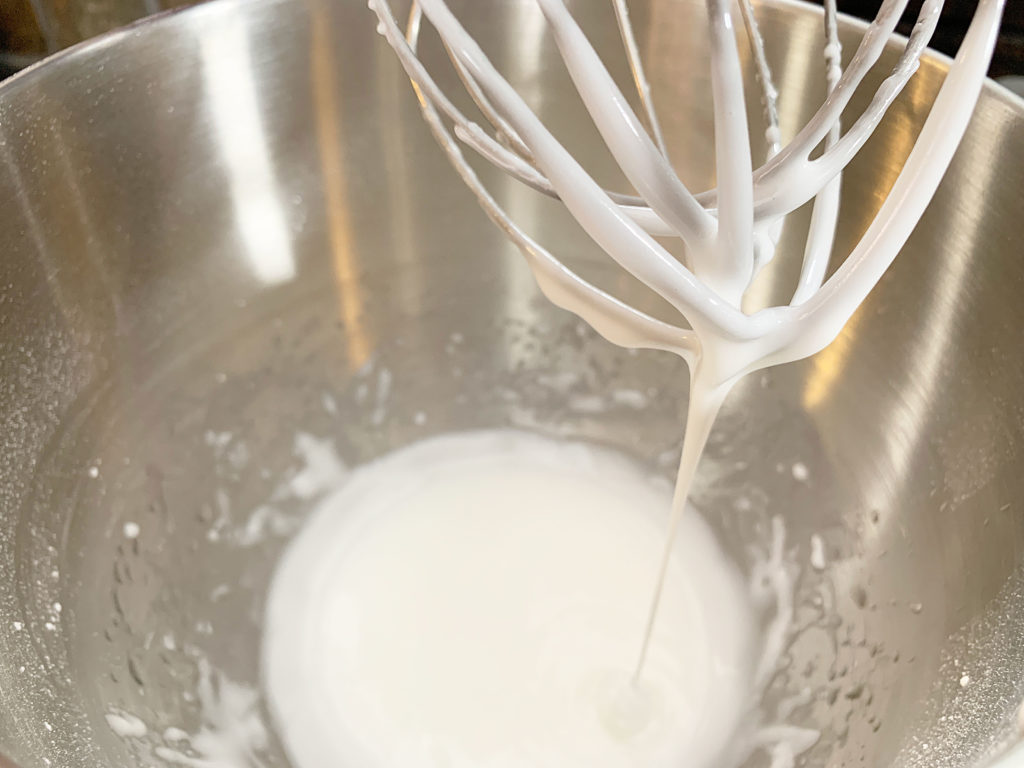 Transfer the icing to a piping bag and pipe your snowflakes. You can do any style you like, but below is a step by step guide on how I pipe my snowflakes. Don't worry about making them perfect. Remember, every snowflake is unique and special!
Let the icing set until firm before serving. These cookies are delicious on their own or served on the side of a nice hot cup of tea or coffee.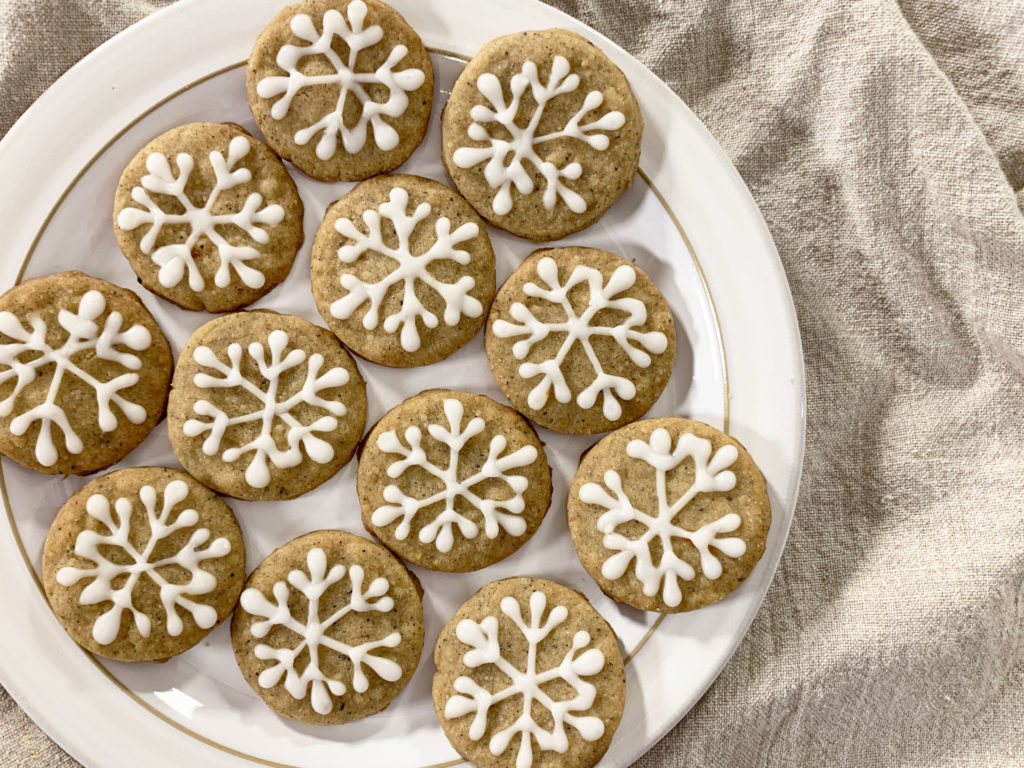 ---
Print Recipe
Chai Tea Snowflake Cookies
Ingredients
For the Cookies
1

cup

butter

(softened)

1

cup

packed brown sugar

1

tbsp

finely ground loose leaf chai tea

1

tsp

vanilla

1/2

tsp

baking soda

1/8

tsp

salt

2 1/4

cups

all purpose flour
For the Icing
1

tbsp

warm water

1/4

tsp

corn syrup

1/16

tsp

almond extract

3/4

cup

icing sugar
Instructions
Beat the butter on high speed for about 30 seconds.

Add brown sugar, chai tea, vanilla, baking soda and salt. Beat again until light and fluffy.

Stir in the flour (the dough will very stiff, and a little crumbly).

Divide the dough in half, wrap each piece in plastic wrap and chill for about an hour.

Roll half the dough out on to a lightly floured surface until 1/4" thick. Use a 2 inch cookie cutter to cut circles out of the dough. Re-roll the scraps and keep cutting more circles until you've used up all the dough. Repeat with the second half of the dough.

Bake for 8-10 minutes or until the edges start to turn golden brown.

Transfer to a cookie sheet to cool completely.
For the Icing
Combine all the ingredients together in the bowl of stand mixer. Mix on low speed for 30 seconds, then beat on high speed until well combined. (If the icing is a little too runny, add some more icing sugar. If it is too dry, add a little more water.)

Transfer the icing to a piping bag, fitted with a Wilton #2 round piping tip (i.e. a very small, round, tip).

Pipe a snowflake onto each cooled cookie. Allow the icing to set firm before serving.
Notes
Recipe Source: Better Homes and Garden Ultimate Cookie Book