I think split pea and ham soup might just be my favourite soup. It's not a particularly pretty soup, but it's packed with flavour and doesn't require a bunch of fancy or complicated ingredients.
Whenever we have a big family meal featuring a giant, juicy, delicious ham, I am prepared to fight to the death for the ham bone at the end! (Okay, that's maybe a touch over dramatic as it usually sounds more like: "Hey Ma, can I have the ham bone?" To which she replies "Sure, I'll wrap it up for you to take home.")
There's just something so comforting about this thick, hearty, stick to your ribs soup. While the peas do take quite a bit of time to cook down and soften, it's a really low effort soup to prepare, and can be done on the stove top or in a slow cooker as well. Either way is equally delicious!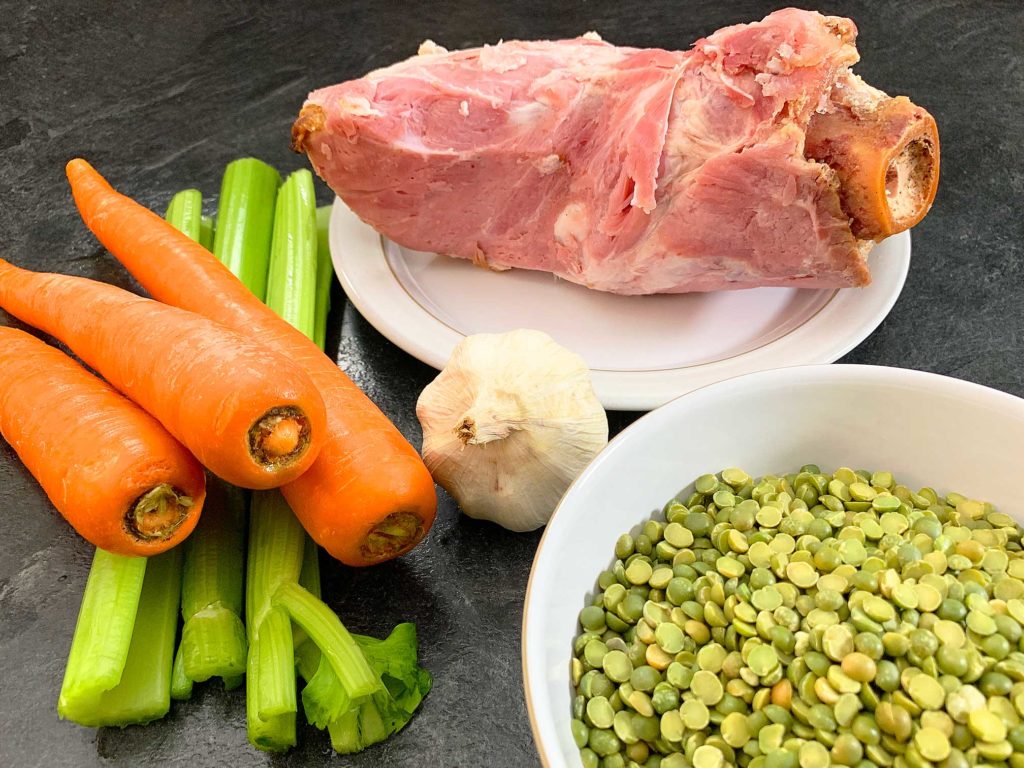 First, give your peas a good rinse. Inspect them for any bits of debris (like tiny twigs or stones) that can sometimes end up in bags of dried peas/lentils. Remove anything that is not a pea, and then set them aside.
Dice up your onion and chop up some celery and carrots. You'll notice in my photos I've omitted the onion due to household allergies, but believe me, it's there in spirit!
You'll also want to mince 3-4 cloves of garlic. I'm not sure about you folks out there, but personally I LOVE garlic and HATE peeling it. Those little, dry, papery skins stick to your fingers, and the smell lingers for days no matter how much you scrub your hands. I read a tip online that said if you put your garlic cloves into a glass jar and give them a violent shaking, the skins will just fall right off!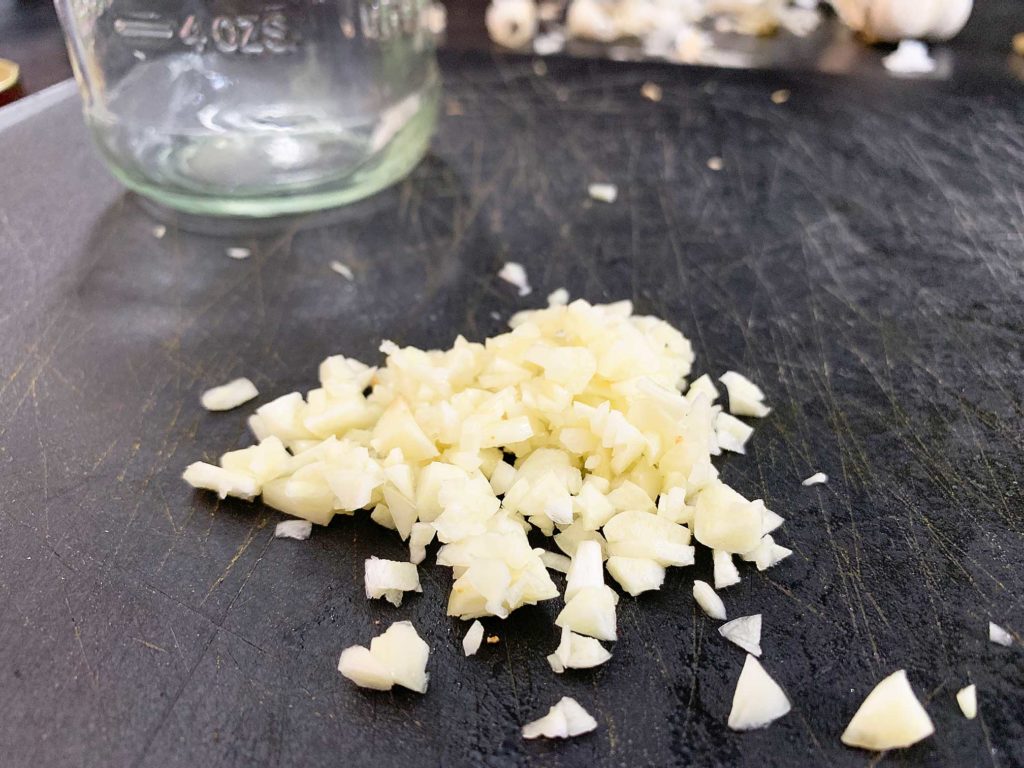 I've tried it a few times before with no success, but I decided to give it another go, and it finally worked! This time I cut off the top and bottom tips of the garlic cloves before I put them in the jar. Maybe that's what did it? I'd love to hear if this works for you, or if you have any other brilliant tips or tricks for making garlic prep a more pleasant experience.
Okay, so now you should have all your veggies prepared! Heat a little olive oil in a large pot, and then add your onions. Sauté them until they start to turn a little translucent. Add the garlic and sauté for another 30 seconds.
Add the carrots and celery, and cook for a few more minutes until slightly tender (note the onion missing from my pot…such a tragedy...).
Plop your ham bone on top of the veg, and add your rinsed split peas, fresh thyme, bay leaves and about 8 cups of liquid. I usually just use water, since you will get a lot of flavour from the ham, but you could use a combination of water and soup stock. You just want to make sure that whatever stock you use is a good, flavourful stock that isn't super salty. Most hams will have a high salt content, so adding salty stock can result in a super salty soup (try saying that 10 times fast).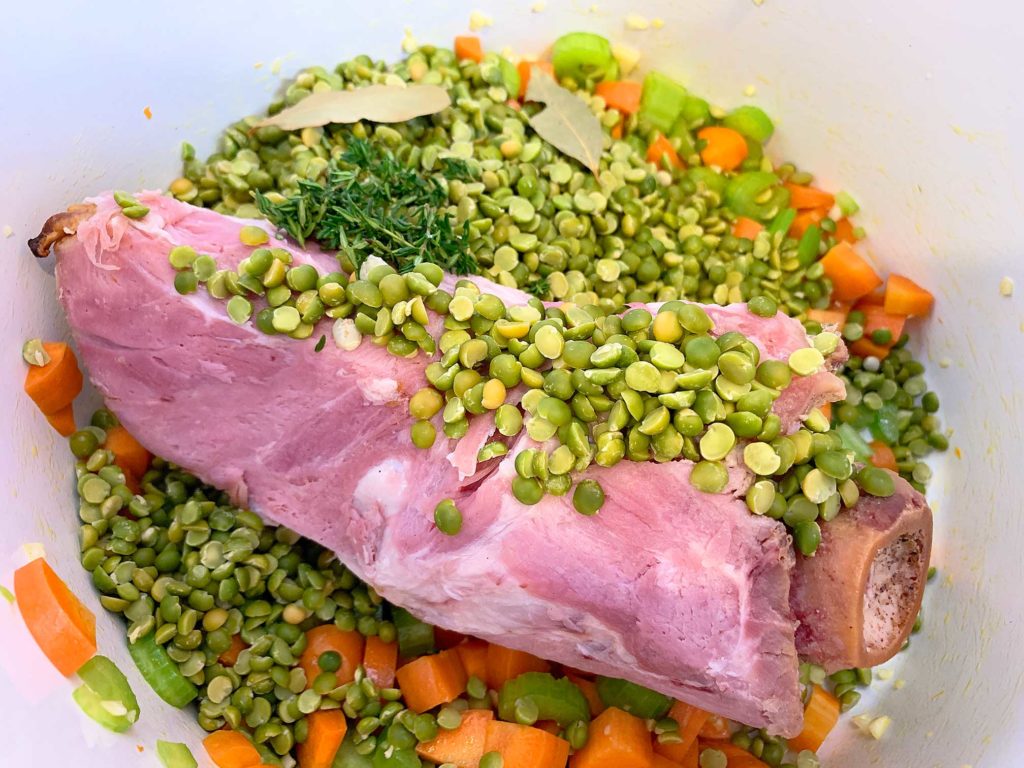 Bring your soup to a boil and then turn it down until simmering. Cover your soup pot and then just let the magic happen. Let is simmer for 2 1/2 to 2 3/4 of an hour, making sure to give it a good stir every once in a while.
Your soup will start out thin and brothy, but the longer it cooks, the more the peas will break down, causing it to thicken up. If you're soup seems like it's getting too thick, you can add a little more water or stock. If it seems too thin, let it simmer uncovered for a little while so some of the water can evaporate off, although this is less likely. You will be surprised how thick this soup suddenly gets, especially once it has cooled down!
When your peas have gone completely soft, and are starting to break apart, remove the ham bone. Cut all the meat off the bone and shred it or dice it up. Add the meat back to the pot and let the soup simmer for another 5 minutes or so.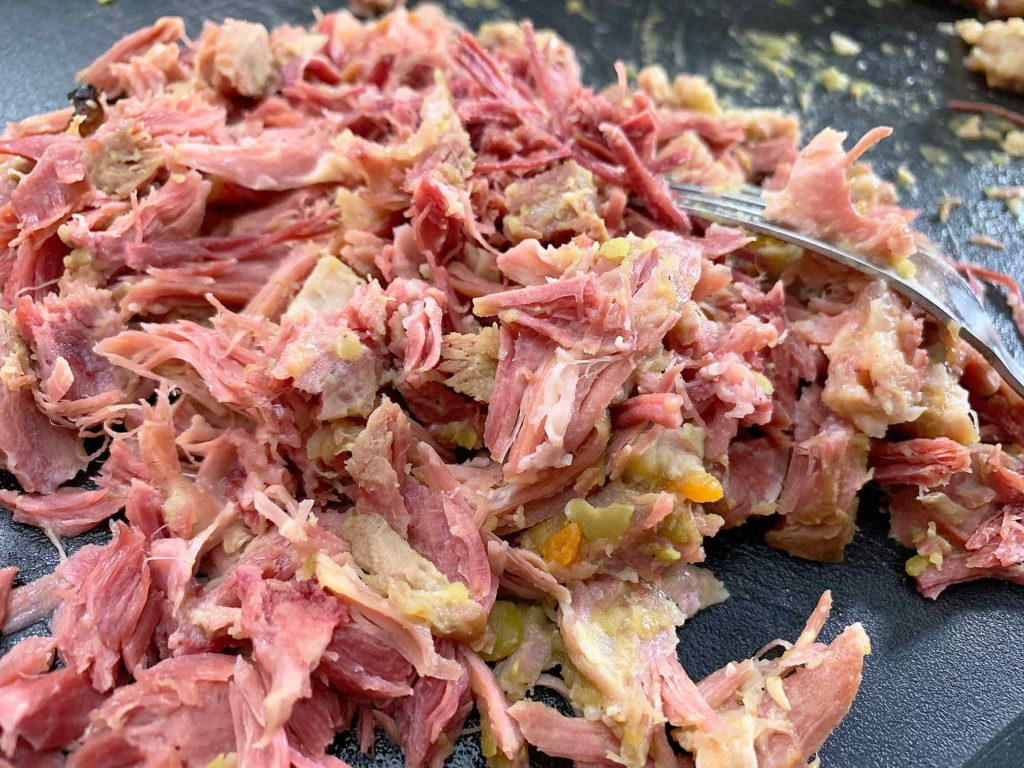 Season with salt and pepper to taste and then serve hot! You may want to consider serving it with some fresh Rosemary Focaccia or Cheese Biscuits on the side.
---
Print Recipe
Split Pea & Ham Soup
A warm, hearty, stick to your ribs soup!
Ingredients
2

cups

dried split peas

1

tbsp

olive oil

1

small

onion

(diced)

3-4

cloves

garlic

(minced)

3

carrots

(chopped)

3

sticks

celery

(chopped)

1

ham bone

(with some meat still on it)

8

cups

water

(or 4 cups water, 4 cups stock)

1

tbsp

fresh thyme

2

bay leaves

salt & pepper to taste
Instructions
Give your split peas a good rinse and pick out any bits of debris you might find (small stones, twigs etc). Set aside.

Heat the olive oil in a large pot. Add the diced onions and sauté until slightly translucent. Add the garlic and sauté for another 30 seconds.

Add the chopped carrots and celery. Continue to cook for another 2-3 minutes.

Add the rinsed split peas, ham bone, water/stock, thyme and bay leaves. Stir well.

Bring the soup to a boil and then reduce heat until simmering. Allow the soup to simmer covered, for 2 1/2 to 2 3/4 of an hour, stirring occasionally.

Remove ham bone. Chop all the meat off the bone, cut up to your desired size, and then add it back to the soup. Season the soup with salt and pepper to taste and let simmer for a few minutes more.
Notes
If using soup stock, choose a flavourful stock that isn't very salty. The ham will add plenty of salt and flavour on its own.