For some reason, I always thought that making home made macaroni and cheese was really complicated and time consuming. Now that I know otherwise, I have to actively restrain myself from making and eating this every single day.
A few months ago, we had to say a very sad goodbye to my sister's larger than life mastiff, Bubba. It was a terrible ordeal, as are all pet passings, made worse by the fact that we don't live close by and I couldn't readily drop in to see her.
We were texting back and forth in the evening when she said she needed some comfort food for dinner, but didn't know what type, and more importantly, she didn't feel like making anything.
The conversation went something to the effect of:
M: If I was there I would make you my beef stew. With cheese biscuits.
S: Yes! I took ground beef out of the freezer…but it's for tomorrow now.
M: You could turn it into chili!
S: Not enough gluten. Or starch.
M: That's why you pile it on some of top mac'n'cheese.
S: Now we're talking! I could face making mac'n'cheese….
Within less than 20 minutes she had scrounged up the ingredients for a big cheesy sauce. She stirred in a big pile of spinach and poured the lot onto some large, tubey noodles. I received pictures, which left me feeling both sad and hungry, and we henceforth declared the creation of Heartbreak Mac'n'Cheese.
Now, this recipe isn't quite the same as what she prepared, but it is reaaaally cheesy and creamy, which is all that really matters. I found the recipe on Neighbor Food Blog and have modified it ever so slightly after trying it a few times.
I really was surprised at how easy this recipe is to prepare. The sauce does not take long to make at all, so it's best to cook your noodles first. Or, if you're a magician who can multi-task, you can start on the sauce while your pasta is boiling.
To start the sauce, heat some milk on the stove top, or in a microwave, until it gets very hot, but not quite boiling. Meanwhile, melt a big blob of butter in a pan over medium heat. Add some flour and whisk continuously for a few minutes. Your mixture should be quite thick and start to brown slightly after about 3-4 minutes.
The original recipe called for 1/3 cup of butter and 1/3 cup of flour, but I found that this made the sauce a bit too thick. I reduced the flour to 1/4 cup and found that it was much easier to stir in the cheese later on.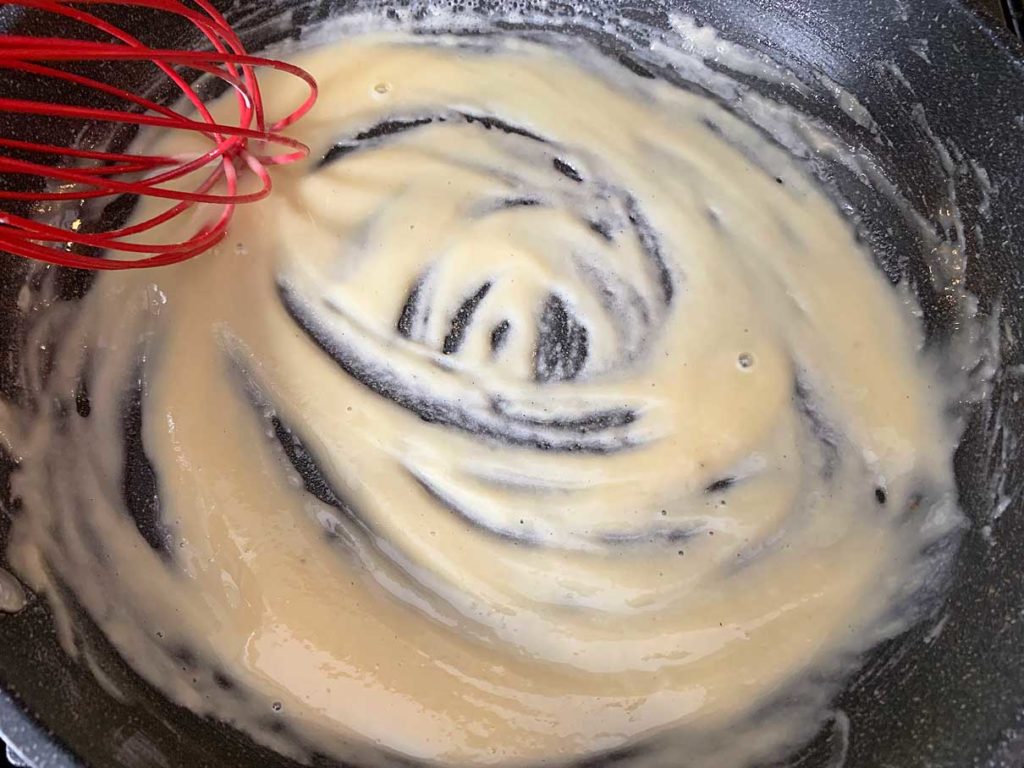 Once your flour/butter mix is browning slightly, slowly pour in the hot milk, while whisking continuously. Cook for another few minutes to allow the sauce to thicken up a bit more.
Stir in all of the seasonings and mix well. Reduce the heat to low and prepare to add the best part – the cheese! I used cheddar and pecorino romano, as was recommended by the recipe. You could swap the cheese out for another variety. I haven't tried any variations yet, but I have to say I really enjoyed this combination.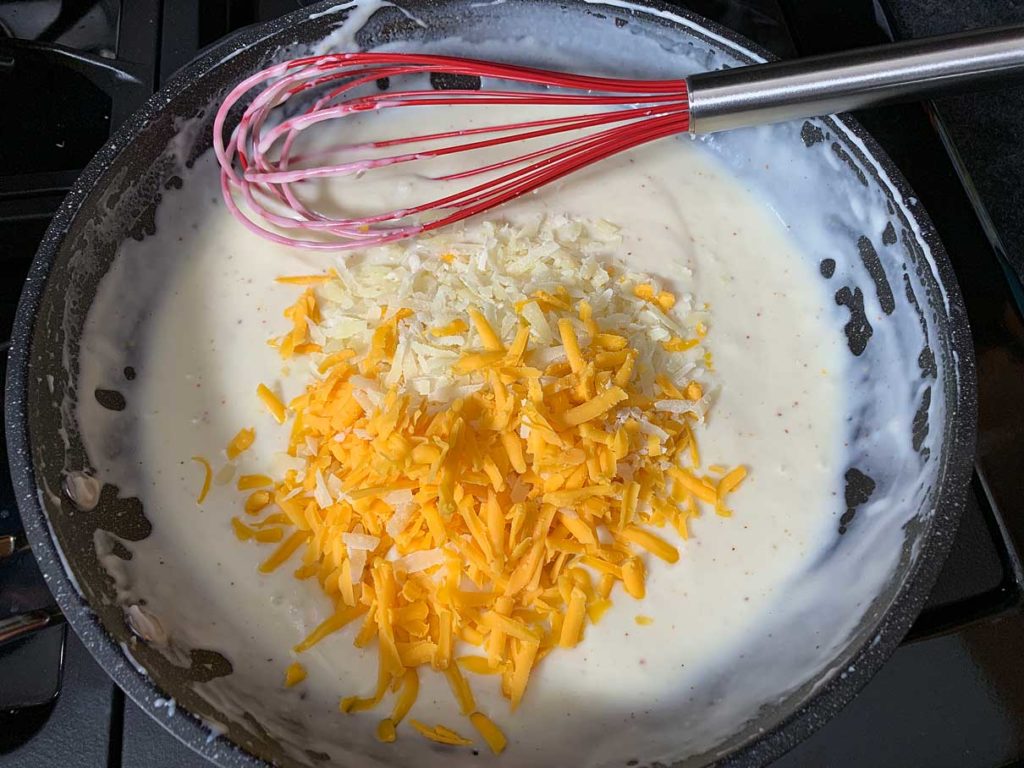 Add your grated cheese to the pan, and stir until it completely melts into the sauce. If your cheese doesn't seem to be melting in, you can add a little more milk, one tablespoon at a time, until your sauce gets completely smooth and creamy.
Pour the sauce onto your prepared pasta and give it a good mix to ensure the noodles are evenly coated.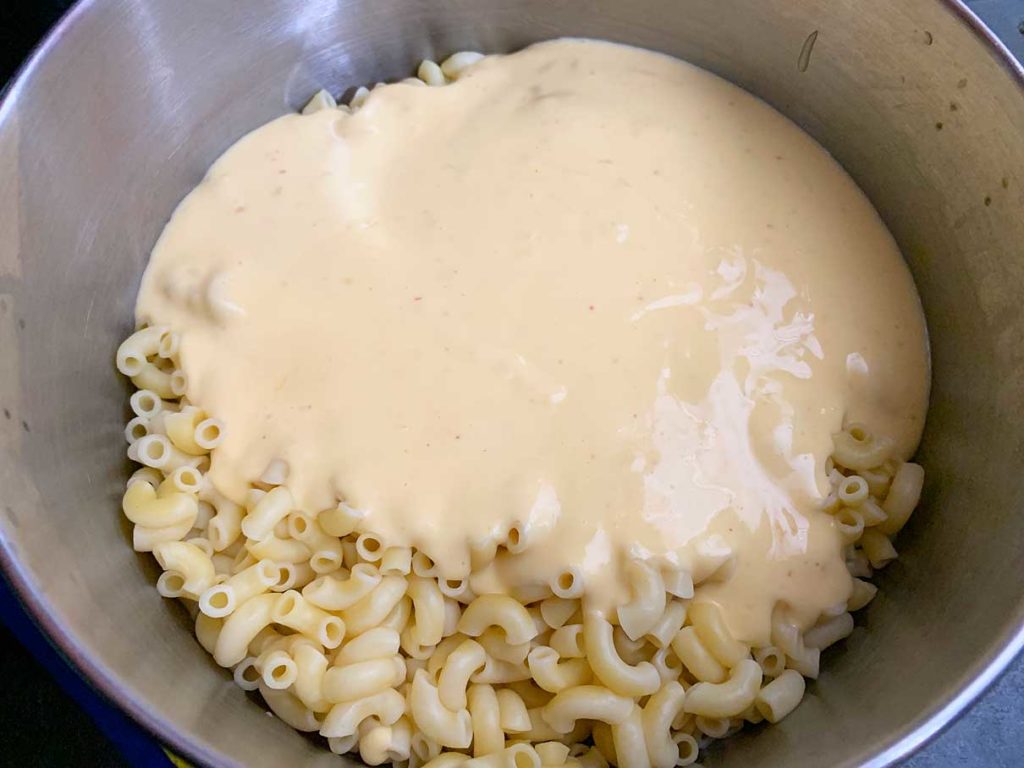 When I first made this recipe, I thought there was way too much sauce, but once I started eating it, I loved how saucy it was! If you prefer less sauce, you can hold back and not pour quite as much onto your pasta, or you can increase the amount of pasta you make by another 1/2 cup or so.
This mac'n'cheese is particularly delicious when eaten hot and fresh, but it also heats up fairly well on a second day (if you can make it last that long).
---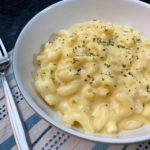 Print Recipe
Creamy Mac and Cheese
Ingredients
2

cups

dry macaroni noodles

2

cups

milk

*see notes

1/3

cup

butter

1/4

cup

all-purpose flour

1/2

tsp

salt

(reduce to 1/4 if using salted butter)

3/4

tsp

ground mustard powder

1/2

tsp

garlic powder

1/4

tsp

cayenne pepper

1 1/2

cups

packed sharp aged cheddar cheese

(grated)

1/2

cup

pecorino romano cheese

(grated)

salt and pepper to taste
Instructions
Boil your macaroni, or preferred pasta noodle, in a large pot of salted water. Cook until al dente. Drain and set aside.

Heat the milk in a saucepan or in the microwave until very hot, but not quite boiling.

Melt the butter over medium heat in a large pot or saucepan. Add the flour and whisk continuously for 3-4 minutes. The mixture should start to turn a light brown color.

Continue to whisk the mixture while slowly add the hot milk. Keep whisking, and cook for another 3-5 minutes. The sauce should start to thicken up.

Add the ground salt, mustard powder, garlic powder and cayenne pepper. Stir to combine.

Reduce heat to low and add the grated cheeses. Stir until the cheese until completely melted and the sauce is smooth and creamy. Season with additional salt/pepper to taste.

Pour sauce over your prepared pasta. Mix well to coat the pasta. Serve hot.
Notes
Recipe slightly modified from Neighbor Food Blog.
If your cheese doesn't seem to be melting, you can add a little more milk, 1 tablespoon at a time, until the cheese melts right down.
The original recipe called for whole milk. I didn't have any, so I used 2% and it still turned out nice and creamy.