Tis the season for pumpkin spice everything, including this delicious pumpkin spice pound cake! I became obsessed with this cake more by luck than judgement, and now I make it at least once every time fall rolls around. Before I get into the details of how to make this cake, let me tell you the story of how I found this recipe in the first place.
It all started when I saw this adorable Peekaboo Pumpkin Pound Cake on Pinterest several years ago. The instructions tell you to start with a boxed pumpkin bread mix. You prepare it as directed, tint it orange (to make it more pumpkin coloured) and bake it in a loaf pan. Then you cut the loaf into thick slices before using a pumpkin shaped cookie cutter to cut a pumpkin shape out of every slice.
You take all your pumpkin shapes and line them up down the length of a loaf pan to form a sort of pumpkin shaped tube. Lastly, you mix up a box of regular, white pound cake, pour the batter over you pumpkin shapes, and bake again. The result is that every slice of cake has a pumpkin shape in the centre of it (think Pillsbury Shape Inside sugar cookies…but a loaf).
I was ridiculously excited when I saw this project and wanted to try it immediately. However, I wanted to make my pound cake from scratch instead of using a box mix. So I searched online until I found this pumpkin spice pound cake recipe on Taste of Home.
I made the recipe according to the directions and my house filled with a delicious spicy scent. If you're someone who loves the smell of fall scented candles, you need to bake this loaf. It will make your home smell ten times better than any candle, AND you can actually eat it.
I let the loaf cool, sliced it, and cut out my pumpkin shapes. I tasted a few of the scraps and was immediately hooked. It seemed almost criminal hacking apart such a beautiful cake like this but I soldiered on, nibbling on the scraps while I started making the vanilla pound cake.
The loaf went into the oven for the second time. When I pulled it out, I stuck a knife right down the centre to test that it was baked through. The knife came out clean, so I set the cake aside to cool and started making the frosting. Once the cake was cooled, I slathered the browned butter frosting on top and sprinkled it with some toasted walnuts.
Now came time for the first cut. I sliced into the cake and was greeted with the most perfect pumpkin shape. I was so giddy! Then I cut a second slice…which is when my excitement turned to despair. A strip of oozy unbaked batter started seeping out from the centre of my beautiful loaf.
When I'd stuck the knife in to test the cake, I had poked it right through the pumpkin stem itself where it was perfectly cooked. Just to the left and right of the stem however, was a strip of raw dough. I was mortified. Had I stuck my knife in just a little more to the left or right I would have found the gooey spot.
This was several years ago, but whenever I bake anything now my partner STILL asks me "are you sure that's cooked all the way through?". Seriously. It happened ONE TIME! I will clearly never live this down.
Anyhow, my peekaboo pumpkin cake should have been great, and it almost was. Part of me would like to try to make it again one day, and part of me just wants to rock back and forth in the corner every time I think about it. So instead, I just make this regular, non-hidden-pumpkin-shape loaf and enjoy it in all its uncomplicated glory.
Now, onto the recipe. The measurements included below yield two 9″x5″ loaf pans, and the frosting makes enough for both. If you only want to make one (although, why would you when this cake is SO good!), just half all the measurements.
The cake recipe does not take long to prepare. You start by creaming you butter and sugar together in a bowl, and then adding in your eggs and vanilla.
In a separate bowl, whisk together your spices and other dry ingredients. The combination of spices in this cake is just perfect. I sometimes feel like I want to add just a little more of everything, but it's so good as is that I don't want to risk ruining a good thing.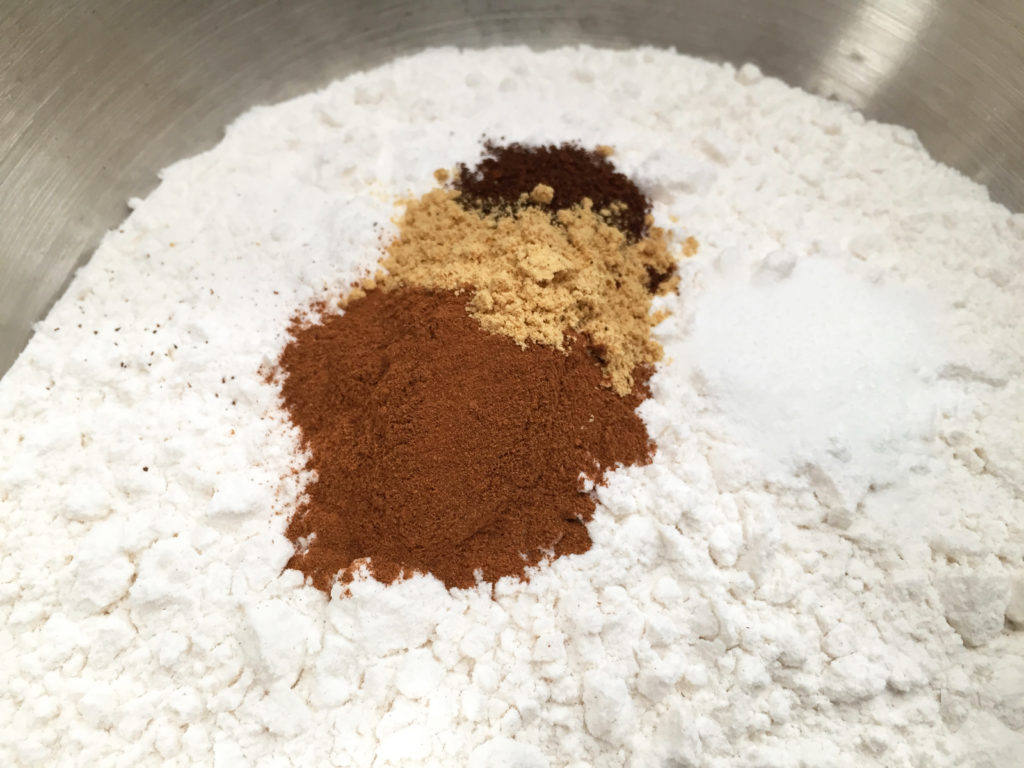 Add your dry ingredients to your creamed butter and sugar, alternating with the canned pumpkin. Admire the beautiful pumpkin swirled batter as it mixes. Just be sure to use straight pumpkin, not pumpkin pie filling.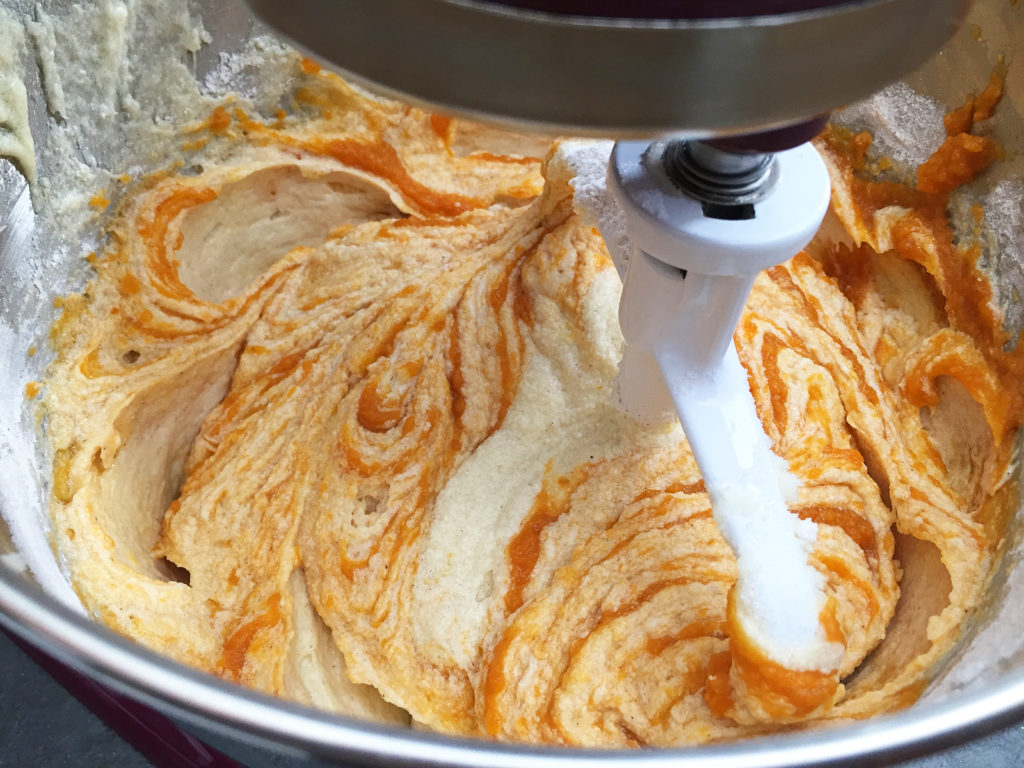 Once your batter is all mixed up, divide the dough equally into two greased and floured loaf pans. Throw them in the oven and enjoy as your house fills with the most heavenly scent.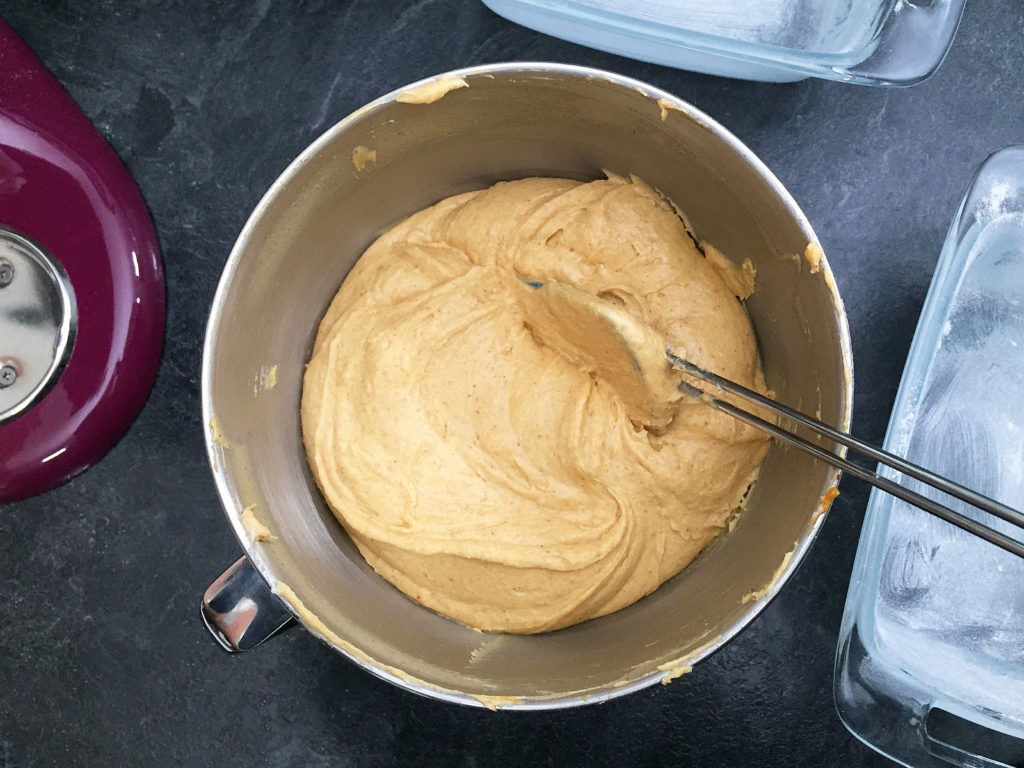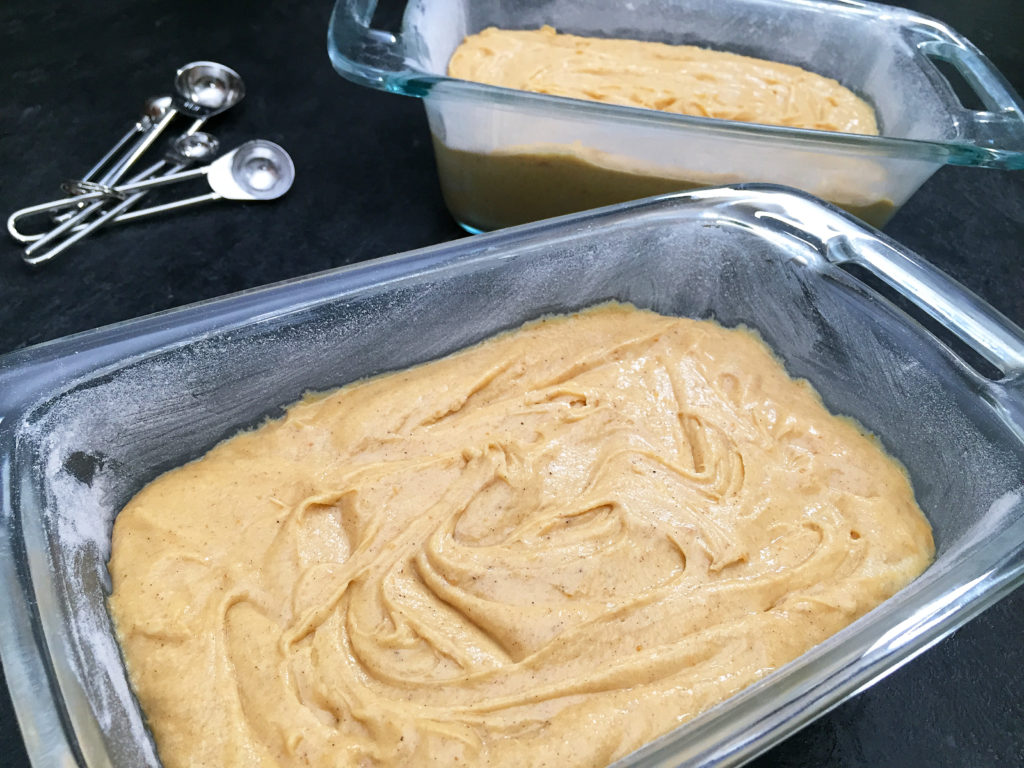 Now, the original recipe for this pumpkin loaf included directions to make a walnut sauce to go with it. I paired it instead with the browned butter frosting that was recommended for the peekaboo pumpkin cake. I'm sure the walnut sauce is good too….but I really love this frosting.
Start by browning (not burning) your butter. Let the butter cool a little bit before pouring it over some sifted icing sugar. Mix in some whipping cream and vanilla as well.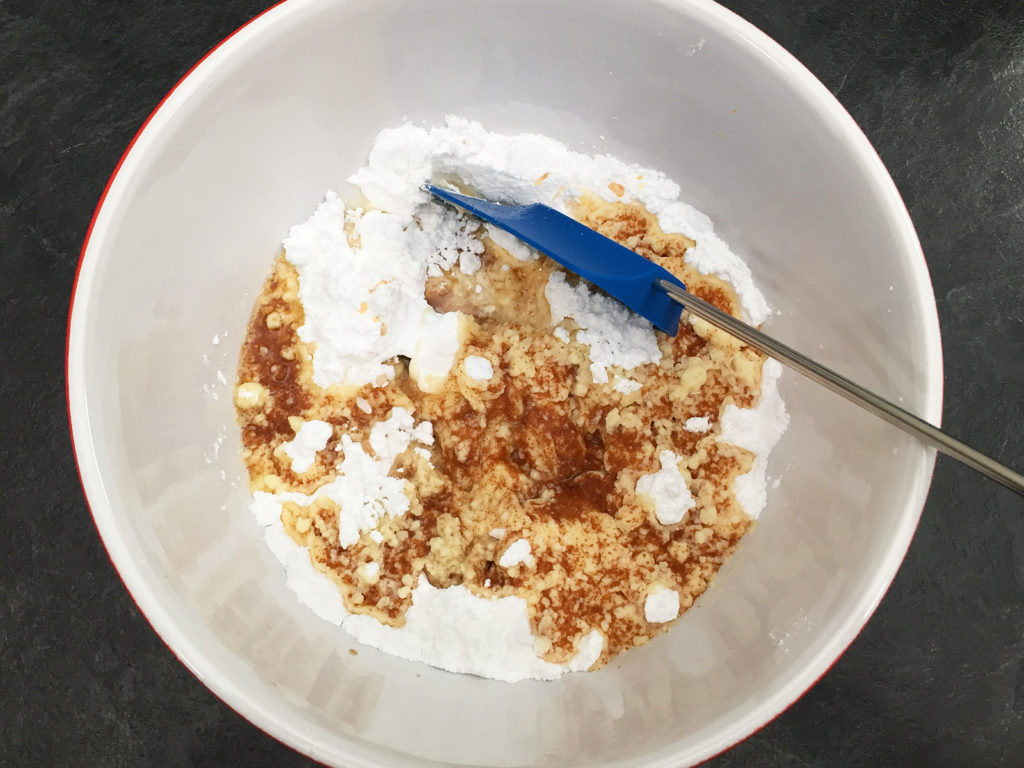 The frosting should be spreadable but not runny. If it seems too wet, add a little more icing sugar. If its too dry, add a little more cream.
Make sure you let the cakes cool completely before spreading the frosting on, otherwise you will end up with a melty, soggy mess.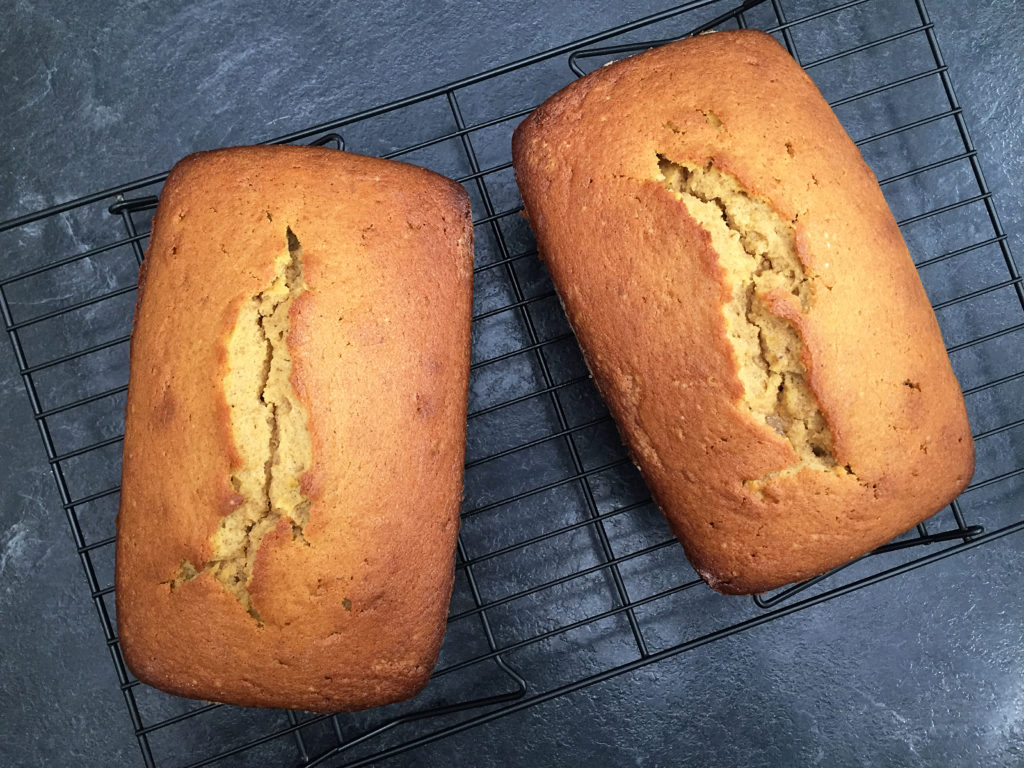 I highly recommend toasting a few pecans or walnuts (I prefer pecans), chopping them up, and sprinkling them on top. To toast them, throw them on a cookie sheet and bake at 350°F for 5-6 minutes. Keep a close eye on them because they do start to burn quickly.
---
Bake Time: 1hr 10 min  |  Makes: 2 pound cakes
SOURCE: Taste of Home (cake) & SHE KNOWS (Frosting, SLIGHTLY modified)
Ingredients
Pumpkin Spice Pound Cake
1 1/2 cups butter, softened
2 3/4 cups sugar
6 eggs
1 tsp vanilla extract
3 cups all purpose flour
1/2 tsp baking powder
1/2 tsp salt
3/4 tsp ground cinnamon
1/2 tsp ground ginger
1/4 tsp ground cloves
1 cup canned pumpkin puree
Browned Butter Frosting
1/2 cup butter
2 1/2 cups icing sugar
2-3 tbsp whipping cream
1 tsp vanilla extract
1/2 cup chopped & toasted walnuts or pecans to sprinkle on top (optional)
Method
Make the Cakes
Preheat your oven to 350°F.
Grease and flour two 9″x5″ loaf pans and set aside.
In a large bowl, cream the butter and sugar together until light and fluffy.
Add the eggs one at a time, beating well after each addition.
Stir in the vanilla.
In a separate bowl, whisk together all the dry ingredients.
Add your dry ingredients to your creamed butter mixture in several additions, alternating with the pumpkin puree.
Divide the batter into the two prepared loaf pans.
Bake for 65-70 minutes until a tester comes out clean.
Let the cakes sit for 10 minutes before removing them from their pans, then transfer them from a wire rack to finish cooling.
Prepare the Frosting
Brown the butter by heating it in small saucepan on medium-low heat until golden brown (about 8-10 minutes) and then set aside to cool for a few minutes.
Sift the icing sugar into a medium bowl to remove any lumps.
Pour the browned butter over the sugar and add the cream and vanilla.
Stir until smooth. It should be a spreadable consistency (you may need to add a little more cream if the frosting is too stiff, or a little more icing sugar if it is too wet).
Assemble the Cakes
Once the cakes have completely cooled, divide the frosting and spread evenly over both.
Sprinkle with toasted walnuts or pecans for a finishing touch.