Hello world! Long time no see. Literally! The past few weeks have been very surreal as we've been self isolating for the better part of a month now. I've had a hard time mustering up the energy to write a post, but I thought it was about time I got back in the saddle.
It's mind blowing to think how much things have changed in such a short period of time. Earlier this month, my brother had a couple of friends over to celebrate his birthday. They were sitting around the kitchen table, playing games, and I decided to whip up some chocolate chip cookies for them.
I used the recipe that comes written on the back of the Hershey's milk chocolate Chipits bag. It's one of my favourite chocolate chip cookie recipes and one that I have been using since I first started making a mess in the kitchen decades ago. I'm not sure what it is about these cookies, but I just find them really comforting. They taste of nostalgia to me (probably because I've been making them for so long).
Luckily I just happened to have one bag of chocolate chips left in the drawer, and just enough flour and other ingredients to make this batch of cookies. Between the five of us, we devoured the lot in a couple of days.
It was just the next day that things started to really change. Our office officially closed down and issued a mandatory work from home policy. Every time I looked at my phone or laptop there was a flood of news articles talking about the severity of the Coronavirus and how quickly it was spreading. Gatherings of 50 or more people were banned.
We tried to do a grocery shop and the shelves were completely cleared out of all pantry staples, including pasta, sauce, beans, rice, soup, potatoes, and horror of horrors, flour! There was still enough food in the store that someone could shop there and be far from starving, but some of the basics were hard to come by.
We've avoided going out as much possible, other than for groceries or for a walk around the neighbourhood. On one such outing, I stopped in at Shoppers Drug Mart to pick up a few things, and they just happened to have one small bag of flour left on the shelf.
I was ridiculously excited to see it, and plucked it from its lonely shelf immediately. It really got me thinking of all these things we take for granted. On any given day I have more than a dozen shops within walking distance that I can wander into and buy just about anything I could ever want or need. If something is out of stock, it's usually filled up on a shelf by the next day. We want for nothing in our daily lives.
This whole pandemic has really turned the world upside down. People are being told to stay away from their loved ones in order to protect their health and safety, birthdays, weddings and vacations have been cancelled, thousands and thousands of people are out of jobs, small businesses have closed shop and are at risk of not being able to weather the storm.
I don't think anyone thought they would be living through this just a few months ago. On the bright side, we're all in this together, and I have never seen so many individuals and communities rally around to try and provide help and support to others (while maintaining social distance of course). It's inspiring to see, and I really hope that when all this is over, we remember this time and come out of this with humility, compassion, and a greater sense of appreciation for all the things we ever took for granted.
Anyhow, it's dangerously easy to let your mind spiral into a state of depression with negative thoughts these days, which is where these comfort cookies come in! They're simple, easy to make, and delicious! My favourite thing about these is that they actually taste 10 times better the second day, so if you whip up a batch you can ration them out and they'll only get better, instead of drying out and going stale quickly.
Start with your dry ingredients. In a medium sized bowl, whisk together the flour, baking powder, baking soda and salt.
In a large bowl, beat together the melted butter and brown sugar until well combined.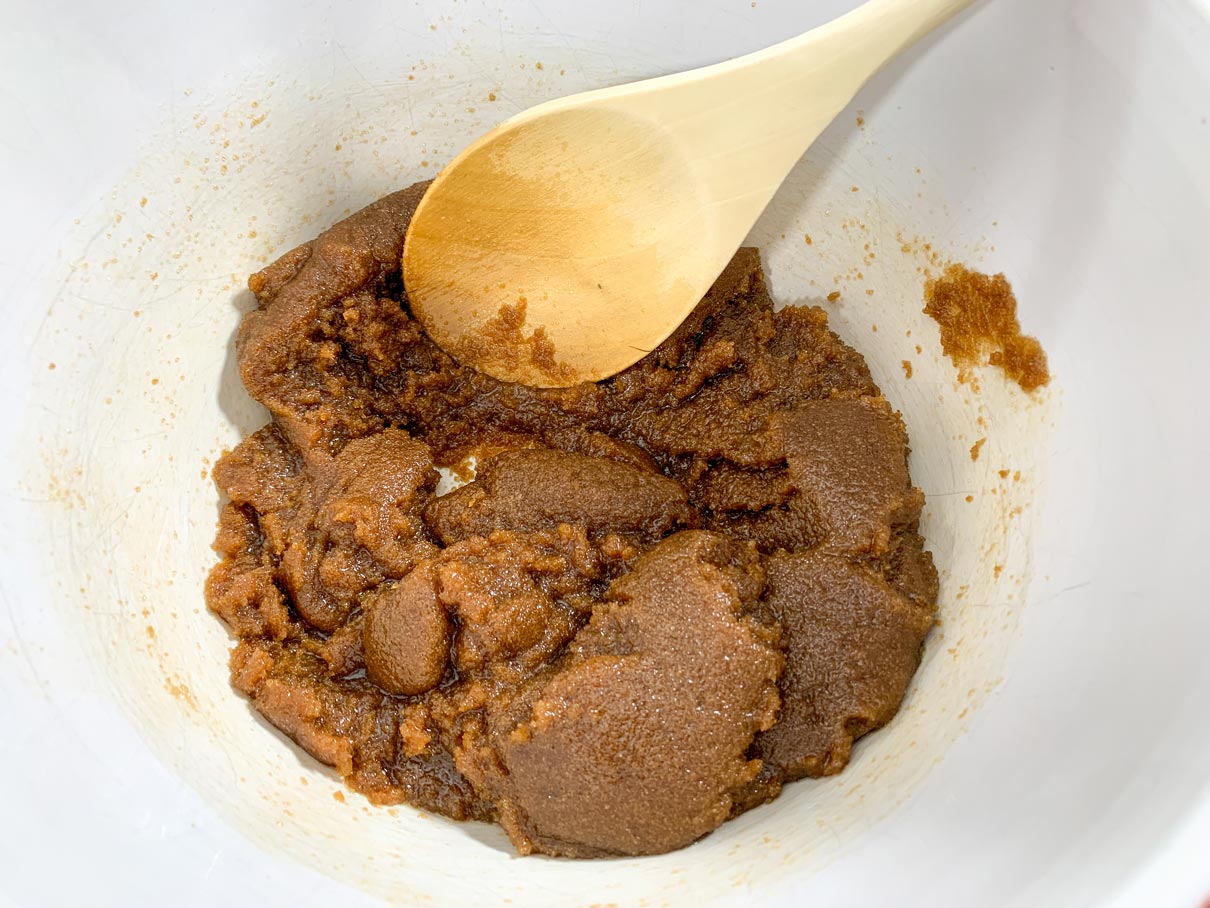 Add the eggs and 2 tablespoons of hot water, and stir until smooth.
Add the dry ingredients to the butter mixture.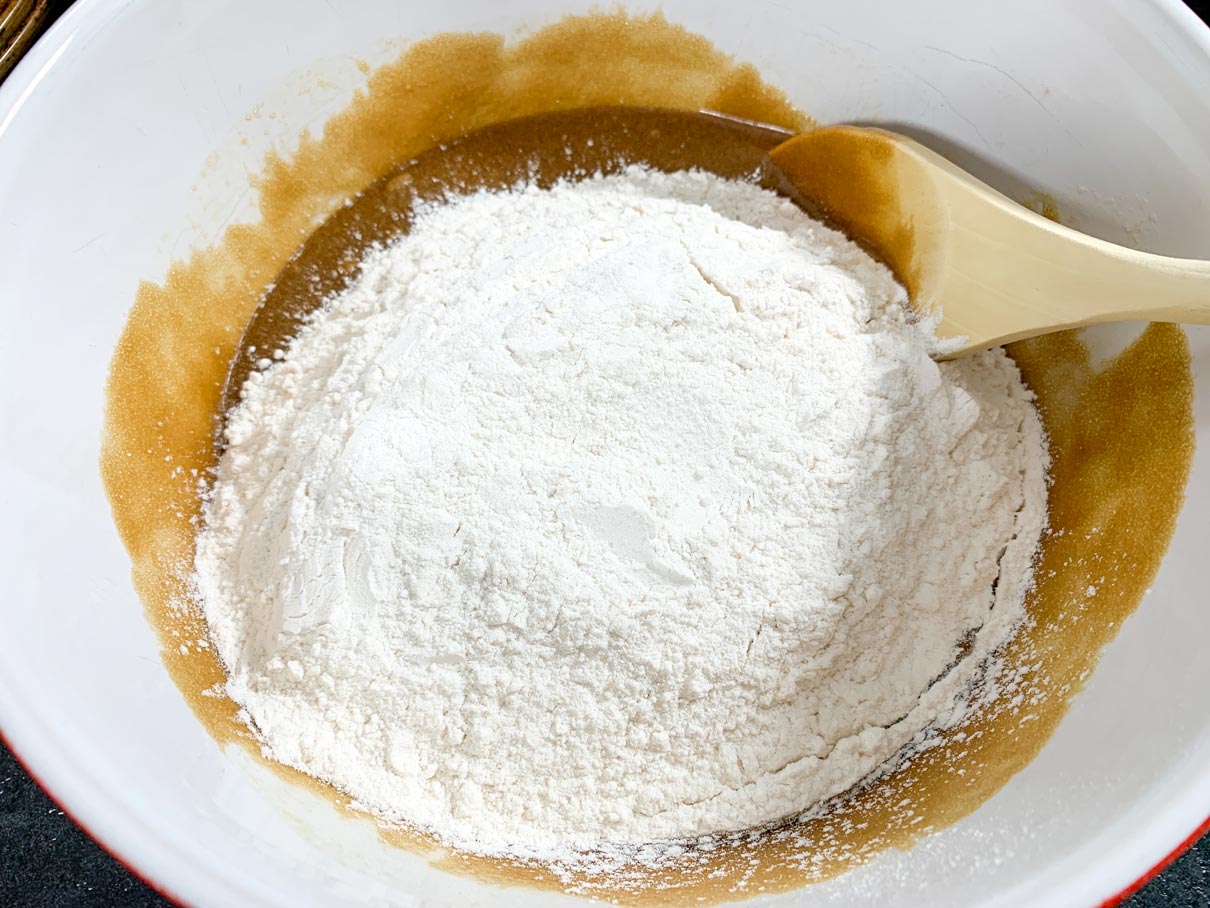 Stir it all together until well combined.
Stir in an entire package of chocolate chips. Yes, the whole package. If you're looking at it thinking this is too many chocolate chips, you're wrong. Just flat our wrong. Stir 'em all in!
Roll slightly heaped tablespoon sized blobs of the dough into balls, and place them onto a parchment lined baking tray. Press them down slightly to flatten them a bit.
You can also use a cookie scoop for these, which is what I usually do. It helps ensure you get consistently sized cookies every time.
Bake the cookies at 375°F for about 8-10 minutes, until the bottom edges are just starting to go slightly golden brown.
Allow the cookies to cool on the tray for 5 minutes, before transferring to a wire rack to cool completely.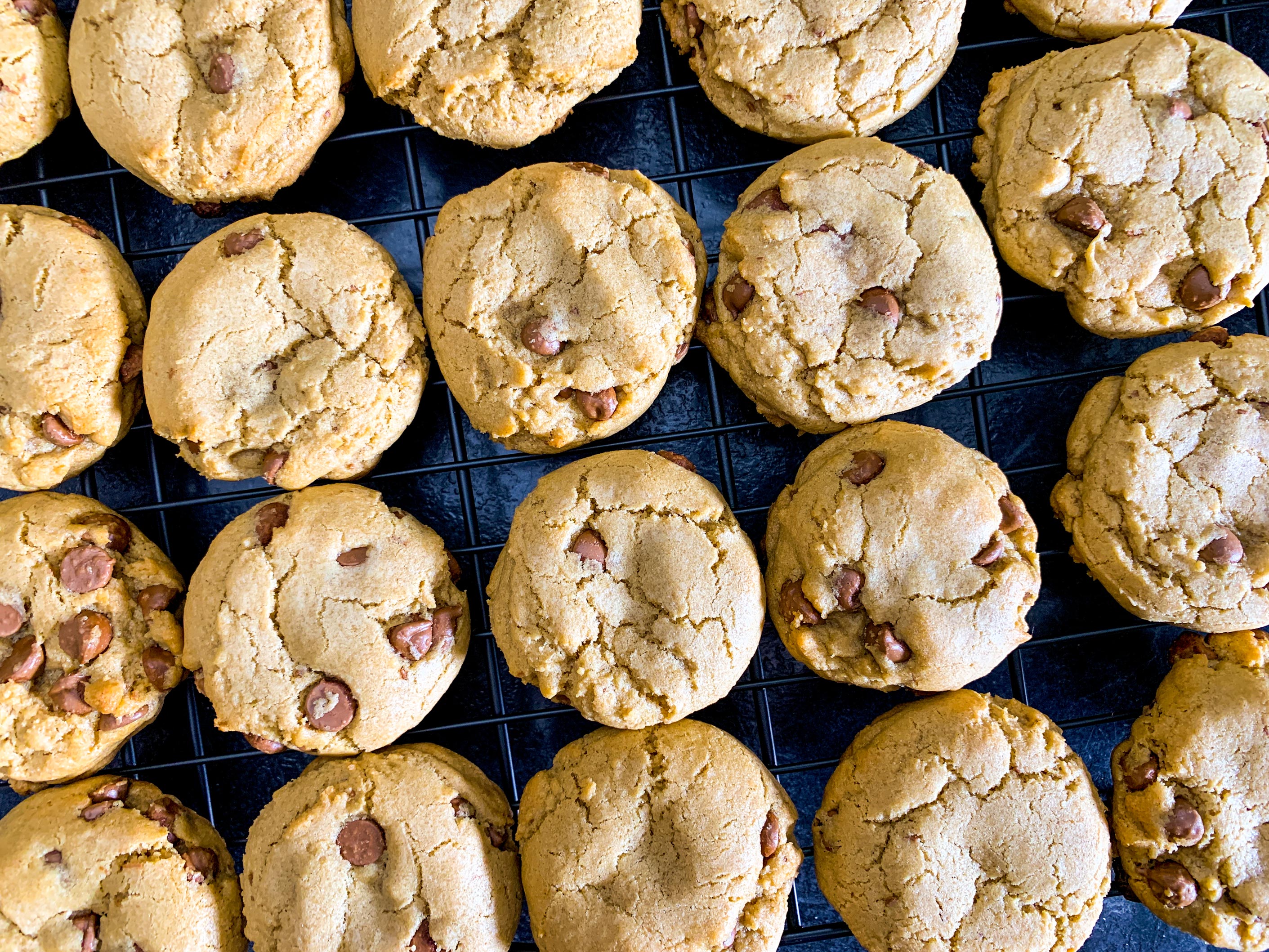 As I mentioned before, these cookies are even better the second day. Whenever I eat one fresh from the oven, I think "yea, these are alright". Then I have one on the second day and I have to restrain myself from eating the rest of the batch.
I'm not a big milk drinker, but I crave a glass of milk with these cookies every time. They also make a pretty great base for an ice cream sandwich! Just sayin…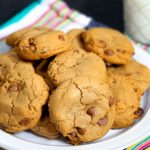 Print Recipe
Chocolate Chip Comfort Cookies
A simple, classic chocolate chip cookie recipe. These cookies are nice fresh from the oven, but they're even better the next day!
Servings:
24
medium cookies
Ingredients
2 ⅔

cup

all-purpose flour

1

tsp

baking soda

1

tsp

baking powder

¼

tsp

salt

2

cups

lightly packed brown sugar

⅔

cup

melted butter

2

eggs

2

tbsp

hot water

1

package (270g)

Chipits Milk Chocolate Chips
Instructions
Pre-heat your oven to 375°F and line a couple of baking trays with parchment paper.

In a medium sized bowl, whisk together the flour, baking powder, baking soda and salt. Set aside.

In a large bowl, beat brown sugar and butter together until combined.

Stir in the eggs and hot water until smooth.

Add the dry mixture to the butter mixture and stir until combined.

Stir in the package of chocolate chips.

Roll slightly heaped tablespoon sized portions of dough into balls and place them onto your prepared baking trays, about 2 inches apart. Press the dough balls down slightly to flatten them a bit.

Bake for 8-10 minutes until the bottom edges just start to turn a light golden brown.

Let cookies cool on the tray for 5 minutes before transferring to a wire rack to cool completely.
Notes
Original recipe source: Hershey's Milk Chocolate Chipits bag